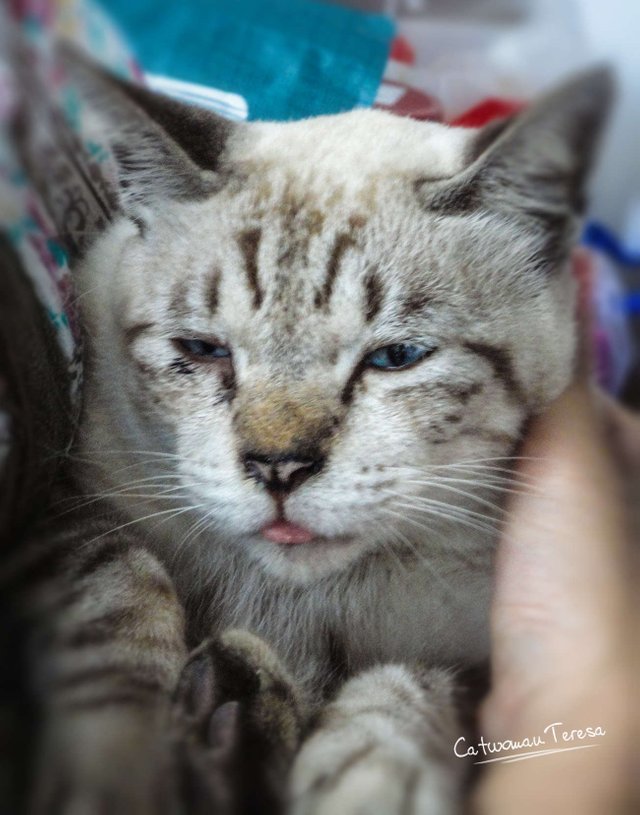 Image Link
上次跟大家介紹了猴硐四大天王之一的「黑鼻」,是不是很帥氣呢?

今天要跟大家介紹四大天王中人氣更高的「流鼻涕」,光聽這個名字,就覺得好滑稽。
流鼻涕這個名字是因為他的鼻子總濕濕的,像是滴著一滴鼻涕,所以才有著這個可愛的名字。

照片上雖然看不出那滴可愛的鼻涕,可是他天生一副重感冒沒痊癒的樣子,看起來超級惹人疼愛的。
瞧瞧照片中他忘了把舌頭縮回去的模樣,讓人忍俊不禁。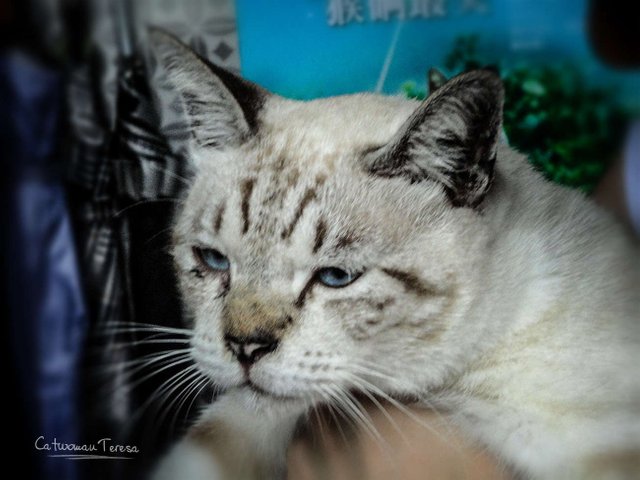 Image Link
流鼻涕有雙漂亮的藍色眼睛,只不過他總是一副愛睏樣,眼睛老睜不開。
雖然他看起來一點兒也不像有著骨碌碌大眼睛的月曆貓,可是那一眼就可以認出的憨樣,讓他的人氣一直水漲船高。
如今的年代果然不全是顏值高的年代,有特色才是王道呀!

你瞧!連小魚乾在眼前晃來晃去,都沒法讓他睜大眼睛,哥就是酷呀!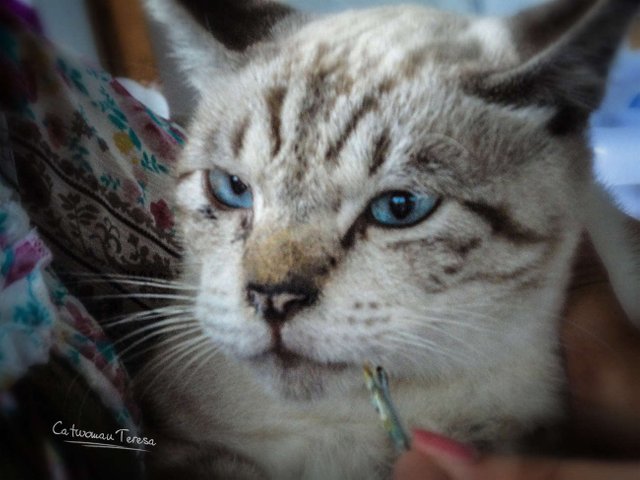 Image Link
流鼻涕這麼逗趣,我真的好想抱抱他呀!

可是我在旁邊晃了好久,這位太太就是硬抱著他不肯放,實在很氣人!

大家只好在旁邊圍著,拼命喀擦喀擦殺底片,每個人眼中都露出渴望的神情。
流鼻涕雖然一臉不情願的樣子,可是還是很溫順的被抱著,不愧是猴硐的喵明星,果然有明星風範。

提醒各位愛貓的孩子們,貓咪如果不想被抱,可別勉強他,他們可是有個性的很,小心被修理。好孩子要懂得尊重動物喔!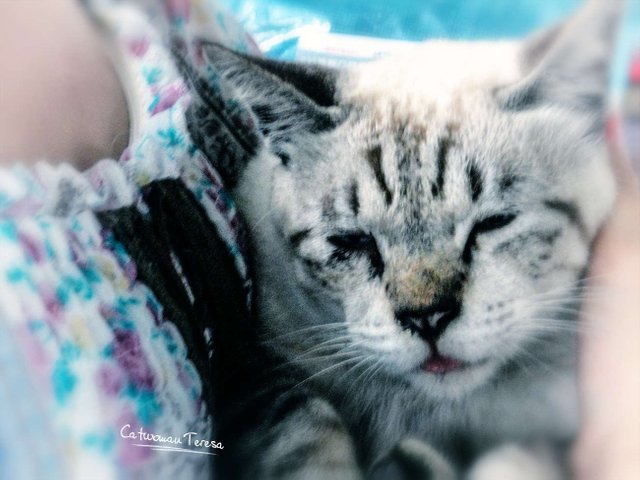 Image Link
看了這麼多流鼻涕的可愛模樣,有沒有愛上他呢?
下次再跟大家介紹其他可愛的貓咪,歡迎常回來看看喔!
這篇文章將參加由 @kona舉辦的每日寵物競賽,有興趣的朋友歡迎共襄盛舉,也別忘了去看看參賽的可愛寵物們。

Camera: iToke B6000
Software: Photoshop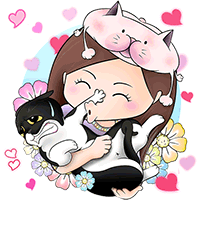 Thanks for reading.
If you would like to learn more about me, please read my self-intro.



Welcome to upvote, resteem, and follow me. If you like the content I share with you, don't hesitate to leave your comment. See you next time~

---
如果你想要更了解我,請看我的自我介紹


歡迎留言跟我聊天,喜歡我分享的內容的話,別忘了留言告訴我喔!我們下次見!

© Copyright 所有照片與文字皆为原創 All photos taken by author. All rights reserved.