Hopeful Rainbow.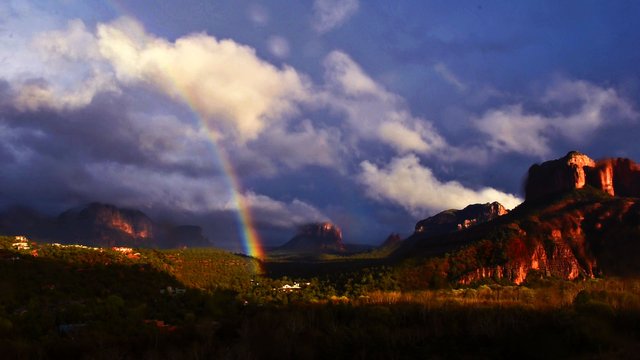 Here's another one zoomed out more from that nice rainbow I recently filmed!
I think this shot is stunning and might be a better one to use than the one zoomed in closer.
I'm not sure though, will see what people think.
Unfortunately it looks like this was the most light I got on Courthouse Rock, I thought I had ones where Courthouse was more lit up, but, not with the bright vibrant rainbow anyways. Oh well. I still really like this one and the others even if Courthouse isn't lit up as much as I'd like! I think it's a truly beautiful image. I'm grateful I was out there and got to film it.
I actually had one person comment on the other rainbow picture saying that it like sort of.. A reminder to them that things are going to get better. And that was some really awesome feedback for me to know that my photography has gone beyond the point of "That's a beautiful picture" to a spiritual realm of giving someone positive feelings towards the future.
So, with that said. I don't know if this rainbow will give any of you a similar kind of feeling, but, if it does then that makes me happy that something I shared could do that for you. I hope things get better in the future and I can see how this rainbow and nature scene in Sedona could remind me of that possibility.
Anyways... That's it for me for now. Seeya later. <3