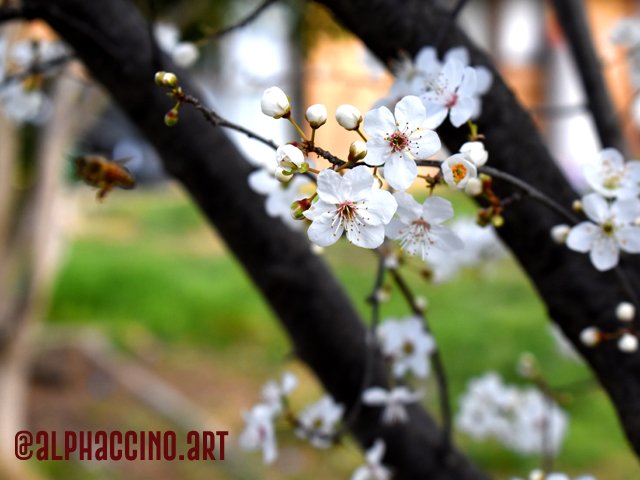 ---
My last post showed a photo of some spring blossoms that I have in my garden. Initially, I was experimenting with different aperture settings but after taking a few photos, I started to hear that familiar buzzing noise that only comes from the wings of bees.
Now, even though I'm not allergic to bee stings, I do remember being stung by them as a child and I do remember, it wasn't pleasant. So, whenever I hear that sound it always makes me take guard for a moment or two.
Thankfully, the bees didn't have any interest in me what-so-ever as they were far too busy collecting pollen but this allowed me to watch them closely while they worked.
Since I had my camera in hand (which is VERY unusual) I was able to take some beautiful photos of the bees buzzing around the blossoms.
Unfortunately, a lot of the photos were too dark but I did manage to capture a couple of photos that were bright enough to use - with a bit of tweaking in PS.
The photo I selected for this post is one of my favourites. I was actually trying to capture the bee just as he was taking flight from the blossom, however my timing was a bit off. I would have preferred that he was a little closer to the blossom where you could see him better, but really, I am just pleased that he is still in frame.
Also, I often see people listing additional details about the camera and/or settings they've used to create the shot at the bottom of their post and I would like to include the same. I would appreciate any advice from photographers on what information should be included or information that would be good to list. (Hope that makes sense)
Edit: Found the following post by @juliank
https://steemit.com/blog/@juliank/happy-tuesday-steemit-share-your-landscape-photography
Anyhoo... thank you for reading my post and I hope everyone has an awesome day xxx
Regards,
Sarah
---