Flamingos or Flamenco de james (Phoenicopterus jamesi) dance on an island of borax in a high altitude lake in the Bolivian Altiplano, Bolivia. Borax or sodium borate is a component of many detergents, cosmetics, and enamel glazes. More importantly is the presence of lithium salts below these lakes. It is estimated that the Bolivian Andes harbour 70 per cent of the planet's lithium as brine under the great salt lakes of the altiplano. When the world shifts to electric cars and battery based decentralized power grids this is going to take on increasing importance and become too hard to ignore.
Most of the lithium salt brine is nearby under the great Salar de Uyuni, and there is mounting pressure to step up mass exploitation of the resource. A single battery for Tesla's Model S requires as many as 63 kilograms of lithium carbonate , which is enough to power approximately 10,000 cell phone batteries (see article here). Let's hope we can find the right mix between protecting local ecosystems, providing jobs for Bolivians, and fuleing the global renewable energy revolution. It's a particularly tricky balancing act for one of the most impoverished nations in South America.
I took this shot while 4WD touring around the Altiplano. The lakes sit high in the Andes at and elevation over 14,000 ft (4200m) .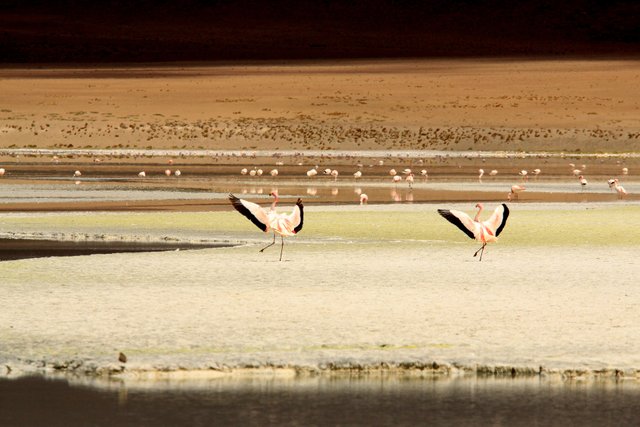 If you would like to learn a little bit more about my background in photography you can read the interview @photofeed did with me here
Robert Downie
Love Life, Love Photography
All images in this post were taken by and remain the Copyright of Robert Downie - http://www.robertdowniephotography.com