What's wrong with human rights? I always had a hard time reconciling the existence of human rights, often described as "inalienable" and "self-evident", next to an economy that makes it necessary to compete for the income needed to enjoy those rights...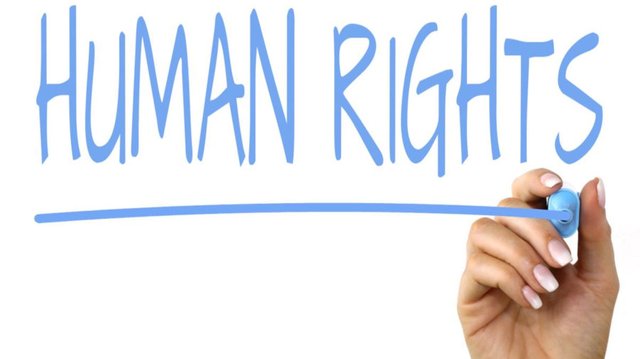 source: The Blue Diamond Gallery
It's simple: if all humans have a right to food, water, shelter and so on, the bare minimum to be able to exist, they should also have the right to have enough money to afford those "rights". We all know this is not the case, which makes human rights only available to those who can afford them, which makes them not self-evident or inalienable. The question then becomes: how did we end up with this ridiculous notion of human rights? Well, if by now you think it has something to do with capitalism and Christianity, you'd be right; these are after all the defining characteristics of modern western societies that mix Judeo-Christian values with classical liberalism.
So, what are human rights? They are supposed to be the rights we are born with, the rights we're entitled to just for being part of the human race. However, we can see in the official documents wherein these rights are engraved, that they are inalienable rights because they are endowed upon us by our creator, like in the 1776 United States Declaration of Independence:
"We hold these truths to be self-evident, that all men are created equal, that they are endowed by their Creator with certain unalienable Rights, that among these are Life, Liberty and the pursuit of Happiness.-That to secure these rights, Governments are instituted among Men, deriving their just powers from the consent of the governed..."
source: ushistory.org
This document, and subsequent documents represent only the tail-end of a long history of rights, and human rights in particular, even if the term "human rights" was first used in 1789, and formalized in the Universal Declaration of Human Rights which was signed by the General Assembly of the United Nations on December 10th 1948. From the U.S. Declaration of Independence on, these inalienable rights were seen as strictly individual rights, in accordance with the notion of natural rights associated with classical liberalism, which included the right to life, liberty and property. What's important to realize, and is completely omitted in the below linked United Nations propaganda, is that all these rights are endowed upon us, we are GRANTED those rights by a higher power, and that they are now OWNED by each individual. It is no coincidence that these inalienable rights were born in the same era when modern capitalism was born.
The Story of Human Rights
"Rights" were seen throughout most of human history as objective rights. People saw only that which was right to do and that which was wrong to do, as in "it is right to have children" and "it is right to bury the dead"; "right" and "wrong" were not assigned to individuals, but were seen as a function of interactions in the community, and the effects of those interactions on the community. Even ancient Greek philosophers like Plato and Aristotle defined the human being as a social animal and even a political animal, and said that the foundations for living together as human beings are liberty, equality and justice. Free society is seen as a community of free human beings, as opposed to a collection of free individuals. And what is "right", was determined by the moral order of the world itself, and not to be found in the individual. What was rightfully yours, was not determined by individual rights, but by your position in society in relationship to other members of that society. Therefore, "justice" could only be understood in light of the community as a whole rather then in terms of isolated individual rights.
Even in feudal times we held on to this notion that rights are objective and understood in light of the community as a whole. The divine right of kings asserts that a monarch is subject to no earthly authority, deriving the right to rule directly from a divine authority, like the monotheist will of God; the King simply enforced the will of God as to preserve the natural order of society, and rights were still determined by ones position in that ordered society. It was only with the advent of the Age of Enlightenment when influential thinkers like John Locke derived subjective natural rights from objective natural law; that's why we now HAVE the individual rights to life, liberty and property. And even if the Declaration of Independence says that these rights are endowed upon us by our creator (a sure sign that effectively nothing has changed since feudal times), we can all understand that in fact they are granted by another higher power: the state. And we also know that the state is owned by those who also own almost everything else, our modern-day kings, the oligarchs and plutocrats.
Human rights are considered the offspring of natural rights, which themselves evolved from the concept of natural law. Natural law, which has played a dominant role in Western political theory for centuries, is that standard of higher-order morality against which all other laws are adjudged. To contest the injustice of human-made law, one was to appeal to the greater authority of God or natural law.
source: Globalization101 - Origins of Human Rights
In essence, rights are always determined by power; those who have it grant rights to those who don't. The amount of power someone has, is determined by the quantity of personal property one possesses. Since the dawn of organized society, since we left behind the nomadic life of hunter-gatherers and organized in the first city-states, we've seen that power and property were concentrated in the hands of the few, to the detriment of the many; if you've ever wondered why the individual right to property is ranked so high among our "inalienable" rights, look no further than the aforementioned modern-day rulers. Now might be a good time to watch the first linked video, if you haven't already; it tells half truths by omitting the crucial difference between objective (universal) and subjective (individual) rights, and ends by focusing on YOUR INDIVIDUAL RESPONSIBILITY to safeguard the so called inalienable human rights. It omits the necessity of a top-down power based relationship in order to be able to ENFORCE laws to safeguard those rights. And now that we know that the power, the exclusive right to the use of violence, rests with the state, the government, it's clear that this devious piece of propaganda calls for nothing less than world-government based on the "natural" order that's determined by the neoliberal free market ideology... It's sobering to compare that video to the one linked below. I've written many times about humanity's inability to break free from the class-hierarchy we've known since the Neolithic Revolution, but this video explains it very nicely indeed, by exploring in-depth The Problem With Human Rights in less than 25 minutes:
The Problem With Human Rights
---
Thanks so much for visiting my blog and reading my posts dear reader, I appreciate that a lot :-) If you like my content, please consider leaving a comment, upvote or resteem. I'll be back here tomorrow and sincerely hope you'll join me. Until then, keep steeming!

Recent articles you might be interested in:





Thanks for stopping by and reading. If you really liked this content, if you disagree (or if you do agree), please leave a comment. Of course, upvotes, follows, resteems are all greatly appreciated, but nothing brings me and you more growth than sharing our ideas. It's what Steemit is made for!





I am a proud helpinaut! @Helpie is looking for new members! Helpie has been growing nicely and we are always on the lookout for new valuable members. We are very supportive and community oriented. If you would like to be scouted for @helpie , please drop a comment on THIS POST or contact @paintingangels on discord at paintingangels(serena)#3668.




Just for Full Disclosure, I'm invested in these crypto-currencies:

Bitcoin | Litecoin | EOS | OmiseGo | FunFair | KIN | Pillar | DENT | Polymath | XDCE | 0x | Decred | Ethereum | Carmel | XYO





@helpie is a WITNESS now! So please help @helpie help you by voting for us here!