This is a question we ask almost every day. And we pose the question to everyone that tries to teach us something we don't yet know, or tries to make us see a point of view we have not yet considered or even imagined ourselves. This short post is an open invitation to ask yourself: "how do I know what I know?"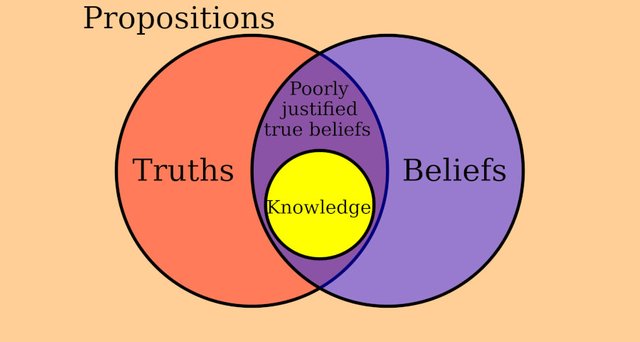 source: Wikipedia
How we know what we know? What is the nature of knowledge? These are the core elements of Epistemology, the branch of philosophy that's concerned with the theory of knowledge. Thinking about the nature of knowledge can lead us to some strange places where we're compelled to also question who we are, what the "self" is and how that relates to "agency" and "free will"; this particular philosophical rabbit-hole can end up in a nihilist post-modern world-view where even the certainty offered by Descartes' "I think, therefore I am" is crushed under the weight of a brain in a vat, which has now become science with the advent of the Simulation hypothesis. These ancient philosophical questions have gained popularity by advancements made in A.I. and pop-culture classics like The Matrix and Westworld.
So, what do we know? What counts as a justified belief? what is true? I think that asking ourselves that question is more important now than it has ever been. Before we go ahead and normalize the existence of "fake news", "alternative facts" and "manufactured consent", before we capitulate and let the online public space be overrun by deepfakes and chat-bots, I believe we need to be aware of the value truth and honesty, how they are indispensable for any viable democracy. Discourse, or "logos" in ancient Greek, is the answer in my opinion; everything we know, we know through communication with other conscious beings, or entities we recognize as conscious beings, other people. Even the most hardcore scientist works with axioms gained from other conscious beings, based on their observations of what they perceive to be the real world.
How do I know what I know? That's the question I ask you ask yourself, dear reader. Do you know that you're consistently lied to by the corporate controlled mainstream media? Or is it just a feeling you have, because they don't agree with your opinions? And if you know, what are the real world events you can identify to justify your conviction? Do you know something because you've researched it yourself, or because you heard it from someone else? And what did you do to justify your belief in his or her words? What are the things you believe to be true without ever questioning it? And why don't you ever question conventional wisdom? I have no answers today, just questions I'm afraid. And that is because I believe we're close to reaching critical mass for a paradigm-shift. I know, it's crazy, and I can't prove it; I don't KNOW it's true, and maybe I'm just overly optimistic today, who knows? ;-)
Still, the propaganda aimed at our collective psyche has never before been so strong; now more than ever, we need to be vigilant. And when was the last time you took a few moments to sit down and just think, simply reflect on your life, your relationships, your choices? Just some friendly advice for you to do with as you please; claim that time for yourself. Step away from the screen, put away your mobile device, shut down all those voices trying to convince you one way or the other, including mine, and just think, think about thinking itself. Take a moment to simply "be"; it might surprise you how enlightening that can be...
What is Epistemology? (Philosophical Definitions)
---
Thanks so much for visiting my blog and reading my posts dear reader, I appreciate that a lot :-) If you like my content, please consider leaving a comment, upvote or resteem. I'll be back here tomorrow and sincerely hope you'll join me. Until then, keep steeming!

Recent articles you might be interested in:





Thanks for stopping by and reading. If you really liked this content, if you disagree (or if you do agree), please leave a comment. Of course, upvotes, follows, resteems are all greatly appreciated, but nothing brings me and you more growth than sharing our ideas. It's what Steemit is made for!





I am a proud helpinaut! @Helpie is looking for new members! Helpie has been growing nicely and we are always on the lookout for new valuable members. We are very supportive and community oriented. If you would like to be scouted for @helpie , please drop a comment on THIS POST or contact @paintingangels on discord at paintingangels(serena)#3668.




Just for Full Disclosure, I'm invested in these crypto-currencies:

Bitcoin | Litecoin | EOS | OmiseGo | FunFair | KIN | Pillar | DENT | Polymath | XDCE | 0x | Decred | Ethereum | Carmel | XYO





@helpie is a WITNESS now! So please help @helpie help you by voting for us here!