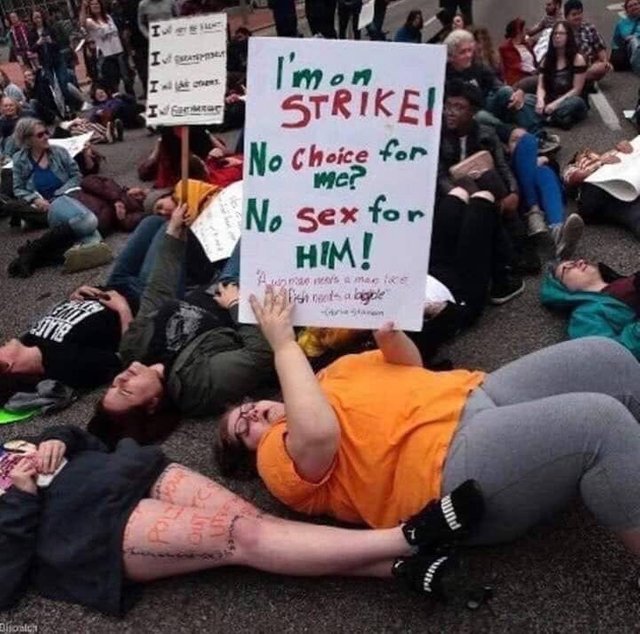 I posted a meme on my page of a large woman holding the sign about withholding sex. Several people claimed I was not being empathetic and that I was engaging in fat shaming.
I want to make something crystal clear. I have been fat before. I have friends who are large people. I have no reason to shame anyone, although the meme itself still has an underlying sense of humor that I believe most people can appreciate without getting offended, regardless of their size or self-esteem level.
That brings me to my point.
Today we live in an era of Orwellian political correctness, where posting material can get a person harangued by leagues of social justice warriors. I see this as problematic for free speech. As a result of this political correctness, now many people wield a torch and pitchfork, looking for the next target to project their sensitivities onto. I see this as a tragedy, so I am going to speak my mind to remind everyone that we don't have to bow down to pitiful attempts to censor our opinions.
Furthermore, the SJW's missed my point anyway. My intent was not to fat shame anyone. The person who originally incited the sex strike was Alyssa Milano. She is an actress who also happens to be thin. The point is this: the sex strike is an unintelligent and vindictive way to protest laws and social decisions, because it targets people who likely have nothing to do with actions related to government.
If women want to withhold sex, fine. But don't pretend like it's sending a message to government for them to solve all of their woes. It's a laughably pointless shenanigan tied to an emotional circus engineered by a coterie of feminist sophists.