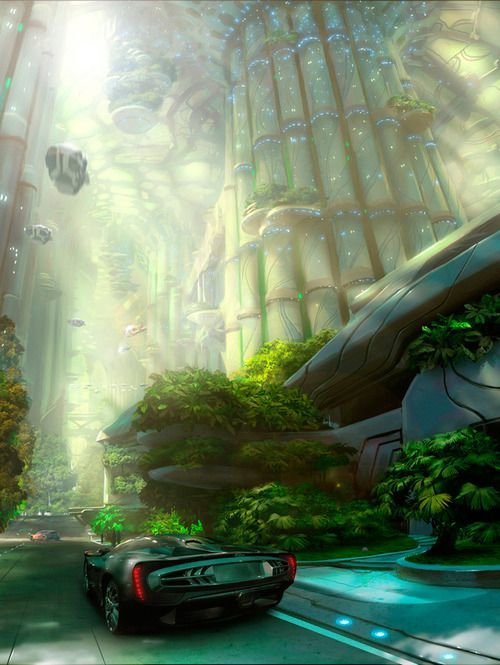 Before starting this off, please note that the solarpunk movement is one that borderlines fiction and reality. Just like any good sci-fi, there just comes a point in time when things just might become possible..
For example, a "Fireball" spell is simply framed as magic when you read a fantasy novel. Now if we're in the realm of science-fiction, how do we explain away the possibility of casting magic fireballs out of thin air? Advanced nanotechnology will be my best guess.
"Any sufficiently advanced technology is indistinguishable from magic."
by Arthur C. Clarke
In that vein, solar power is quite like magic if you think about it. Maybe not quite as magical when compared to nuclear power, but it's certainly way safer. Also, solar energy is abundant and with any sufficiently advanced web-of-technologies, such energy can ultimately be manifested into anything useful. It is the universal enabler for all of humanity. Just think about the relationships between light, energy, and matter in Albert Einstein's E = MC2.
A brighter future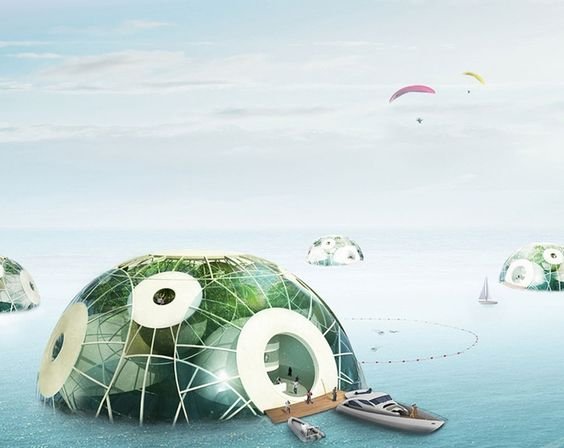 Solarpunk is sort of a counter-culture to cyberpunk. While this genre has certainly developed its own sense of visual aesthetics, the spirit behind this culture is one that is optimistic in nature. Just like sunlight. Here are the most interesting bits on the subject, as found in [Wikipedia](
https://en.wikipedia.org/wiki/Solarpunk
):-
Solarpunk is a relatively new eco-futurist speculative movement focused on envisioning a positive future beyond scarcity and hierarchy, where humanity is reintegrated with nature and technology is used for human-centric and ecocentric purposes.

Its economic orientation entails looking beyond both market capitalism and state socialism in favour of a decentralised and egalitarian "economy of the commons"; based on democratically-run cooperative enterprises, local community stewardship of resources, and automation of labour by decentralist eco-technologies.

In this nascent stage, solarpunk appears as a loose collection of ideologies, manifestos, and desires for a sustainable, achievable future. It's elegant high-end technology powered by renewable energy. It's a shift away from geometric centralised infrastructure to a decentralised, organic, free-flowing design.

It's microgrids instead of national grids. It's stained glass solar panels, and natural fabrics merged with solar cells. It's bespoke instead of mass-produced. It's permaculture and microbreweries. It's communal instead of corporate. It's radical sustainability: when hippies and hipsters meet, and techno-geeks crash the party.
That said, @gardenofeden seems to be a model precursor. It's a sign that such societies are coming up, and it's only going to pop up like mushrooms all over the world as both solar and blockchain technologies make progress. "New ways of doing things" are always being transmitted and distributed in social networks all the time.
A new world order / disorder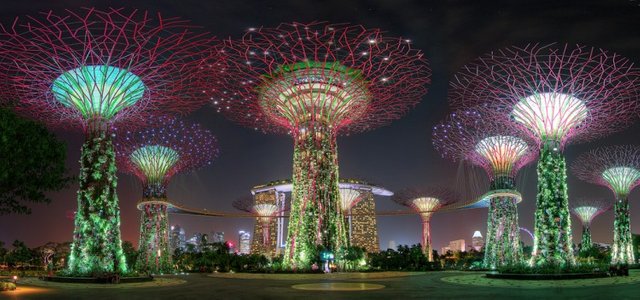 Upon discovering this genre a year ago through the Ethereum subreddit, it lit up some lightbulbs in my mind. I've seen patchworks of
Solarpunk
reflected in many different projects all around the planet. Solarpunk is actually rather symbolic of freedom - it allows for both isolation and connectivity. Solar energy is in itself free and enabling. Thinking along that line, nano - renewable/recyclable technologies for 3D-printing materials seems to be the way of the future.
Here's an excellent tumblr post on why solarpunk is the most important speculative fiction movement in the last 20 years. It's a highly recommended read if you're getting into the groove. Here's an interesting excerpt:-
Individuality still matters in Solarpunk. In a post-scarcity society, ingenuity and self-expression are not sacrificed on the altar of survival. With solar power there's no reason not to go off grid, if that's what you want to do. Communities can self-organize. You can find a community that suits you, or go live by yourself if that floats your boat.
The future has always been around
It is as eternal as energy itself and hidden from sight, always waiting to be unravelled and explored by our imagination. Solarpunk is the culmination many great, cohesive, and liberating ideas that seems to be achievable within the turn of the century.
While the Solarpunk movement itself is still very new and not a very active, I hope that the spirit of this genre will go on in the hearts and minds of its readers. Maybe someday you'll see hints of solarpunk-esque concepts sprouting up in your neighbourhood. For now, it'll continue brewing in virtual space such as this little post here.
Here's part conceptualisation of solarpunk, meme-fied to epic proportions: http://hermicity.org/. Jokes aside, I hope this has been an interesting topic for you. Thanks for reading!
---
The video that might've triggered Solarpunk: Humans Need Not Apply by CGP Grey
Suggested further-reading: https://solarpunkanarchists.com/
---