How to completely transform your psyche - Part 2
Here is Part 1 of my reflections on the work of J. Krishnamurti and David Bohm, in case you missed it.
There I described the wonderfully independent, voluntary nature of K's approach and touched on his recommendation of choiceness awareness - the act of observing oneself, and the rest of reality, with absolutely no judgment or direction. I said that in K's application of this in his talks and in his collaboration with Dr. Bohm, time and the ego are called into question, and we see them begin to "break down." But what does this mean? What does it actually look like?
The idea is that thought, time, and the ego are inseparable from each other. The deconstruction of our usual concepts around time and ourselves to which I alluded have as their root what Bohm would call "Krishnamurti's major discovery." This is also the part of K's work that I personally found to be most impressive and profoundly liberating.
In this essay, Dr. Bohm explains how he encountered the work of K in the book First and Last Freedom and how they struck up a friendship and began talking.
We probed into the nature of space and time, and of the universal, both with regard to external nature and with regard to mind. But then, we went on to consider the general disorder and confusion that pervades the consciousness of mankind. It is here that I encountered what I feel to be Krishnamurti's major discovery. What he was seriously proposing is that all this disorder, which is the root cause of such widespread sorrow and misery, and which prevents human beings from properly working together, has its root in the fact that we are ignorant of the general nature of our own processes of thought. Or to put it differently it may be said that we do not see what is actually happening, when we are engaged in the activity of thinking.
Bohm agreed with this "discovery" that thought is the root of our problems and was very passionate about it. He would go one to make things more precise with his work on proprioception, or self-perception, of thought.
The book The Ending of Time is an excellent starting point to understand why these two held this strange opinion, and I have heard that it is very representative of what their dialogues were like. It is a compilation of talks between the two that happened between April and September of 1980. At this point Bohm was in his 60's and had already done much of his major work: starting out with J. Robert Oppenheimer, developing the theory of plasma, and working closely with Einstein for some time. K was in his early eighties and only 6 years away from his death.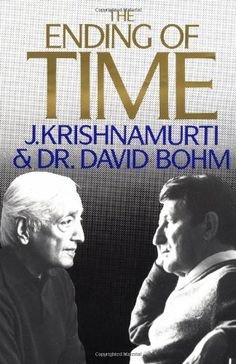 The ending of (psychological) time
To paraphrase, they begin their first conversation in April by considering whether humanity has somehow taken a wrong turn, not just in society, but on the level of our consciousness. Bohm suggests that there was a point in the past when people began to plunder and take slaves, and K says that conflict has been the root of all this...but what is the root of conflict? Perhaps it is humanity's inward sense of becoming or constantly wanting more. Religions tell people how they can become better, more pure, or maybe somehow closer to the divine. Regardless of the attempted conflict resolution, the point is that these mechanisms are all providing methods of improvement of the self and that there is a conflict in our minds between what we are and what we should be.
People improve their outward lives through technological means, and they extend this idea and apply it to themselves psychologically, or spiritually, thinking, "I, too, must become better."
DB: Well, I should think it is natural in thought to project this
goal of becoming better. That is, it is intrinsic in the structure of thought.
K: Is it that the principle of becoming better outwardly has moved to becoming better inwardly?
DB: If it is good to become better outwardly, then why shouldn't I become better inwardly?
K: Is that the cause of the conflict?
Becoming implies time. Bohm points out that there seems to be nothing wrong with the idea of becoming outwardly, and asks what exactly is wrong with applying it to our inner being?
DB: The difficulty is, why is [becoming] a contradiction inwardly and not outwardly?
K: Inwardly it builds up a centre, doesn't it, an egotistic centre?
DB: Yes, but can we find some reason why it should do so? Does it build up when we do it outwardly? It seems it need not.
K: It need not.
DB: But when we are doing it inwardly, then we are trying to force ourselves to be something that we are not.
The two go on to observe that humanity has given thought, knowledge, and experience a place of supreme importance in life. Placing these ideals on a pedestal is great for technological development; obviously, it's necessary to function in the world, but I think the gist of their strange conversation is that we have taken this observation too far in applying it to 'ourselves.' As Bohm says, we have "got caught in this kind of knowledge, which is dominated by time because it has become psychological knowledge." Perhaps applying the idea of improvement with time to our psyches is a mistake and has created conflict and misery for us.
We are attempting to use thought to learn about ourselves or how to transform ourselves into something. Unfortunately, thought is not fully aware of its own operation. What if we were to perceive our thoughts as a physical process?
And how do we know that the ego is real? What if the feeling that our consciousness is separate from 'the other' is a consequence of thought, as opposed to thoughts originating in an individual entity we call "me?" If there is no ego, there is no inner conflict and no sense of becoming.
K said that meditation is "the ending of time." In what he calls meditation, there is no thought, no time in the psychological sense, and no ego or struggle to act on it or do something with it.
The Ending of Time is available as a free pdf (see the link above), and you can watch the talks on YouTube.
[
]
Proprioception of thought and further work
Bohm talked about K's discovery in more precise terms using the notion of proprioception of thought.
We need a quality, which I call proprioception, really self-perception. In the body this seems to be built in. If you move your hand, you know that you're moving it. Your intention or impulse to move is aware simultaneously with the movement. You can tell the difference between moving your hand and letting it drop using gravity to move it. If you couldn't tell that difference you wouldn't survive.
He points out that thought does not seem to have this quality, and that it tends to inappropriately abstract itself from the rest of reality. This leads to an unnatural fragmentation in our thought that isn't reflected in the universe as a whole.
Thought apparently doesn't have this proprioception. We do things and all sorts of things occur, emotions occur and we don't see that our thinking has produced them. Nations are built. All of society is produced. Endless consequences are produced and the next thought abstracts them as independent. That's an inappropriate abstraction. Then later it makes the wrong abstraction of the unity in order to compensate. It goes on and on.
The question is, why shouldn't thought be proprioceptive? It's part of the body process too. It's a more subtle set of reflexes. There was no reason why it should have developed proprioceptively. It was not built into our genetic structure, the way we think. This was open to culture. In fact, thought, as we know it would hardly be possible without culture.
Naturally, he connects thought with the structure of language, since our thinking constantly influences and is shaped by the development of our language. A fascinating chapter exists in the Wholeness and the Implicate Order regarding experimentation as a type of language that could, perhaps, more readily describe the strange world of quantum mechanics.
Does all this actually help humanity?
For me, hearing and reading about this inquiry into the nature of thought evoked a sense of freedom. I believe these observations can affect a person's life in the most profound of ways.
The reason is that, as
K observed, in the same Brockwood Park talk I quoted from last time, that when one comes to the realization that psychologically, time does not exist, one frees oneself from the "tremendous burden of memory" and from worry about the future.
He explains that, obviously, it takes time physically to move from one place to another, and we have mistakenly carried that notion over psychologically. We think that in order to free ourselves of greed or jealousy (for example), or to "get over" a bad memory, that we must spend time somehow working on ourselves. But, he asks, to free yourself from greed, do you actually need time? If you are "timeless" (i.e. meditating), and you observe that you are greedy, you act, and you cease to be that way.
To put it another way, if you see the entirety of a psychological situation, then that is identical to solving the problem inherent in the psyche. For instance, the minute you realize how nationalism can be dangerous, the feeling of attachment to a group is gone. You don't realize how dangerous it is; thus, you still have to spend "time," as in several hours or days, performing an act to yourself to cast off an attachment.
Psychologically, thought has invented time as a means of avoiding and postponing, indulging in that which is already has. Meditation is the ending of time.
It is still natural to wonder if this work could actually change the structure of society and help cure our tendency towards violence and struggle. If these insights were so earth-shattering, why didn't they change the world already?
I think that it's difficult to engage with people on such a deep topic that requires lack of fear and a willingness to question their thought processes and the nature of themselves. But whether you think these two may have stumbled onto something or not, it is still important to be able to communicate without personal agendas getting in the way.
Watching these dialogues, I realized that this is basically the type of conversation I've always longed to have. So many times in talks with close family and friends, I felt like we would reach a certain point in our "freedom" - or willingness to throw out all belief and assumption and truly consider everything – but then one of us would get scared or exhausted and either admit this, or fall back on some comforting belief or thought.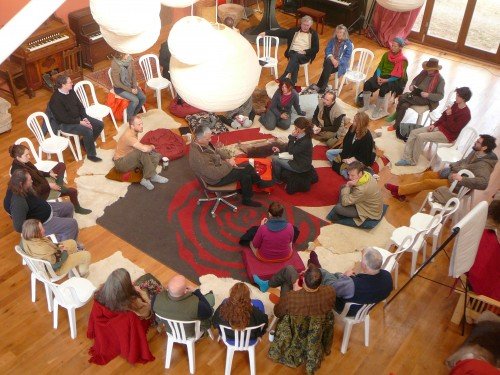 Bohm's proposals on dialogue
This brings us to Bohm's suggestion of having dialogues. In the essay On Dialogue, he suggests that a group of people, maybe 30 or 40, get together without any purpose or plan other than to talk without relying on assumptions. This is supposed to be an anarchic process with "free flow" of information, and is different from a discussion where people are trying to convince others to adopt their position.
In a dialogue, however, nobody is trying to win. Everybody wins if anybody wins. There is a different sort of spirit to it. In a dialogue, there is no attempt to gain points, or to make your particular view prevail. Rather, whenever any mistake is discovered on the part of anybody, everybody gains. It's a situation called win-win, in which we are not playing a game against each other but with each other. In a dialogue, everybody wins.
He thought that having 30 - 40 people may prevent the people in the group from "adjusting" to each other - unconsciously making sure they don't upset another's perceived assumption with what they say. The underlying motivation for doing this is to explore the nature of the self and thought in a coherent way.
Just having several people or a larger group practice K's "choices awareness" together, talking with as much openness as Bohm said he was able to with K or with Einstein, would be a bit revolutionary because it happens so rarely.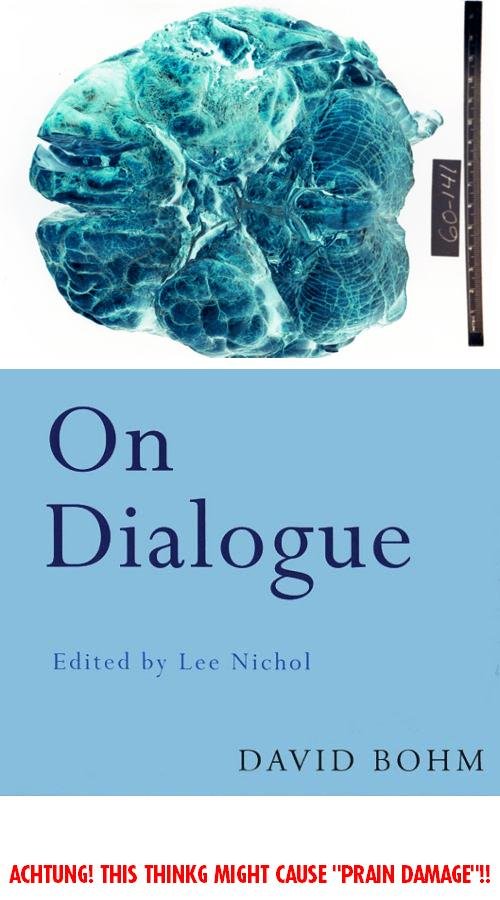 In closing, it is my hope that the spirit of free inquiry that Bohm and K advocated can be rekindled using the internet and other media, and that this will lead to modern experimentation with Bohm dialogue. The Steem blockchain itself is an example of the free flow of communication and exchange of ideas via a participatory "win-win" game for practically everyone involved.
All Steem dollars I earn from these two posts will go to the David Bohm Society, which "exists to inventory, preserve and promote David Bohm's work and to explore and realize his proposals." I'll try to get the group's founder to accept crypto donations if he doesn't already do so, rather than converting to Canadian fiat!