Beauty in the Breakdown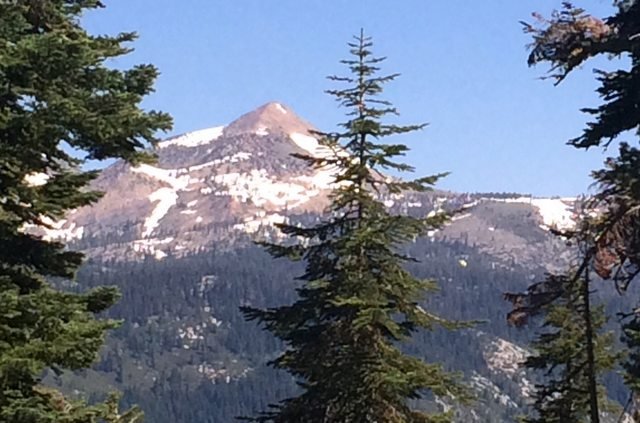 How often we miss out on the amazing things of life because of fear! We can become paralyzed with the "what if's" and choose instead to take the path of supposed safety and least resistance. Yet in doing so, we actually harden ourselves to the vibrancy of Life, becoming enclosed in the cold and rigid walls of self-protection. A little courage goes a long way!
Take this weekend for example:
My family and I took advantage of the long holiday weekend and went camping in the Sierra Nevada just outside of Lake Tahoe. Rather than going the typical route of finding a developed drive-in campground, we decided to "adventure it" this time. We traversed rutted dirt roads into the back country, searching for somewhere we could call home for a few days, ultimately settling on a hilltop clearing with beautiful vistas of the surrounding mountains.
On our first full day, we hiked to a remote lake a short distance from our campsite. After clambering over boulders and sliding down scree we arrived at Cody Lake, our bodies caked in dust and dirt from the climb. Water never looked so enticing, the lake a sparkling jewel in the summer sun. We stripped down to our swimsuits and stepped into the water, letting it lap lazily across our bare feet as they dug into the rough granite sand.
How perfectly beautiful! What a change from the urban grid of concrete and strip malls. Standing there, breathing in the cool mountain air, I could feel the strain of busy-life lifting from my shoulders. This was good for the soul.

I decided to step in further, allowing the water to reach my knee caps. Wow! Cold! The sun could only penetrate the water so far, warming only the first few inches of the lake. At 7000+ feet of elevation, this lake was full of snow melt and spring water from the frigid depths of the mountains. I could only go in a short distance before my body began to protest.
I almost stopped right there.
The risk-aversion side of my brain began to rationalize: "You don't have to go any further. Isn't this great! The view is amazing as it is - no need to jump all the way in. You'll just get cold and wet. Really cold! And really wet! This is far enough."
I almost listened to that fear - the fear of being uncomfortable, the fear of ruining the moment, the fear of the unknown. My brain made so much sense!
But why come out this far just to stop now? I've already four-wheeled into the back country, slept under a pulsing star-lit sky, edged my way through granite slabs, and stepped into a shimmering lake far distant from my 9 to 5 life.
Do it! Jump in!
And I did.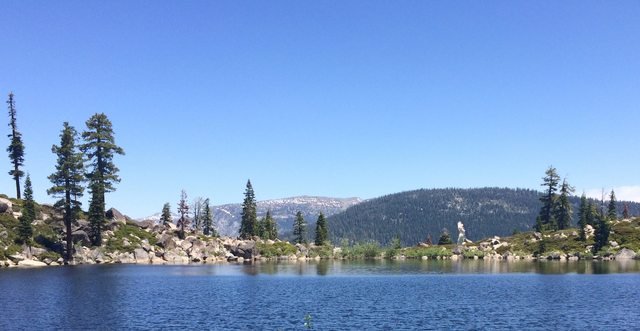 For a brief moment, the water was piercing. It cut into my skin like the jabbing of hundreds of tiny needles. My lungs contracted in shock as I plunged below the surface. But that moment didn't last, and my body quickly adjusted to this new environment.
The ice-cold water that was painful for the briefest of seconds was now startlingly invigorating. All the nerve endings across my skin tingled with energy. My breathing adjusted and I felt full of life! What I thought would be my undoing, ruining a perfect day, became the highlght.
I laid back and floated on the surface of the water, taking in everything around me. For several minutes I closed my eyes, and all I could hear was the murmuring of wind and water. I was alive and at peace.
While this moment was unique in its own right, I couldn't help but wonder about the hundreds of other moments that my safety-seeking self prevents me from experiencing the vibrancy of life. How many times are there opportunities for seeing beauty in the mundane? How often do I miss the possibility of life-changing experiences because I do not press through the fear?
When we fear discomfort, we build up those protective walls. Those walls need to be broken down from time to time or we become loveless and dull. The "break down," though, often ends up being a "break through" and we arrive somewhere fresh and new.
In the spirit of "letting go," I'll leave you with some parting words of wisdom from Imogen Heap:
So let go
And jump in
Well, whatcha waiting for?
It's all right
'Cause there's beauty in the breakdown

from "Let Go" by Frou Frou (Imogen Heap)