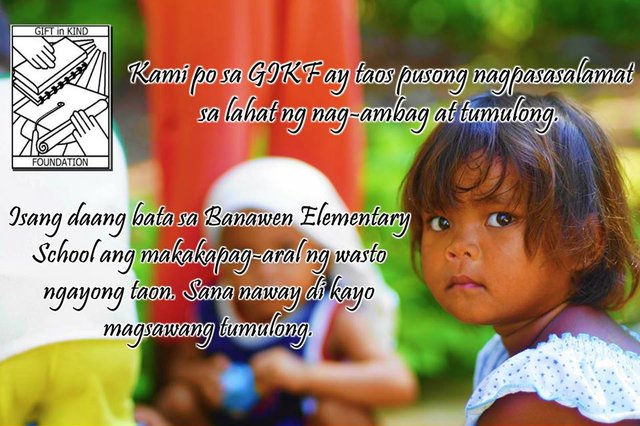 The caption reads as "GIKF whole-heartedly thanks all the people that donated and volunteered. One hundred kids from Banawen Elementary School will be able to study properly. We hope that you will never tire from helping them.
Part of our fundraising drive for the Gift in Kind School Supplies project for 2018 is selling some T-shirts for a cause in some of the bazaars that the companies supporting us will be holding in the next couple of months.
Unfortunately none of the core group are artistic enough in creating designs and we really want a good one this year that would highlight the culture and beauty of the indigenous tribe of Aetas that we are supporting.
To know more on our plans for this year you may click on the following links below:
Promoting Steem to Gift in Kind Foundation| Our first step to modern fund raising
Sitio Banawen a community of Aetas: A story of Hope
Gift in Kind Foundation: More than a decade of sharing our blessings
I will try give you the vision in my head and just like when I talk to my graphic designers in the Comms Department they usually tell me to get out and leave the artists to work their magic.
What we want is something that speaks of the culture of the Aetas, a good representation of their tribe and proud history. I leave it up to you.
Rules of the contest:
This post must be upvoted as all proceeds for articles about Banawen will be donated to the project
Resteem it so that it may reach a wider audience
Use the tag GIKBANAWEN it doesn't need to be the first one but just so I can easily look for it
Title of the post should be Gift In Kind T-Shirt Logo Design | (whatever else you want)
.I am not expecting a two thousand word post but please provide some details on what inspired you to draw it, some of the techniques used.
Only original art will be accepted. There has been a lot of art theft lately and design will be sent to corporate sponsors in Germany.
Proof of work. I cannot stress enough the importance of weeding out art plagiarist in this platform!
Must agree that the design can be used for any purposes deemd by Gift in Kind for Banawen .
Winning entry will need to send a high resolution file.
Judging will be done by the Gift in Kind core members and hopefully a design is picked.
Any donations will be wholeheartedly accepted and will have a accountability report provided.
Deadline has been extended till February 14

We are pretty excited using Steem as a means to create a gifteconomy to Sitio Banawen. We are hoping by kick starting it here will open more avenues and opportunities to our Aeta brothers and sisters.
Be one of the many who will change their lives for the better.

I support @steemfreelancers