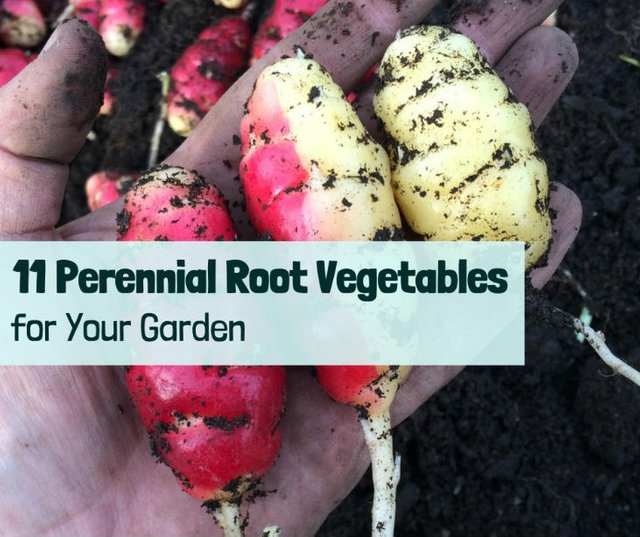 What if I told you there are root crops (like potatoes) that you only need to plant once and they will come back year after year providing you an abundant harvest with minimal effort? Sound awesome? These awesome plants are called perennial root vegetables.
Basically, these are perennial vegetables (vegetables can come back year after year without needing to be replanted) that are also root crops like potatoes or carrots.
Both of these need to be replanted each year but perennial root vegetables come back on their own.
This week's blog post is all about perennial root vegetables: 11 Perennial Root Vegetables for Your Garden.
A quick note... in this blog post I include plants that produce an underground harvest regardless of if the part you harvest is technically a root. Perennial onions is an example of this. This keeps things simple which for the scope of this blog post makes sense.
The 11 perennial root vegetables covered in this post are:
Arrowhead—Sagittaria latifolia
Egyptian Walking Onion—Allium x proliferum
Skirret—Sium sisarum
Sunchokes—Helianthus tuberosus
Springbank Clover—Trifolium wormskioldii
Achira—Canna discolor
American Groundnut—Apios americana
Chinese Artichoke—Stachys affinis
Common Camas—Camassia quamash
Oca—Oxalis tuberosa
Pacific Waterleaf—Hydrophyllum tenuipes
What are some other perennial root vegetables that could be added to the list?
Gardening with Perennial Root Vegetables

Springbank Clover - Image Credit: Eric in SF (Wikipedia)
One of the challenges with perennial root vegetables is adding them to a traditional vegetable garden. A number of these root vegetables tend to spread--sunchokes for example. Plus you need to dig them up to harvest them which can disturb other vegetables.
So what do you do?
One option is to create separate beds for your perennial root vegetables. This gets around some of the issues but does mean you need a bit more space and you miss out on the benefits of a polyculture.
Another option with some of these is to grow them in a food forest environment or at least around some larger perennial plants such as trees and shrubs.
I like this last one the best since it allows for a polyculture and all the benefits that brings.
Of course you could also just stick with the ones that don't spread and are harvested yearly like oca. Then it is really no different than growing potatoes.
What about you do you garden with perennial root vegetables? If so how do you add them to your garden?
Pick 1 Perennial Root Vegetable to Grow
While perennial root vegetables may be harder to include in your vegetable garden I think they provide a lot of great benefits just like perennial greens and perennial vegetables in general.
I'm going to try growing at least 1 in my new kitchen garden this year. Right now I'm planning on adding Pacific waterleaf to my new kitchen garden in a shady area on the north side of the beds. I might also give oca a try.
So here is my challenge for you. Pick 1 perennial root vegetable to add to your garden this year. If you are already gardening with perennial root vegetables then try adding 1 new type. Please leave a comment saying what you are going to add to your garden.
If you need help picking out 1 then don't forget to check out this week's blog post which covers 11 perennial root vegetables.
I look forward to see what perennial root vegetable you are going to grow this year!
Also, if you want to learn more about perennial vegetables in general I would check out the awesome book Perennial Vegetables by Eric Toensmeier which covers over 100 perennial vegetables (including root vegetables not covered in the blog post) (yes that link is an affiliate link). I own the book and reference it a lot. Your local library may have it if you don't want to purchase it.
Thank you and please upvote this post if you liked it and don't forget to follow me to get more posts all about working with nature to build your homestead and grow your own food!