So, I've been talking for a while in the Natural Medicine discord channel about doing a series on these permaculture playing cards. Ever since the airdrop from @papa-pepper, I've been thinking of how to do it, and I think I've found the perfect combination.
My goals with this series are many. I just bought a lot of steem, which I intend to power up. Instead of directly doing so, I am going to buy votes on these posts. The purpose is twofold:
It will increase my SP more by utilizing a profit guaranteed voting service.
Hopefully it'll help get some posts to trending.
Getting permaculture posts to the trending page will be super awesome for spreading our cause through the steemisphere.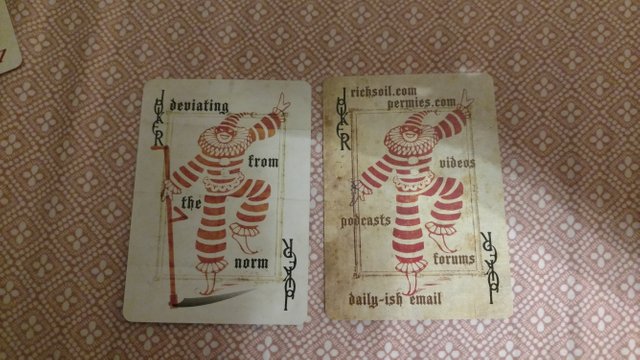 I am also going to be hosting contests in these posts. There are things hidden in the cards, and I'm giving out @steembasicincome shares to folks that find them. I'm hoping the contest nature of the series will also help spread our publicity here.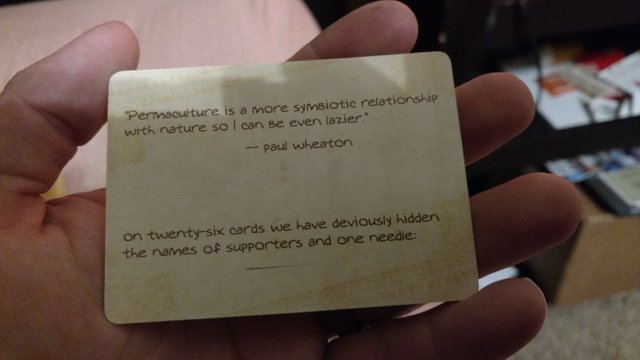 Of course, an appropriate quote from @paulwheaton. Let's all make it a goal to be more lazy.
So for the ongoing contest, I will award an SBI share to the first person that finds the hidden name on a card. There are twenty six, so one on every other card. The needle, I have been unsuccessful in finding. It is worth five shares. The idea is to encourage engagement and attention to detail. Winners must answer before posts pay out to be eligible.
---
---
Enough intro, let's get to it!
Today's featured permaculture tidbit is the MASON BEE.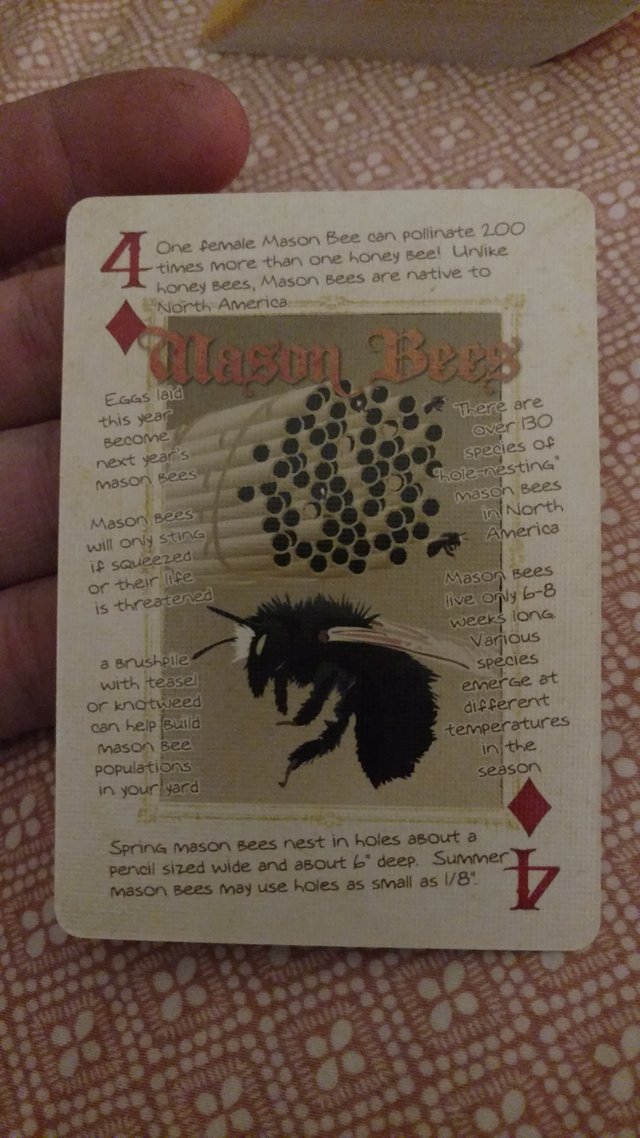 Quite fitting, as I listened to a podcast the other day that mentioned mason bees, and I was also just talking to @buckaroo and @craigcryptoking about bees.
Paul Stamets talked a lot about bees in his episode on Diego Footer's Permaculture Voices Podcast, which was his recorded lecture from Permaculture Voices 2. Listen to it here
I can't say I've ever seen a mason bee, even though they're native to North America. Maybe I should do something to nurture a local population.
At our local nursery, they have bug houses shaped like the nest on the card. Many things parallel tubes. I didn't know what they were about until I saw this card, so I may have to pick one up. This may be my way to sneak some bees onto our property. Even though they won't make any harvestable honey, they'll still give plenty of benefit!
What do y'all think? Are bees something you want on your property? How can you make that happen? Did you know there's beekeeping kits on Amazon for only a couple hundred bucks with prime shipping? What about this Mason bee hive? That's something I love about permaculture: it's an approach of action and optimism that is accessible to people from all walks of life. Add a touch of modern convenience, and there's no way we won't take over the world ;)
Be encouraged.
Be blessed.
Stay relevant.
Nate