Peer Query core upgrade: finally a MVP for Steem powered peer-to-peer collaboration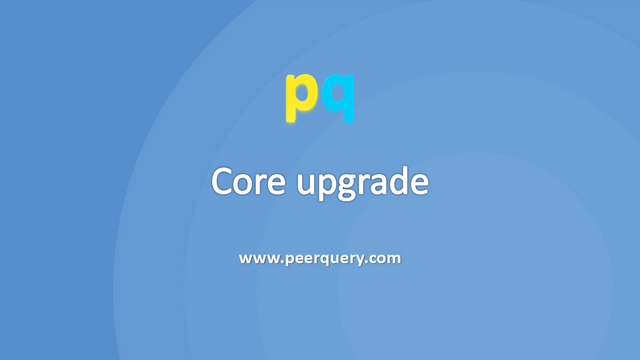 Peer Query is finally a platform you can build on. No more browsing posts through tags; you can now build real projects on Peer Query
It's an upgrade, not an update
Introducing peer to peer collaborations
Peer Query has been refactored from being a tag browser into a platform for peer to peer collaborations. You can now sign in, see users, see their reports and more.
You can create projects, and publish reports to inform the community about the mission and progress of the projects.
Lots of things have been stripped out and broken
Unfortunately, the wallet page, community page and lots of other features have been stripped out of this version. Post rendering is also very literal without much much processing for markup.
Also, lots of functionality has been stripped out, including voting, commenting, resteeming, following authors and others.
Please bear with us as we restore these features and functionalities through coming updates.
What can I now do?
Launch a project
If you have any community or project on Steem, in the crypto industry or any other industry, you might want to create a project out of it on Peer Query.
Peer Query is not a project management platform, it hopes to offers complementary support for building, promoting and funding projects.
The core things we hope to offer project owners are:
Development: Queries that make it easy to find like-minded peers as well as making it easy to outsource project development through gigs
Financing: Reports published for projects are published as Steem post so the authors could earn upvotes for the project. We have other financing programs to be launched for projects, in addition to an upcoming curation service powered by Curator
Community: Peer Query offers a community where like-minded peers can discover each other, form partnerships, work together on projects and do alot more
These are the aims of Peer Query. We have started our move towards the realization of these goals with the refactoring of Peer Query.
Now we will work further see the attainment of these goals by building new features, as well as seeking partnerships with other service providers to increase the feasibility of our missions.
Careful, its still fragile
This is only the core upgrade, Peer Query has been changed from a Steem posts browser into a minimalist platform for building projects and communities.
This upgrade is very minimalist, so please use it with care and without much expectations. Within the coming days there would be lots of updates to improve it.
What is next?
The Steem Institute
Alright. This one has taken too long. Now that Peer Query is up, the Institute is next.
Improvement to Peer Query
Lots of updates are on the way, new features, partnerships and existing projects.
Thank you all
Thanks to everyone for their support with Peer Query. From those who started supporting since the very first proof of concept version to the newest fans, a big thank you.
The source code will be released in days. Take a look at the new Peer Query: https://www.peerquery.com.