Steem Institute 101: what we are building and what we stand for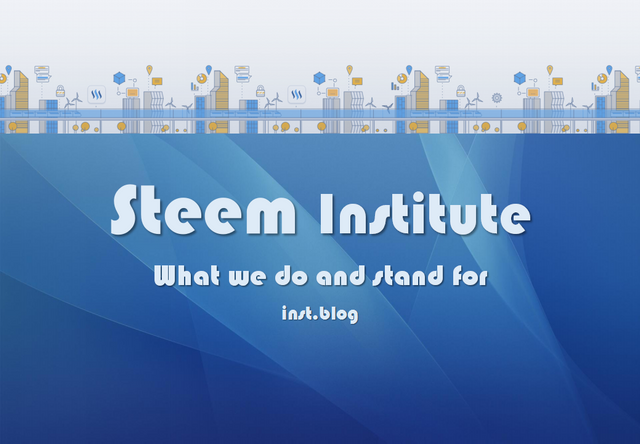 This report is a sequel to our introductory report, which was received positively and supported by the community. Many thanks for your support.
However, the concise nature of the report left some of our readers confused about the intended activities of the Steem Institute. In this brief report, I will outline what the Institute is to do and what it is to stand for.
What do we do?
Build platform on Steem
We intend to build solutions, opportunties, platforms, and communities on Steem for bloggers, businesses and investors.
Applications
Among our portfolio of applications include a localized p2p exchange, native search engine, deep explorer, content client, encrypted memo powered email portal, creative commons library, community chat, content promotion interfaces, and others.
Communities
Our communities include a witness portal, developer portal, investors portal and national user portals.
Services
The services we will offer include monthly reports on the state of the chain, starter kit, exposition and discovery, perpetual content monetization network, mobile solutions and more.
Provide Institution and support
Migration
Provide migration and integrations support and services to websites, apps, and blogs which want to adopt the Steem technology into their systems.
This will include support for creating new accounts, setting up SMTs, settings a witness account and more.
Incubation
For new and existing Steem ventures, we intend to provide support, promotion, financing, talent, consultation as well as a market.
Institution
For the community we provide institution. A communal front to champion the cause of the community, chain development, promotion, and support.
What do we stand for?
We stand for everyone
We are for everyone on Steem; investors, developers, witnesses, users, and entrepreneurs. We have aligned our vision and projects in such a way that we have something for everyone.
Investors
Diverse investment opportunities in our projects while streamlining investment into non-affiliated ventures, including:
the delegation of Steem power
investment of Steem or Steem Dollars
lending Steem or Steem dollars
Developers
The Institute's projects are all going to need all the developers we can get to build them, from interface developers to apps to the Blockchain developers. Lots of diverse opportunities for developers to maximize their potential.
Entrepreneurs
The Institute is a capitalist venture, with most of our projects to be incorporated as limited liability companies. In that light, our interests serve a common interest for businesses and entrepreneurs.
our platforms, initiatives, and, services will provide businesses with much need
we will create room for entrepreneurs to build our projects
Enthusiasts
Everything we build, we build for customers; the enthusiasts. They are the very reason we are building, and all we build is for them.
Common interest
Open source
Every project which can be open sourced without negatively affecting our work will be open sourced.
High standards
All people in our teams will need to be people of integrity and with a good understanding of the Steem blockchain technology.
Healthy competition
We will provide healthy competition with existing competitor businesses and services, partnering with those who offer to.
Originality
We cannot do any of these without the support of the Steem witnesses, Steemit Inc, Steem developers, investors, and community. We are open to them and will continue to work them every step of the way.
Join our community now!
Get in touch with and let us see how we can work together. Investors, developers, enthusiasts, and entrepreneurs are all welcome! These resources have not been fully developed, however, you could bookmark them.
Website
Steem.institute - official
Inst.blog - community
Steem
@institute - official account
@inst - community account
Community
Discord: https://discord.gg/xeSnGc8
Peer Query: https://www.peerquery.com/project/u34DY1Uyt
Reach out to us!
If you have any interest or inquiry to about anything projected here or otherwise, please join our Discord server to make your requests
known.
If you want to join our team, please visit our Discord channel.
Regards, Dzivenu,
Steem Institute.
---
Published on Peer Query - Blockchain-powered p2p collaboration.