Head Of Charity Against Sexual Violence Charged For Attempting To Arrange Rape Of Children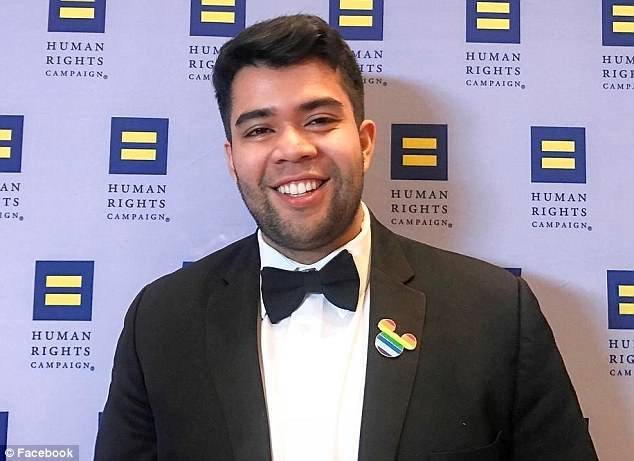 This article was originally published with Disobedient Media and is my own intellectual property.
---
Joel Davis, chairman of the International Campaign to Stop Rape and Gender Violence in Conflict, has been arrested in New York. He faces charges of enticement of a minor to engage in sexual activity, attempted sexual exploitation of a minor, possession of child pornography and receipt and distribution of child pornography.
According to the US Attorney's Office for the Southern District of New York, U.S. Attorney Geoffrey S. Berman said:
"Joel Davis started an organization devoted to stopping sexual violence, while allegedly engaged in the duplicitous behavior of sharing explicit images of infants engaged in sexual activity. Davis also allegedly solicited an undercover officer – whom he thought to be a willing participant – to send sexually explicit videos of his nine-year-old daughter, and even to set up a sexual encounter between himself and a two-year-old. The conduct alleged against Joel Davis is as unfathomable as it is sickening, and as this case demonstrates, law enforcement will keep its watchful eye on the darkest corners of the internet to bring predators to justice."
"During the course of these conversations, DAVIS told the undercover officers that he was sexually interested in children of all ages. DAVIS sent the undercover officers sexually explicit photographs of infants and toddlers, including photographs in which the infants and toddlers were engaged in sexual activity with adults. "
The Daily Mail recounts that FBI Assistant Director-in-Charge William F. Sweeney Jr. stated: "Having started an organization that pushed for the end of sexual violence, Davis displayed the highest degree of hypocrisy by his alleged attempts to sexually exploit multiple minors... As if this wasn't repulsive enough, Davis allegedly possessed and distributed utterly explicit images of innocent infants and toddlers being sexually abused by adults."
The US Attorney's Office for the Southern District of New York commented on the arrest via Twitter: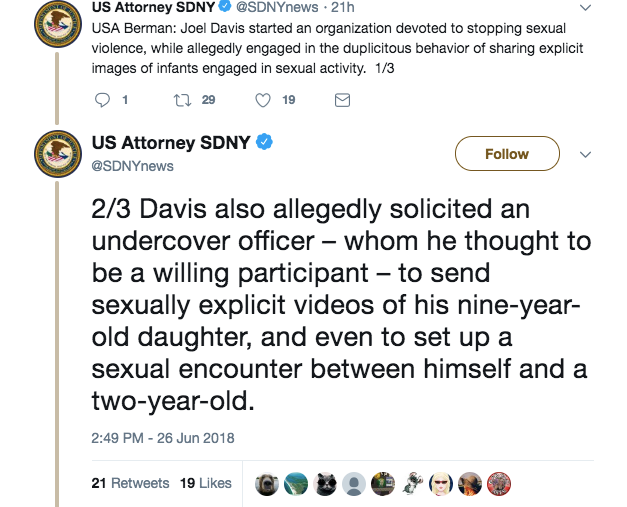 Disobedient Media obtained a full copy of the complaint against Davis, with segments of the document included below, which depict the horrific nature of his conversations with agents who he believed were fellow child abusers: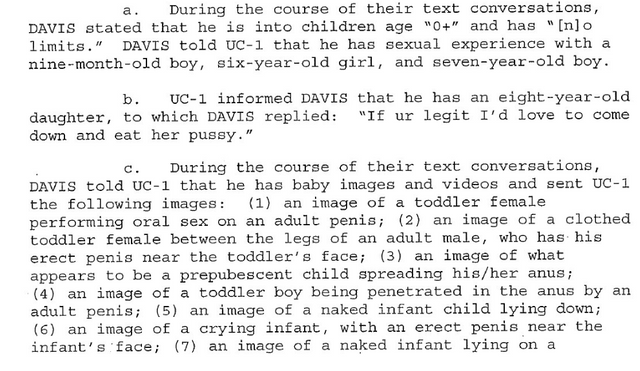 The charity Davis headed, the International Campaign to Stop Rape and Gender Violence in Conflict, describes their work: "With over 5,000 members, we are the first ever global collaboration between Nobel Peace Laureates, international advocacy organizations, and groups working at the regional and community levels in conflict."
According to the group's website, the charity has sent delegations to: "The Democratic Republic of the Congo, Haiti, and Colombia, built an extensive network of Survivors United for Action, and demanded fearless political leadership on behalf of victims everywhere."
In light of Davis' horrific statements as recorded in the criminal complaint against him, the contrast between that evidence and the humanitarian sentiments of the Campaign's website speaks volumes as to the all-too-common facade of humanitarian efforts and the stark reality of abuse against the most vulnerable.
As noted by Lori Handrahan via Twitter, the Campaign's Steering Committee includes Human Rights Watch, Physicians for Human Rights, the Dr. Denis Mukwege Foundation, Nobel Women's Initiative, the Global Fund for Women, Youth to End Sexual Violence, The Italian Mine Campaign, Promundo, Every Woman Everywhere, Sofepadi, and Change Center for Health and Gender Equity.
Davis delivered a TEDx talk only two months prior to his arrest. During his address, he states that his first task in the sphere of humanitarian work around sexual violence involved transcribing the stories of rape victims in the Congo. He described one interview in particular, saying: "It was with a nurse, who was representing a victim [of rape] who died in her care. A six-month-old baby girl." In light of Davis' recent arrest, the hypocrisy of these sentiments is truly beyond the power of words to express.
Lori Handrahan, a respected humanitarian aid worker, expressed her disgust towards Davis via Twitter:
I know Joel Davis. He had asked me for help starting his #humanitarian career. He was arrested for attempting to arrange the rape of 2 & 9 year girls and trading in videos/images of infant rape.
Handrahan previously reported on the revelations of abuse in aid work, including the arrest of Peter Dalglish. Disobedient Media spoke with Handrahan, who told us:
"In April I wrote about what the arrest on child sex abuse charges of high-level former UN employee Peter Dalglish's meant for the #AidToo movement within the humanitarian community. Yesterday, a younger version of Peter Dalglish, Joel Davis, was arrested in New York as he was arranging a meeting with a father with the intent of raping a 2-year-old and an nine-year-old girl. Davis has also been charged on child pornography related charges that included trading in infant rape.
"Davis, like Dalglish, groomed the humanitarian community in order to advance his own criminal agenda of committing crimes against vulnerable children."
"I expect every organization that hired Davis and supported his organization, Stop Rape in Conflict, to issue a strong and immediately public statement about Davis's crimes and to take concrete action to ensure they do not continue to support an environment within their institutions that allows pedophiles to groom their staff, board members, and other employees with the intent of using that institution as a cover for child rape."
Unfortunately, the arrest of Joel Davis is far from the first leader of a charity to be arrested for sex abuses against children.
Disobedient Media previously reported on a particularly infamous scandal that unfolded in 1987, in which the operation of a child porn and child trafficking operation was discovered to have been run from the basement of the UNICEF building in Brussels, Belgium. In that case, the Director of the national committee of UNICEF was charged with "offenses involving what police suspect is an international child prostitution ring."

Report from the Daily Express, 26th January 1988
In that case, press reports indicated that the youngest child known to have been abused was just eight months old, while the oldest child was twelve years old. This sickening historical precedent should educate the public as to the chronic and systemic issue of predators at the helms of charities, NGO's, and other entities and institutions that claim to protect children and the vulnerable but which can all too easily become a vehicle for predation.
Disobedient Media also reported on the testimony of Greg Bucceroni last year. He described in detail the harmful role played by philanthropic organizations in Philadelphia during the 1970's and 1980's, recounting the methods by which multiple organizations were used by well-connected pedophiles to access vulnerable youth under the guise of helping them.
In a very real and tragic sense, the arrest of Joel Davis represents the continuation of a sick and parasitic norm in charitable work, non-governmental organizations and other entities who claim to protect the vulnerable, but whose leaders are exposed as predators of the worst kind.