Yet another Peakmonsters update
Another day another set of features on https://peakmonsters.com/
We have a bunch planned and since there were a couple of fixes to release we decided to throw in some new features.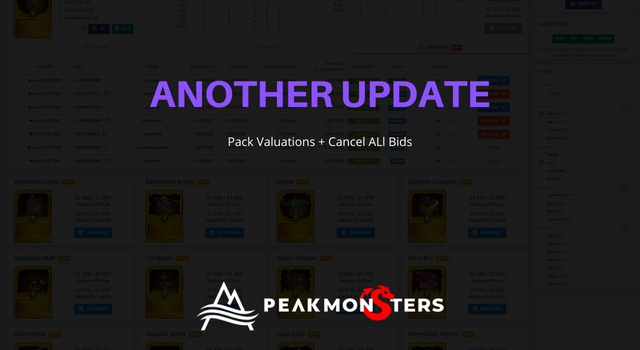 The quickness for the release should be noted for the fixes we did. It was a good timing to throw in a couple of small upgrades.
THE NEWEST FEATURE - PACK VALUES
I think that this small feature has huge impacts... it would be facinating to see these numbers tracked every day or maybe even every hour by somebody complete with a lifetime history of the trend for UNTAMED. And we got it up and rolling just 1 day after the launch. So we may get to see a year or so of trends. It'll be interesting.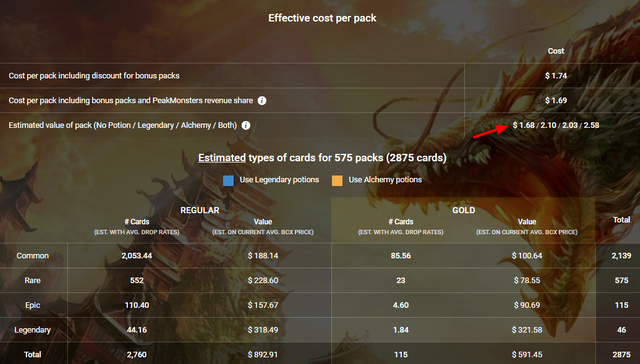 This one is pretty fun and should get people motivated to buy packs... we hope through https://peakmonsters.com/packs
USING POTIONS
Looks like using Potions is pretty nice.
COST OF POTIONS?
Well at full cost (no discount) using both potions is 9 cents... so a pack is 45 cents with no potion discount.
PRO TIP: Join a guild + buy in bulk.
DOING THE MATH ON VALUATIONS
Take me for example because of how much I've spent on PeakMonsters.com I get a pretty good profit share amount so packs for me are about $1.69 IF I buy a 500 pack from Splinterlands.
Potions cost 3.2 each charge for legendary and 4.6 a charge for Alchemy because of my awesome Peakmonsters guild.
That means 39 cents a pack.
So that means IF i buy $1000 of packs and use potions it is $2.08 a pack.
Right now double potion packs are valued at about $2.58
IMPORTANT NOTE:
Keep in mind this is the LIST value of cards right now (which are the highest of the 4 valuations). We'd love to provide Bid values or Market values but we'll see what we can do.
---
SMALL FEATURE REQUEST - CANCEL ALL BIDS
We've had CANCEL ALL BIDS in our to do list for a while... but today @toocurious asked for it again and since @asgarth was working on the site he thought he'd quickly add it in.

Bids is a huge part of PeakMonsters...there are way more cards bought with bids than you probably expect.
Sometimes a bidder just wants to wipe the slate clean cancel them all and then start again.
Or there's a big Price change or spike/drop in steem price and people can use that to just cancel them all and start again when the dust settles
SOME FIXES - UNTAMED LEVELS + UNTAMED MYSTERY REWARD
The levels weren't displayed correctly... FIXED.
A new type of mystery reward wasn't showing up correcly in the explorer ... FIXED
BCX values were wacky and that was a bug from Splinterlands and it's FIXED (by them)
For helping quickly get the BCX value error fixed on their end @yabapmatt is one of the beneficiaries on this post