Paywithsteem.com update 2. I bought an amazon giftcard and an item off of my (wife's) amazon wishlist.
Ok, so, waggro is still in effect here. I have to show my spouse that I can turn virtual crypto currency into real life goods to help satiate the concern that crypto isn't real. Now some of you hard core crypto hounds might be a little triggered by that. I'm of the opinion that government fiat isn't real. They can print as much as they want whenever they want. It's backed by violence and a system designed to steal wealth from the poor to deliver to the rich. So, I think the onus is on fiat to show that it's a real currency rather than a giant scam, but that's a tough economic discussion to have with muh wife. So... paywithsteem it is!
To that end I bought a pair of earbuds from paywithsteem not that long ago. That was a good experience, but the website that they built is a selling a bunch of stuff that I can't really make long term plans off of. It's watches and hoodies and keyboards. It's going to take 2 weeks for my earbuds to get here. I want something a little more immediate. So, I complained raised my concern that we need something a little more immediate.
He told me to put together a wish list of stuff that I would want to see sold on the storefront. He came back and said "All this stuff is just from Amazon? Let's do a wishlist." I created a short wishlist comprised of Puffs Plus moisturized facial tissues and a $50 Amazon gift card.
Since the script isn't ready we figured out the cost of tissues and giftcards and priced it in steem. He did a 15% markup (roughly half of this is in btc fees). Shipping was free as he currently has amazon prime. I manually sent him a steem transfer and he then purchased puffs plus moisturized facial tissues and the gift card. He showed me a note from Amazon showing that it had been ordered and a order number. I then received the egift card a few minutes later.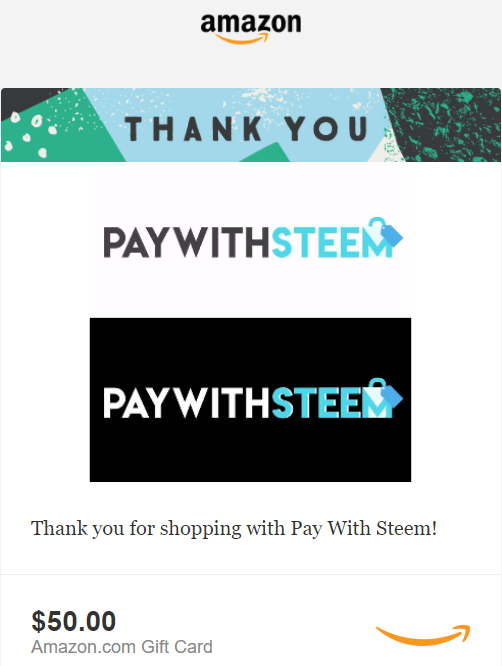 I guess I'm back to say I continue to like this service. My wife has already applied the Amazon giftcard to her account. My next plan is to wait a bit for the price of steem to go up and then use some of my liquid steem to purchase more giftcards and let steem pay for some of our household expenses.