Pay it forward Curation contest - Week 8 - @reonlouw
This is my third entry into this contest. I love the values it espouses and the privilege of introducing some of the amazing people I have met here on Steemit. If you are new to this read the following post to understand what it is about. It is unimaginable to be on Steemit and not be willing and even eager to do this.
New Format - Week 8 - Pay It Forward Curation Contest - Steem Bounty and SBI Shares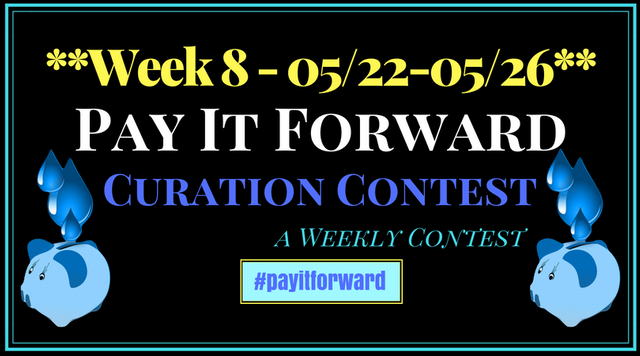 Here goes!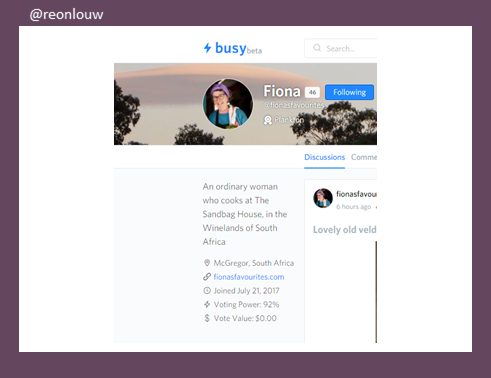 This lady calls herself ordinary which she is not. She calls what she does in her house built with sandbag technology
cooking
but the photos of her creations speak of rare artistry and make my mouth water every time. Fiona is an experienced blogger and writes for other channels and media too.
Nominated post
Magic McGregor: a Langeberg valley jewel
Fiona lives in McGregor in the Cape Winelands in South Africa. It is a beautiful place and I have an ulterior motive for this post. @energyaddict22, one of the judges here, has expressed an interest in visiting South Africa in the not too distant future. Hopefully, this will help to convince him. Nudge, nudge. Wink, wink.
(I fully accept that this attempt at influencing a judge makes it impossible for me to win here. If it gets him to South Africa, I'm willing to make the sacrifice...)
There is another post of hers I think you should read. It highlights our risk here on Steemit and also the amazing people that we meet on Steemit. It will be past its payout but well worth the read.
A Rollercoaster Ride: Courtesy of Phishers of Men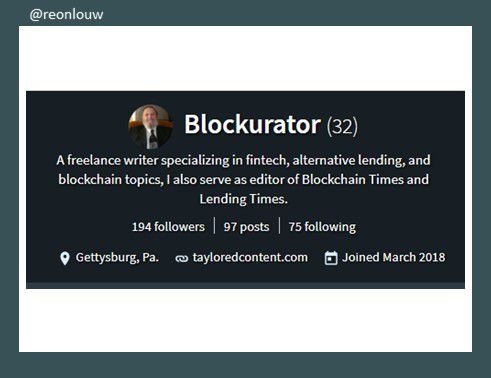 @blockurator is a fintech expert and freelance writer. He is new to Steemit but definitely not to writing, content creating, blogging and such. In fact, he is a consultant with many satisfied clients. You will find poetry and fiction on his blog but also valuable information on cryptocurrency. Yes, I know everyone posts on cryptocurrency but @blockurator seems to have access to many sources of information. And he has a way of digesting information and presenting it to in a way that helps me.
Nominated post
Even the Crypto Kings Couldn't Save Bitcoin This Week
This post is a prime example of the information this guy will provide to you. It is not the poetry of the response to a writing prompt you will find in his other posts but will prove valuable to any crypto enthusiast. The following post is older but is similar in type of content. I'm going to list it here as it will give you some insight in @blockurator's sense of humour.
From China to Africa: All Around the Cryptoberry Bush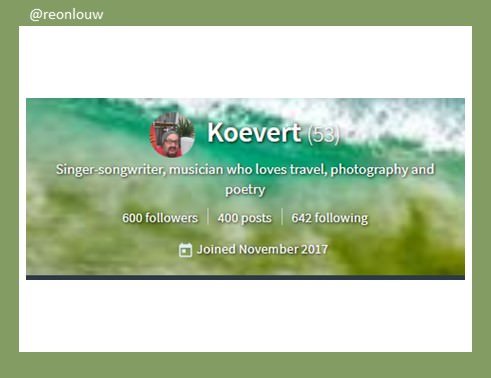 In this week's contest, we get to showcase a person who helped you on Steemit no matter their reputation being higher than 50. @koevert and his wife @shadowofmywords introduced me to Steemit. I am very grateful.
@koevert is a popular recording artist in South Africa and is on the verge of releasing a new album with amazing new songs he wrote himself. He courageously overcame alcoholism a couple of years ago and his words and music inspire people in very special ways.
He writes poetry and posts beautiful photos from his travels throughout South Africa.

I highly recommend the #payitforward experience. Try it! You will not regret it!
Thank you to everyone who will visit these posts and upvote and encourage my nominees.