Pay It Forward Curation Contest - Week 4
I'm So Excited to Participate in this Curation Contest!
https://steemit.com/payitforward/@thedarkhorse/pay-it-forward-curation-contest-week-4-win-sbi-and-steem-bounty
I'm a member of the #dynamicsteemians discord community. It's a place for folks who are new to Steem to learn how things work and be a part of an amazing community. There are not only new minnows there but also established members who offer guidance and mentorship. Shout out to our founder @dynamicgreentk!
I thought it would be fun to pick my three posts from this community.
---


https://steemit.com/art/@badzkie123/my-first-commissioned-portrait-for-this-year-2018
Somehow, I failed to notice this artistic talent in the group. To be honest, I haven't been paying much attention to post-promotion so it's easy to escape my attention. In this post, @badzkie123 shows his process of creating a lovely pencil portrait for a friend's birthday present. I consider myself an artist too. I love to see the process of finished work even if I don't like documenting that myself.
---


https://steemit.com/whaleshares/@heyimsnuffles/who-wants-to-smoke-smoke-network-smokeio-20180429t150510957z-post
@heyimsnuffles gives us information on the SMOKE ICO and airdrop. They give us reasons why they support this team even as a non-user of Marijuana. It was timely, information for me because I had caught a glimpse of the SMOKE token and meant to come back and learn more.
---


https://steemit.com/art/@thegreens/green-art-africa-is-planting-more-trees
@thegreens is an awesome non-profit headquartered in Bamenda, Cameroon. To reiterate what I wrote in my comment to them, they are speaking my language. The post is short and sweet but touched several topics that I care deeply about. Working with youth and the arts is an area close to my heart. I love to see people who are doing good work. Investing in our youth and our planet is important work.
---
Closing Thoughts
As I thought, I had a great time curating posts for the contest. I didn't expect to make it a dynamicsteemians exclusive, but I surprisingly don't follow many steemians who are below 50 reputation. I'm glad I had the idea to keep it in the dynamic fam. I'm a little more familiar with three of you now.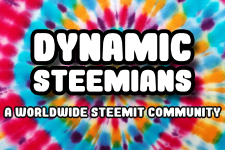 I'm an ambassador. If you join, come by '#nikemas-tea-shop' and say, "Hi"