SHARING MY HAPPINESS AS STEEMIT RECOGNIZED ME - THANKS TO #PAYITFORWARD
Dear my lovely friends,
A PREFACE TO THIS STORY
This post is exclusively made to share my happiness with you all, A day that I believed to be honored by Steemit or in other words a day when I believed perseverance in this ocean will make you rewarded.
Its my 8th month running in this platform, joined without any clue for what really in the store behind. And like many of other tens of thousands of other members, despite being disappointed and thought of saying Good Bye many times due to the fact that my contributions, posts or my hard works were not getting its due recognition I stayed back actively in this wonderful stage mainly by participating in daily photographic challenges and occasional blogs in between.
MEETING WITH PAY IT FORWARD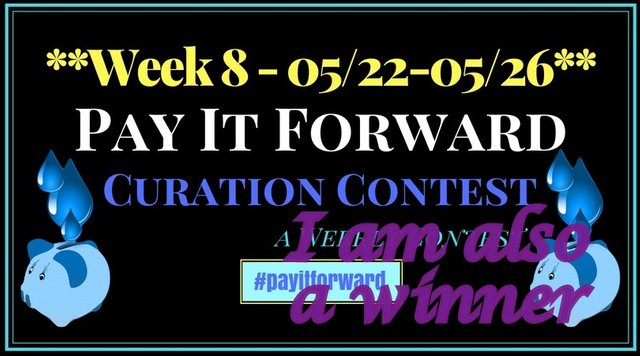 And as I started spending more time in Steemit lately and as I explored more and more on the depth of this great ocean where Dolphins and Whales are playing freely I realized the real potential is beyond any normal understanding that I still feel nervous to indulge freely.
And one fine day as I was surfing through my Feed, a title grabbed my attention "Pay It Forward Curation Contest" which I opened to know it what exactly that contest is. As I left a comment in the reply asking whether a plankton like me can participate in the contest which the man handle behind it @thedarkhorse were so responsive that I immediately received a reply insisting to participate and any further doubts Whether to or Not has been flown away by a complete another kind hearted steemien @cuppcake that I decided to give a try at last without any hope of any reward.
And as I read that there was a first time bonus but was also sure I am not eligible since my profile doesn't satisfied both those criteria but to my surprise - the first one - the sponsors of first time bonus @freedomshift, @thedarkhorse and @johndoer123 were gracious enough to grant an execption.
MY POST IS CURATED

On 7th day, ie today morning as I logged into discord I had my second surprise by the notification from @freedomshift that my first time bonus has been credited to my Wallet. And few hours later I received the Steem bounty announced. Screen shot of both attached.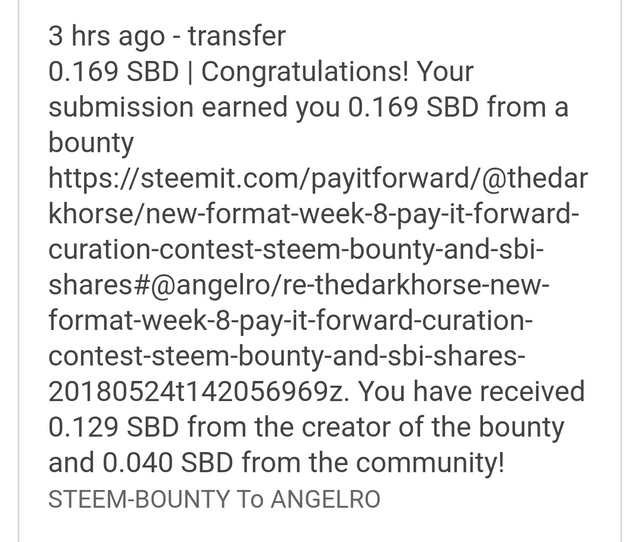 I would like to admit that I never expected that I would be paid for participating in a contest let alone winning which was a delight to my senses that I decided to be more serious in this wonderful platform.
Thank you @freedomshift, @thedarkhorse and @johndoer123 for making me believing in winning here.
Wish you all success for the future.
Best Regards,