Partiko Weekly Report #15 - Earn 15 Steem Power by using Partiko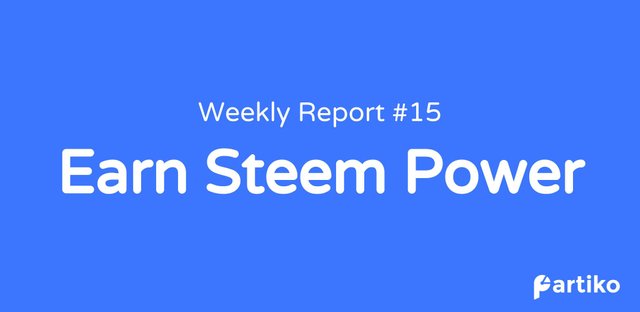 Hello Partiko lovers!
We're so excited to report to you yet another week of amazing updates!
Earn 15 Steem Power by using Partiko
Last week, we launched a large scale campaign to help new Steem user solve the low Steem Power problem. If you have less than 100 Steem Power and use Partiko, you will get a free 15 Steem Power delegation from us for as long as you use Partiko. For those of you who have more than 100 Steem Power, you will get 1 Steem Power for every new Partiko user you refer!
Check out the details in this post.
So far, we have delegated 15 Steem Power to 60 amazing Partiko users, and they are:
@dougalpartiko, @red-rose, @mayorblaze, @karishmasingh711, @phx3, @dumitriu, @steemsyndicate, @cryptolover01, @assfaceproject, @sintarlaus, @davllinc007, @joancabz, @rufusfirefly, @alfon95, @aflatunnisa, @luism86, @infinityofficial, @kalam, @rjramesh, @minminlou, @doze, @lord-geraldi, @natalisekret, @lover2000, @bitman007, @mytechtrail, @pipa, @niksonovy, @mdraju, @the1andonly-tjh, @whitestallion, @zinku, @ravisarikonda, @valentin86, @jingyu, @mk992039, @punku, @bitcoinportugal, @w88, @arantuil, @kadiralp, @bestboutique6, @patrizius92, @bitinvdig0, @jinskie, @arwintellis, @olivia08, @olivia08, @halloweenday, @tonicherbs, @andromeda1, @greenphotoman, @arabisouri, @medikatie, @smartphonewinks, @adamsmiley, @a1-shroom-spores, @kiryck, @beamentor, @zerofive
Partiko for Web
We also launched Partiko for Web during last week. It's still a very early version, and functionalities are still limited, but we're adding features fast! Viewing posts and comments on Steem has never been easier on Partiko for Web!
Check out Partiko for Web here: https://partiko.app
Upcoming Update
Next week, we will rollout new versions for Partiko Android and iOS. Please stay tuned for that!
Download Partiko and Try it Out!
Partiko has become one of the most popular interfaces for the Steem blockchain, it does not take cuts on your earnings, and you can earn Partiko Points and convert them into upvotes!
Download the Android version on the Google Play Store.
Directly download the Android package here. SHA 256 checksum: d2598a026dbee0f5526dd0b7f2ba307bf979721ee260c82c5ff155b675a4e867.
Download the iOS version of the App Store.
Vote @partiko for witness
Partiko is running a witness node to contribute to the Steem ecosystem. We would really appreciate your support if you could vote us for witness! Click on the link below to vote us for witness:
Vote for Partiko's witness node
Read this article if you want to vote for us but don't know how.
Follow us for future updates
You can stay connected with us and follow our future updates by:
Together, let's change the world.
Onwards and upwards,
Partiko team
Posted using Partiko Android