Partiko Weekly Report #10 - New Killer Features And Recaps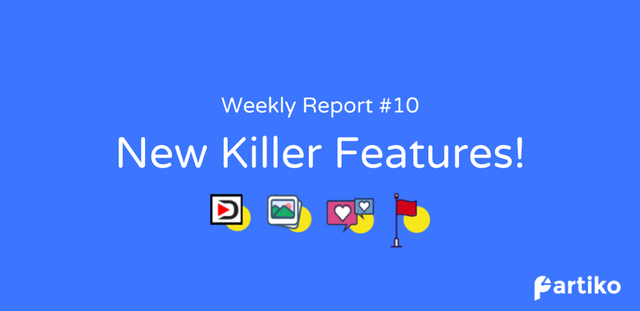 Hello Steemians and Partiko lovers,
We're so excited to report to you another week of our amazing updates! The users have spoken after trying out the newest features of Android Partiko, and the term "killer" has been used when describing the private message function. When users are happy, everything else falls into place.
Partiko Android Updates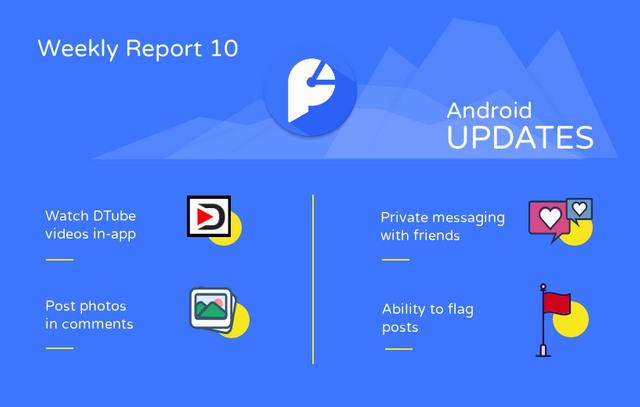 As many of you already know, we released a new Android update at Steemfest 3.
The two features we think users are most excited about are the ability to watch DTube videos inside the Partiko app and private messaging. Now, you don't have to leave Partiko in order to watch DTube videos!
Also, you can now send a private message to any of your Steem friends. You both have to follow each other in order to send private messages without having to spend your Partiko Points.
According to this post by @theaustrianguy:
"From now on (at least for android), an internal Partiko messenger is available, making small-talk possible within the app, which makes conversation way more convenient. This could be a killer feature in my opinion!"
Partiko Messaging is available for Partiko Android users now, and you can download the latest version here on the Google Play Store. Private messaging is coming soon for iOS.
A lot of you have asked if private messages are stored on the blockchain. The answer is no. The private chat data is encrypted and stored on a third-party server.
Recap of Events: Steemfest 3, Round Table, iOS and Android Easter Egg Giveaway
We had a really great time at Steemfest 3 and enjoyed meeting so many new people. The founder of Partiko, @crypto.talk did a presentation and a Round Table session and @theaustrianguy did a wonderful job of documenting the Partiko presentation in this post Thanks to all the amazing people who attended and put Steemfest 3 together this year.
Partiko fans demanded that crypto.talk do a vlog during Steemfest 3, and he delivered! Get up and personal with @crypto.talk, the founder of Partiko:
We recently held Easter egg giveaways for the new Android and iOS release. Check the results for Android here and for iOS here.
What Partiko Users Are Saying
Sometimes it's just better to hear how we're doing straight from Partiko users themselves. Here are some quotes from some of our users:
"We particularly love @partiko. This mobile app is really fast and responsive. Looking forward to see more features for the IOS version." @jrvacation
"I can honestly say that there are some developments that could easily make Partiko the number one mobile app for the STEEM blockchain."
@theaustrianguy
"他にも機能の追加はありましたが私が感動したのはこの三点でした。
欲しいなと思っていた機能をすぐ実現してくるあたりPartikoチーム本当に優秀です。"@kinakomochi
Download Partiko and Try it Out!
Partiko has become one of the most popular interfaces for the Steem blockchain, it does not take cuts on your earnings, and you can earn Partiko Points for your social activities!
Download the Android version on the Google Play Store
Directly download the package here. SHA 256 checksum: 1a15bda5f6ab6f0dc143e1c51750447c660a2a7aad46822431cf6a21dd71b060.
Download the iOS version of the App Store.
Vote @partiko for witness
Partiko is running a witness node to contribute to the Steem ecosystem. We would really appreciate your support if you could vote us for witness! Click on the link below to vote us for witness:
Vote for Partiko's witness node
Read this article if you want to vote for us but don't know how.
Follow us for future updates
You can stay connected with us and follow our future updates by:
Together, let's change the world.
Onwards and upwards,
Partiko team
Posted using Partiko Android