Partiko Delegation Plan Round 2 Waitlist Announcement
Hello Partiko lovers,
Thank you so much for supporting us and participating the Partiko Delegation Plan Round 1! Since we raised enough Steem Power to continue our mission, we have implemented the delegation benefits and hopefully you have already started receiving them!
Unfortunately, many Steemians and Partiko lovers missed round 1. They are hard core Partiko users and supporters and want to support us with the journey. In fact, many of them have already started taking actions and delegated to us! And they are (sorted by delegation time, from old to new):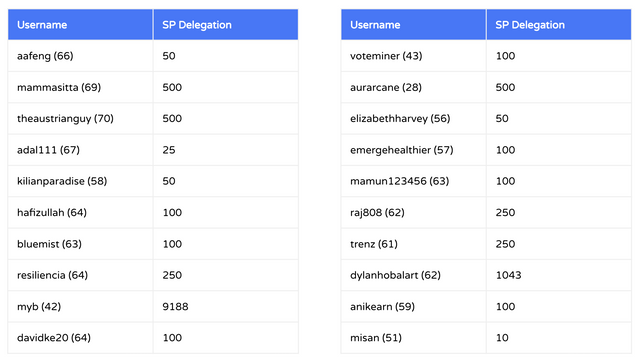 Although we strongly don't encourage people to delegate more Steem Power to us, for those who already did, we can't take them without giving anything back! And that's where the round 2 waitlist comes in!
What is the Partiko Delegation Plan Round 2 Waitlist
The round 2 waitlist is for people who delegated to Partiko after the round 1 deadline, and this waitlist will continue to exist before we officially announce round 2, which is expected to happen in Q3, 2019. Currently, all the users in the above screenshot are on the waitlist.
What do I get if I'm on the waitlist?
Unguaranteed upvotes
Limited Partiko Point benefit
We will still upvote you according to your tier! However we will prioritize upvotes for round 1 delegators. Therefore the number of upvotes per week cannot be guaranteed. If you don't take back your delegation and wait until round 2 ends, your upvote benefits will become guaranteed.
As for the Partiko Point benefit, we have decided that you can have it as well! The only difference is that if you're on the round 2 waitlist, you will only get the Partiko Point benefit for the first 20 Partiko activities everyday.
When will the delegation benefits for round 2 waitlist start to happen?
The delegation benefits will start to take place in 48 hours!
What if I delegated in round 1, and want to increase my delegation?
That's totally fine! We will upgrade the delegation benefits for you according to your latest delegation amount!
Have other questions? Please let us know in the comment section!
Together, let's change the world.
Onwards and upwards,
Partiko team
Posted using Partiko Android