Shibasaki-sensei's watercolor tutorials are the best!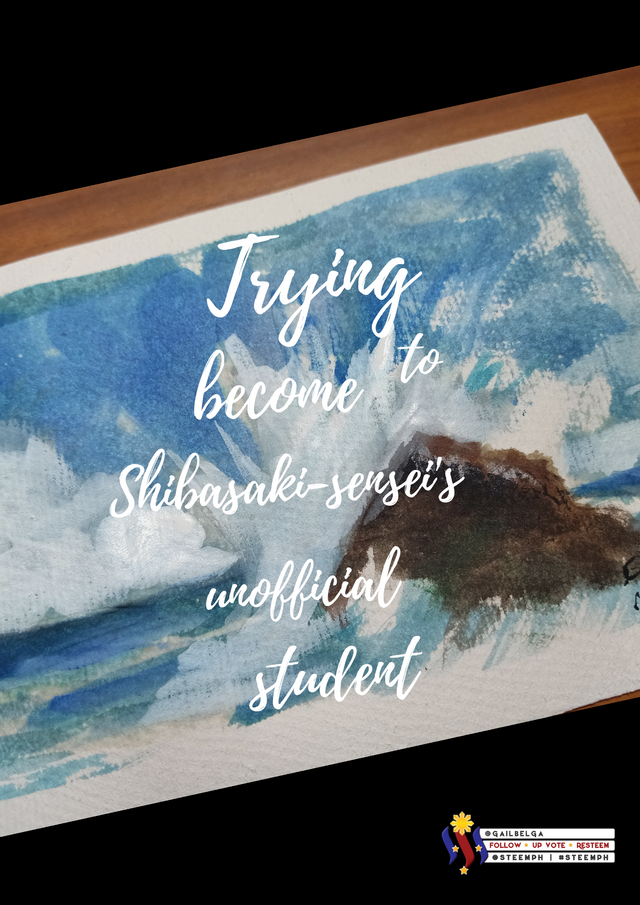 Hello Steemit friends!
It feels so good to share some things about what we do right? And since I am addicted to it [again], I will be blogging a lot of stuff. I was able to arrange the photos and videos that I took from our various trips this summer and the April and May summer classes, so I am looking forward that I would have a number of audience. 😊
Too much of those things, let's get started!
During my break time, which is most of the time, I download videos of different art process and then practice them. There were art tutorials on watercolor brand reviews, how to create a better portrait and landscape, and a lot more. There were some artists that I could not stop watching their videos.
For this evening, I practiced one of the videos of @shibasaki-sensei. I had been following him since [like] last year because I find his art tutorials very easy, and at the same time very useful. I really admit that he is a seasoned artist and anyone can learn from him.
I wanted to replicate, if I may use the term, one of his artworks that he made a tutorial on.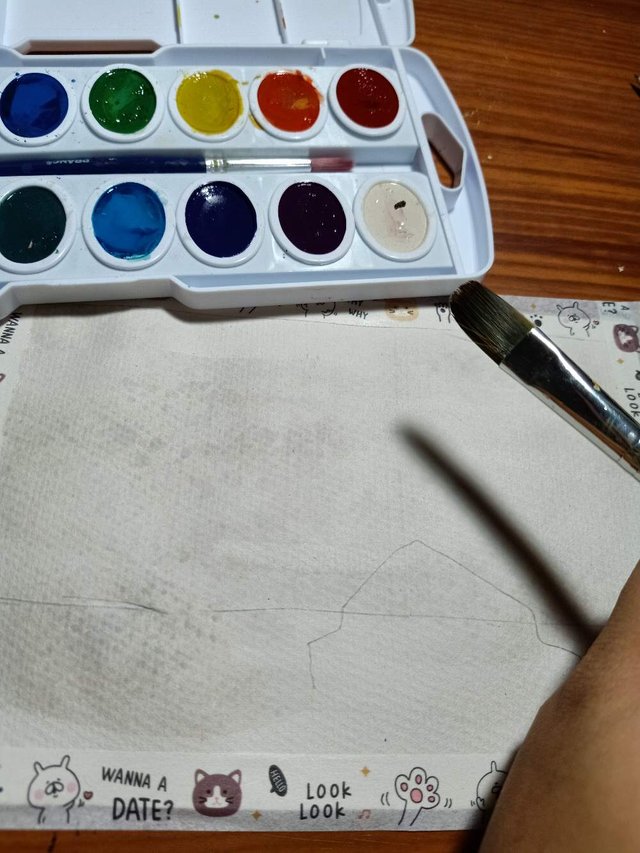 So basically these are the preliminary steps that I did. I think this has become my SOP (Standard Operating Procedure) in creative watercolor-based artworks:
I drew on the surface first just like what @shibasaki did.
I used watercolor paper and secure it with a paper tape, for my case I used my favorite washi tape.
Brushed small amount of water all over the surface
I used for the very first time the Prang watercolor set that my dad bought me last month. I really love this brand because it is cheaper than those grades that are friendly for artists. I also wanted to get rid of the chalky watercolor cake that I bought last year.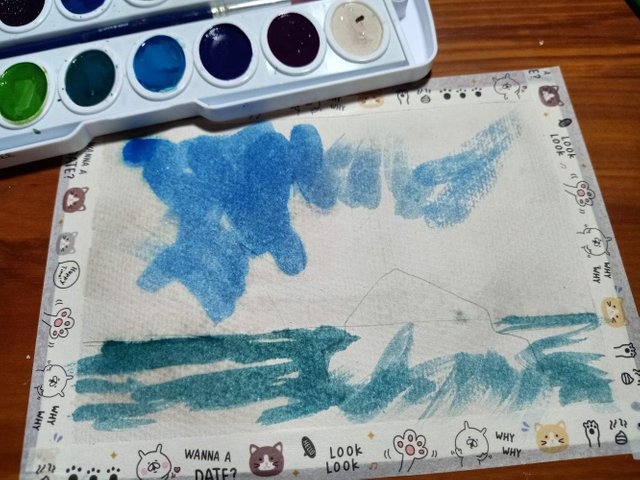 I started blending colors then. I was really in a hurry because Shibasaki is quite fast with his tutorial. I create two types of blue, the one is light and the other is cobalt blue. I also made sure, as what was instructed to use the dry brush technique.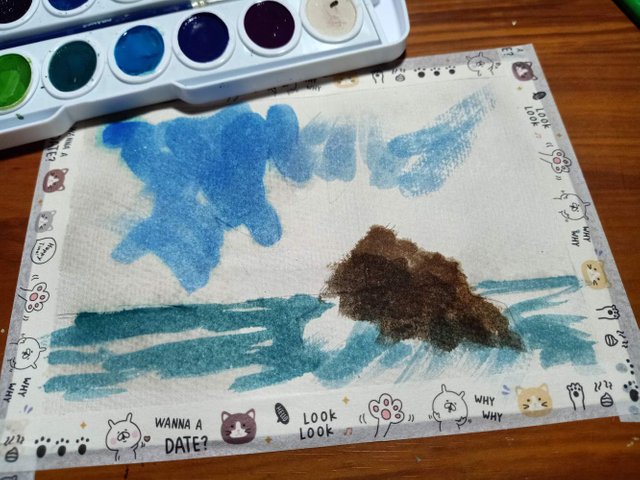 After being initially done with the water and sky, I proceeded with the rock where the water splashed. Although it is not visible in the photo, I also added green for the rock.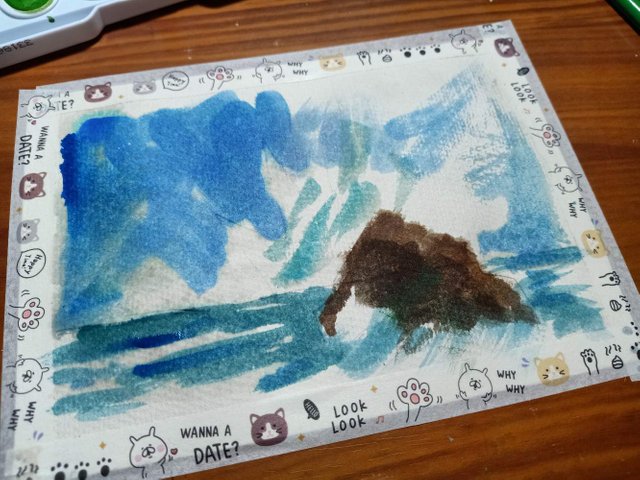 And there it goes, I painted the sky and water. I also added few details for the water.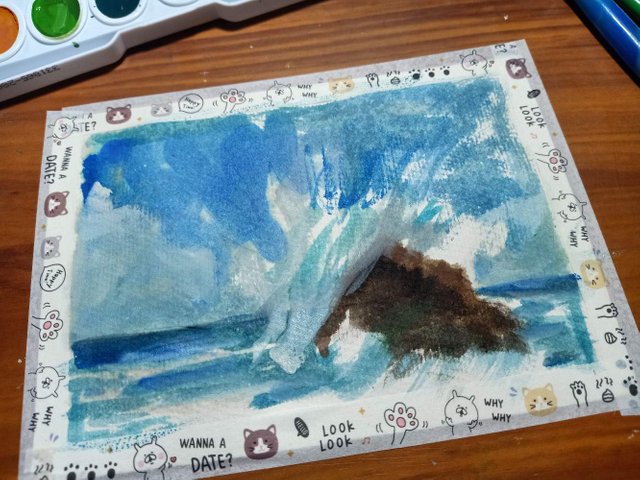 And this is where I realized that I made a huge mistake. The water or wave should be splashing on the rock as it hits the rock. It seemed then that there was a splash at the back instead.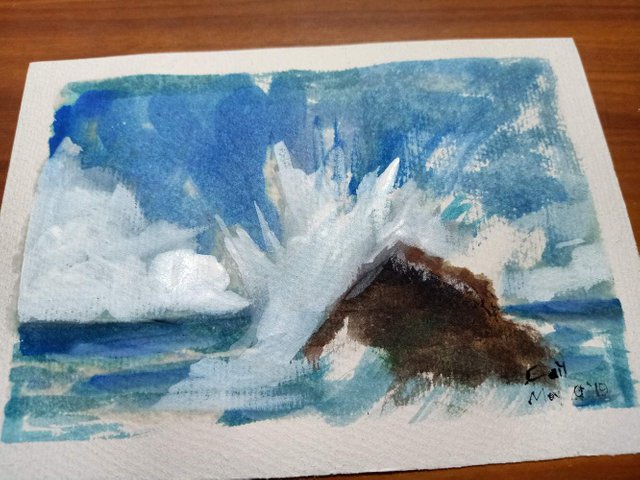 To make up to it, I used my white poster color from Colleen and covered some areas. I even added clouds at the back.
So basically, that was just it! The thing that really struck me the most while trying to replicate sensei's work is that one needs a lot of patience and practice so errors [like what I made] would be avoided.
Did you enjoy this blog entry? I really hope you did. That's all for tonight. I really need to hit the sack because it is almost 12 in the morning here in the Philippines. Have a great day ahead!
Love,
Johanna Gail

Posted using Partiko Android