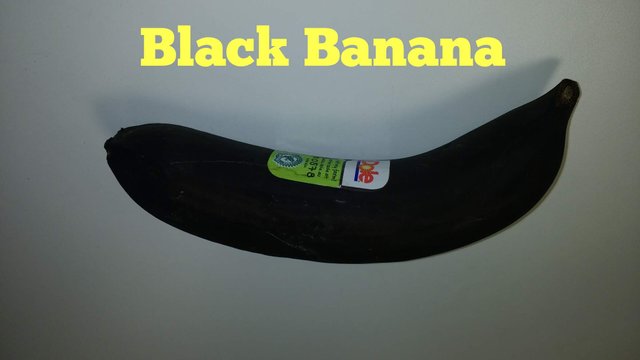 Hello everybody, hello @stellabelle. This is a true story. No bullshit. I experienced this banana terror in a very boring place: in a hospital. I was there because I had torn a ligament in my knee skiing on a very flat part of a very high mountain in the Alps. You might think: floflosen, you are not only a very bad storyteller, you are also a very bad skier. Think what you will, I need to tell the story of the black banana.
So, I ended up in the hospital. It wasn't nice or entertaining at all, as I had hoped. No naked nurses. No doctors resembling House. Crappy food. The food was already crappy directly after it was cooked, but that was not when it was served. It was served hours later. These hours were spent (by the food) in solitary confinement. Not by me. I had to share a room with a very old man with a significant flatulence issue. The room was very small.
Anyhoo (I love saying 'anyhoo'), you had a choice of dessert with every lunch. Since everything they made tasted like a dead, regurgitated penis of a very old sloth (I love sloths usually), I always picked option C: fruit. That's where the banana comes in. The black one. You ask: But floflosen, why was the banana black? I answer: Fellow Steemian, because it was boiled. It was a boiled fucking banana. The picture above is the real picture of that banana.
We don't have some quota for black bananas in Europe, so the yellow ones can't take over world predominance or something. It was just boiled, because the stupid not-at-all-House-resembling-hospital-staff put it in the same keep-everything-boiling-hot-device-cart as the lunch, which was supposed to be hot. Unlike the poor banana.
That was the story of the black banana. I hope you liked it. And if you happen to work in a hospital kitchen, please keep the fruit far away from the above mentioned device. Thank you for your attention.
PS: If you know the word for the device I described, please tell me in the comments. I am very eager to learn new words, as English is not my native language.
PSS: Do you know Bananarama?
PSS: Warum ist die Banane krumm? Weil niemand in den Urwald zog und die Banane grade bog. (This is only funny in German, because it rhymes. Actually, it's not even funny. But it rhymes. My story is not funny, and it doesn't rhyme, but it is true.)
PSSS: I was happy to welcome these new members: @olgasmorodina, @wandering-veggie, @joyridertv, @leondigarmu, @miko130, @raidyb. And others, but not via Partiko. I forget things sometimes. Need to eat more bananas.
Posted using Partiko Android