INTERVIEW : Revolutions and Counter Revolutions: Andreas Antonopoulos Reflects on 10 Years of Bitcoin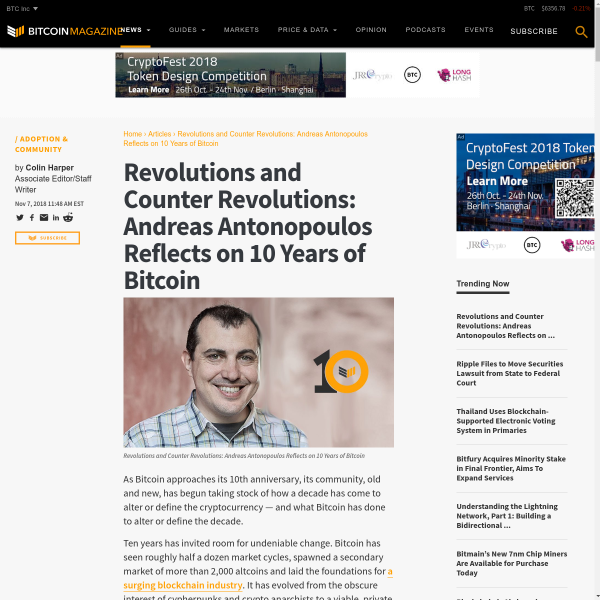 "There are few voices so well equipped to reflect on the changes as Andreas Antonopoulos. One of Bitcoin's chief evangelists and arguably its most vocal educator, Antonopoulos has spent the years following his industry entrance in 2012 traveling around the world to share his knowledge on the subject. His books, which include Mastering Bitcoin, The Internet of Money, Vol. 1 and 2 and the forthcoming Mastering Ethereum, are praised as some of the space's most thorough and informative reads.
"His impact on the space is something of a widely-recognized truth, one that has made him one of the industry's most-respected and definitive thought leaders. While others were getting rich, he was enriching the community, reminding others that bitcoin is about much more than lambos and moon memes. A testament to his influence, the community rewarded him with donations amounting to about $1.6 million during the last bull run upon learning that he held little — if any — bitcoin.
"In the following interview with Bitcoin Magazine...
Full article at
https://bitcoinmagazine.com/articles/revolutions-and-counter-revolutions-andreas-antonopoulos-reflects-10-years-bitcoin/

What is Parley?
Parley is a Steem-based Reddit competitor that allows users to submit links and curate news they find around the web in order to promote discussion on the Steem platform.
Read more