My First Steempost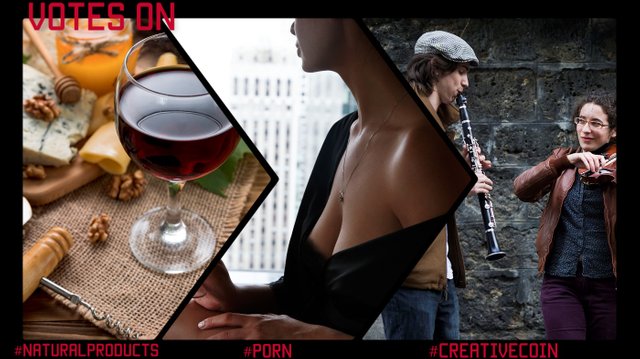 Hi my Name is weinweibgesang and i love Good Food ,Woman ,and Music . As you my noticed my Name are 3 German Words and yes i am from Germany , but I'm not gonna tell you exactly where from Germany !
Wein = Wine , Weib = Woman , Gesang = Song
" Wine, Woman and Song" is a motto that uses a Hendiatris as a rhetorical figure to describe a certain lifestyle.
A modern description of this lifestyles provided Sex and Drugs and Rock and Roll!
Source: Wikipedia
I am not a big writer, so I will make a report like this at most once a week.
There won't be much to see only how many votes I have distributed this week on these 3 tags : #naturalproducts , #porn , #creativecoin. If I find the time and the desire for it, I will show you from each tag still my favorite contribution of the week!

3 Post you may Like
@dotwin1981
#naturalproducs
https://steempeak.com/dpoll/@dotwin1981/was-spricht-deiner-ansicht-nach-gegen-den-kauf-von-bio-lebensmitteln
@warpedpoetic #creativecoin
https://www.creativecoin.xyz/fiction/@warpedpoetic/chronicles-of-the-unnamed-wanderer-4
@hotnimmi #porn
https://www.dporn.co/nsfw/@hotnimmi/quick-img
If you want to support me,follow,upvote and resteem :)