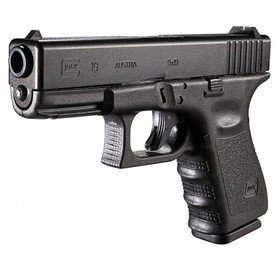 I came into a cash windfall recently, and decided I needed to complete my range of utility in firearms ownserhip.
I had previously (and still have) a normal pump action for hunting (which I don't do, btw) and HD.
With the very last dribble of my Steemit earnings, I bought a G43 and a Mossberg Shockwave earlier this year. The G43 was for carrying conceal, the the Shockwave was more efficient for me in terms of HD.
With this windfall, I was able to fill out the rest of the roster...
A G19 for open carry and HD backup,
and a Ruger American Predator for longer range/bigger game hunting...a friend of mine has been bugging me to pick up deer (but mostly javelina) hunting, so I'll have a tutor to teach me something I've wanted to do for a long time.
I also started the process for getting a suppressor for the rifle...my hearing is already trash, so I just want to protect every DB I have left ;>
I spent the rest of the windfall on some Alien Gear holsters; I messed with the different configurations last night and it looks like a solid concept. Only time and practice can tell for sure. The ankle holster is very comfy and holds the G43 securely, while I also bought a vehicle holster that is going to have less utility for me, as I have to reconfigure the holsters to use it in some variations. I ended up getting:
A shell for the G19
A shell for the G43
An OWB frame for either (requires reconfiguration of one of the shell holsters to a half shell for use)
The ankle holster (also requires reconfiguration of one of the shell holsters to a half shell for use)
A drop leg holster which can be used by either shell
The vehicle holster, which is secured by straps over/under the seat, and also can be used by either shell.
I may have, possibly should have gotten the paddle model for belt carry, which would have taken either full shell. OTOH, the paddle model tends to stick out quite a bit.
And I almost forgot, I also got a pair of CCW Breakaways khakis for pocket carry of the G43 (yes, with a trigger guard). I haven't got them yet, but they look interesting. I had wanted the Stryker pants, but they are continually getting bad reviews for no delivery and no refund...no contact goes hand in hand with these complaints.
One of the good points of the CCW Breakaways is a recommendation by John from Active Self Protection:

Now I gotta get another windfall so I can buy some ammo ROFL!