How to EASILY exchange BTC for STEEM from COINPOT
On my website https://gamesgratisclub.1mb.site you might have noticed that lone bitfun referral ad. The minimum withdrawal is very low.
---
You can turn just a little bit more than 1000 satoshi into steem, which is enough to buy steemmonster cards, steem-engine tokens or a delegation of around 50 SP. And it's not even troublesome.

Using the faucets below once a day takes less than 5 minutes and it will be enough to get enough for a withdrawal in two or three days.
Now you might be thinking: how are you going to withdraw 400 satoshi when their minimum is 10000? Their minimum withdrawal for DASH is 100, but DASH is worth a lot less than BTC.
So by converting your other tokens to DASH , you easily get the minimum DASH withdrawal.
That's because these sites' rewards all come from the same network: coinpot. Whatever you get from one site is valid for the others too! You also get bonus "coinpot" tokens from every claim which makes it all even faster.
I do get a little bonus for referring you, but you don't get less satoshi for getting referred by me.
bitfun http://bitfun.co/?ref=3648A2FDE013
bonus http://bonusbitcoin.co/?ref=0ACE6BAA728A
ltc http://moonliteco.in/?ref=1f02a9164857
bch http://moonbitcoin.cash/?ref=E490D180EB53
doge http://moondoge.co.in/?ref=21ea7fe2fd89
btc http://moonbit.co.in/?ref=f01f63d45bf1
dash http://moondash.co.in/?ref=D8BC390178FA
Tip: check this option to get 3x satoshi from bonusbitcoin every time: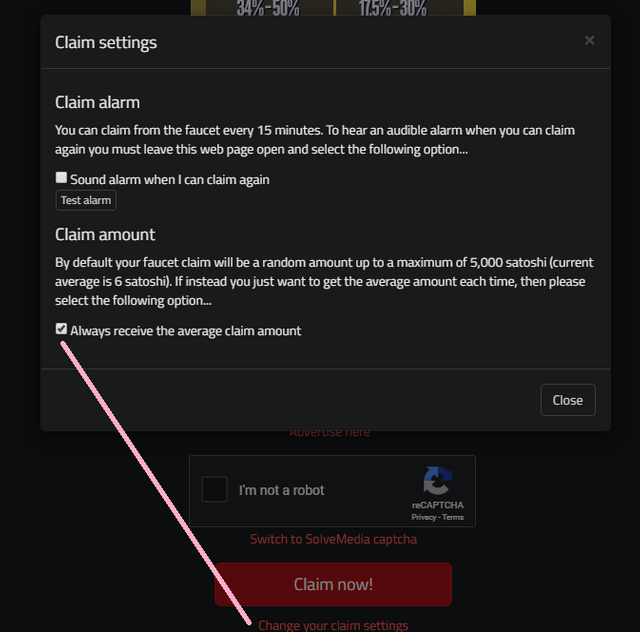 Withdraw for STEEM
You can send DASH and get STEEM. Go to https://blocktrades.us and login. Set "send" to DASH and "receive" to STEEM. Ignore the field to set how much dash/steem because that only shows a value prediction for that trade.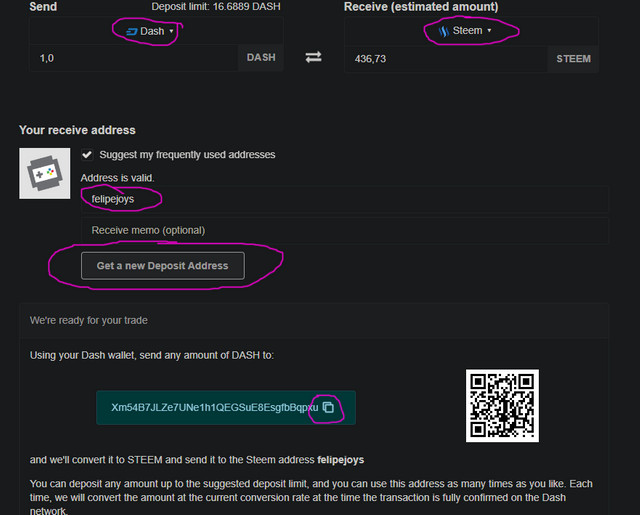 Now hit Get a new Deposit Address and click the little icon to copy it. Then go back to coinpot and paste it (ctrl+v) as your DASH deposit address when withdrawing DASH. Don't forget to confirm on your email. The transfer can take up to 24 hours.