📸 Camera: DJI Mavic Pro (+ Polar Pro ND Lenses)
🌐 Location: The Dark Peaks (the northern part), UK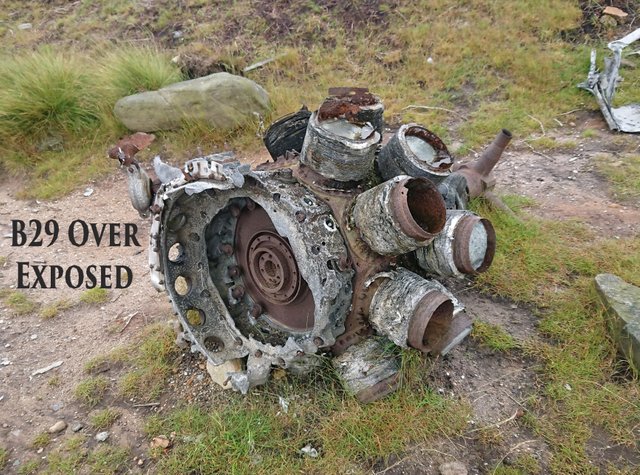 For years i'd heard of plane crashes in the Peaks, Dales, the Scottish Highlands, Wales - all over the UK. I never thought there would be anything there to look at and a chance to see and feel the atmosphere where such a tragedy had occurred. I've been looking for an excuse for ages to get to one of the more accessible spots, even though I was told:
"You gotta traipse through bog, mud and shite for ages to get there, it's not worth the hassle" - A random bloke at the pub about 5-6 years ago.
It actually wasn't that difficult at all. What a load of old todgers. True, on the day the visibility was maybe 20 foot at best and it was raining hard, but we still got there! But first, a bit of the back story to the wreckage of USAF B29 Over Exposed...
The Story of B29 Over Exposed
You may remember the Enola Gay? Over Exposed was a sister plane that was present (for photographic purposes) at the Bikini Atoll tests. This one that came down in the Peaks was of the very same class of aircraft that flew the Atomic bomb missions in Hiroshima and Nagasaki.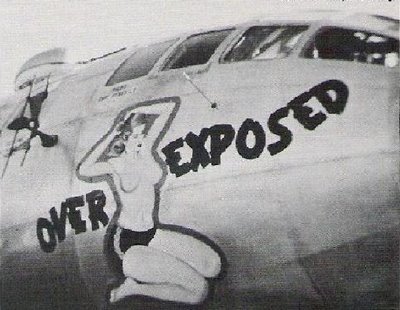 Source - She was an aluminium beauty
Over Exposed was a reconnaissance plane that was used during World War II but continued to serve thereafter. Post-war she was used for everyday things, such as transport of men and cargo, the odd reccy mission over Europe and as it was in this case flying over goods, information, even US services personnel wages from RAF Scampton to USAF Burtonwood. Due to bad weather, navigation and possible instrumentation failure, it seems that the lads aboard this bird started their descent to USAF Burtonwood just a bit too soon and impacted the ground not far from an actually drop in elevation. Poor souls. This impact would have almost certainly resulted in an instant explosion from the fuel and engines engulfing the plane and shattering it into larger pieces. It is known that the first on site saw burning wreckage everywhere with bodies scattered about the site. It wasn't pretty. It was an inferno.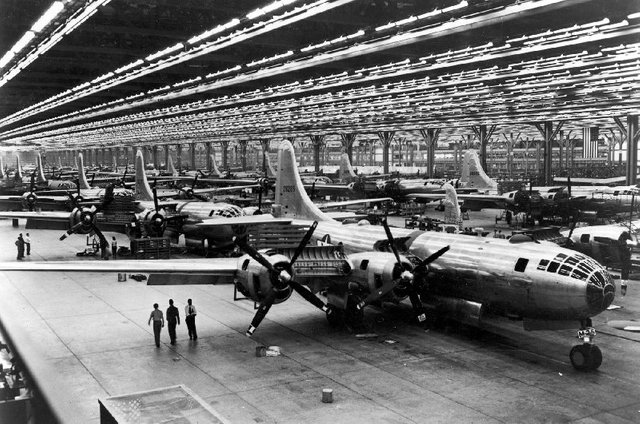 Source - B29 Production Facility
Getting There
To find the wreck of Over Exposed you have to aim for the trig point at the Higher Shelf Stones (see the tip of the arrow in the image below), and there are a number of ways to get there. We came from the north, having camped in Crowden. We stuck to the Pennine Way starting from the north (see star on north of map), passing Bleaklow Head (as bleak as it sounds, really) and the Wain Stones and the Hern Stones. It took a good 2.5ish hours to get to the Wain Stones from our northern start point. In fairer weather it would probably be much quicker. Another 10-15 minutes and you reach the Hern Stones. In the worsening weather, we chanced a cup of tea and lunch in the lee of the Hern Stones and used our compass and set a south west path. This sort-of-off-piste path went right through small streams and some very boggy ground. A word of warning - some of the streams have cut very deep gulleys which were fun to jump in and climb out of, but left us with very wet feet for the rest of the trek.
An alternative route (and probably a quicker and easier route) is to start on the A57, known as 'Snake Pass' (see star on south of map), where there is car parking and then head north. From there the walk is likely to be much quicker, perhaps a little less than an hour depending on your pace.
📍What3Words Location: ///walked.locked.case - Click to see on a map!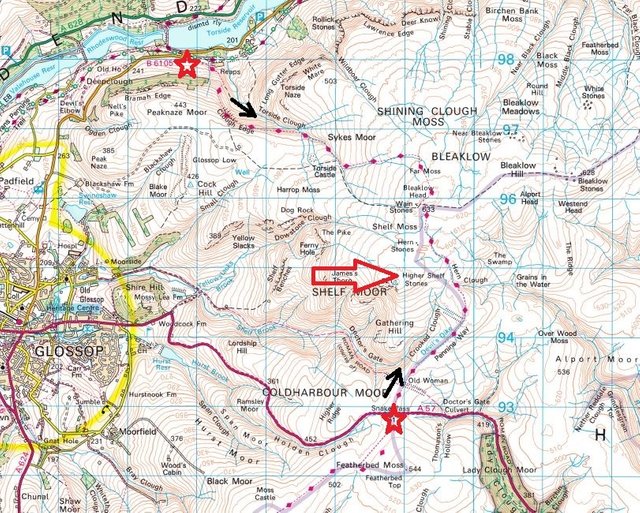 Upon finding the site it was pretty unreal. I didn't expect to see half as much as was just lying there. It was a crash site from over 70 years ago!... Just look at it 👇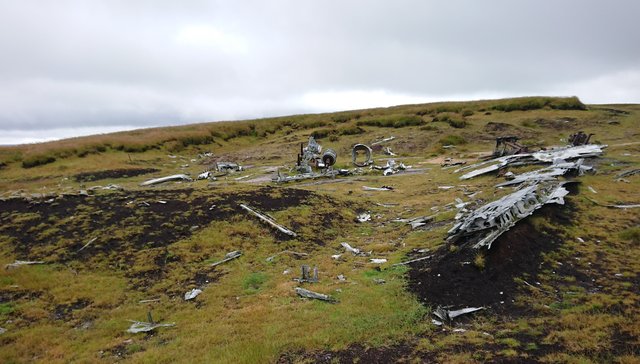 Our first view of the crash site
Scattered all over are parts that you can recognise and some that you cannot. Can you identify the parts in the collage below? One looks like a huge radiator you'd expect in a giant Cadillac. Random bits of aluminium is dotted all over. Some of it contorted into painful looking shapes from the crash those 70 years ago.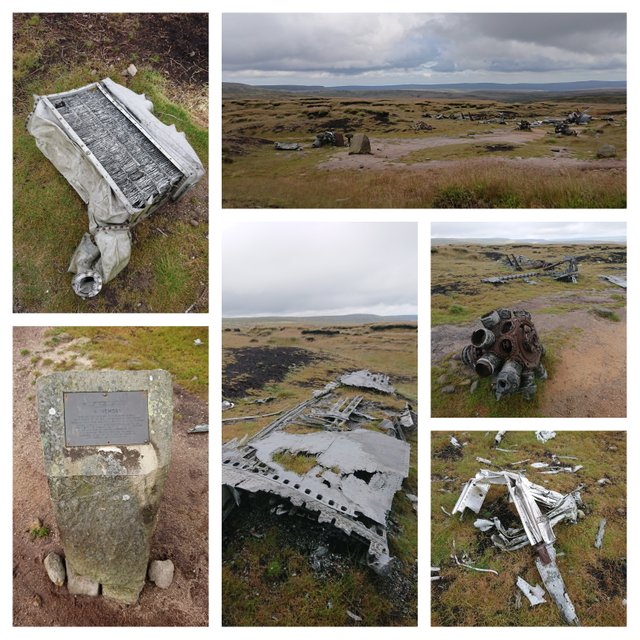 The most recognisable parts were the large four 18 cylinder Wright R-3350-23 engines, wings and undercarriage. There is even a rubber wheel - I don't know why, but this surprised me. I suppose that is because this is an item I see and use everyday. The crash site (owing to the large plane) covers a large area and there is plenty to look at and touch and try to imagine what this place might have looked like on that night in December 1948. You can read the plaque here which dedicates the site to those that lost their lives.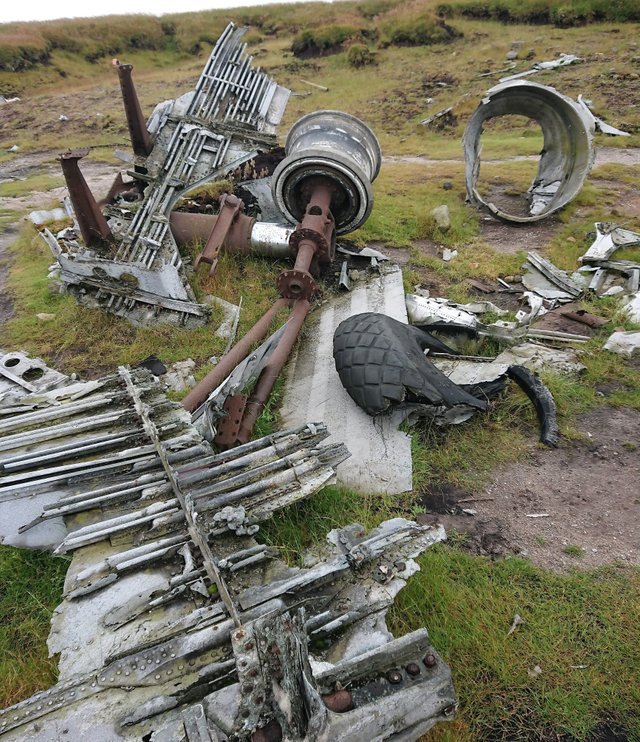 The undercarriage - too heavy to take off site! 👇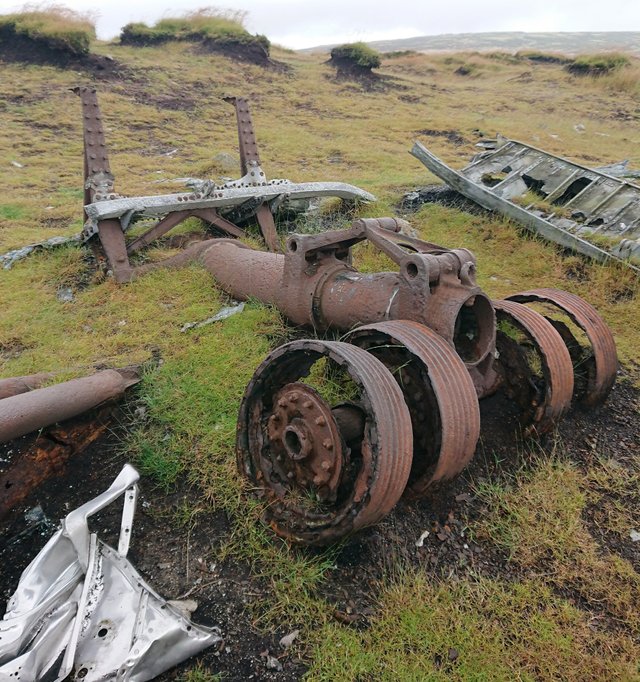 I'm taking a guess that this is from the rear of the plane, possibly a rear swivel gun? 👇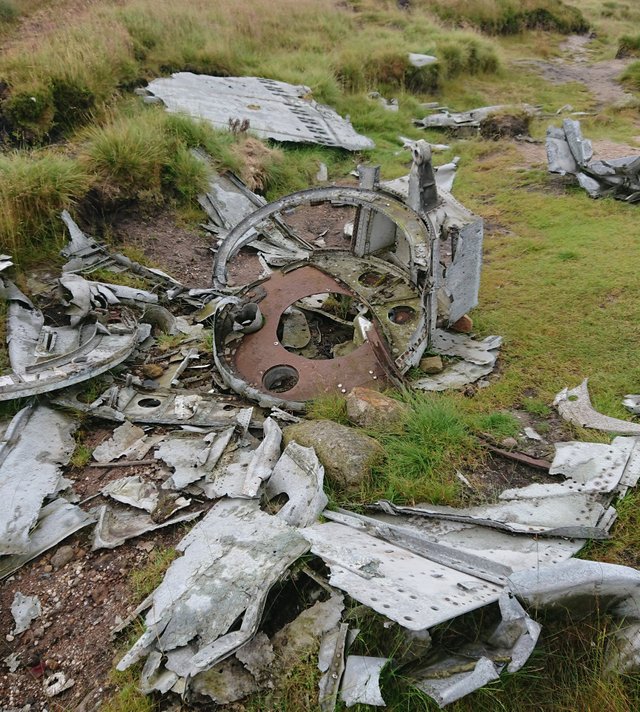 Engines and a radiator 👇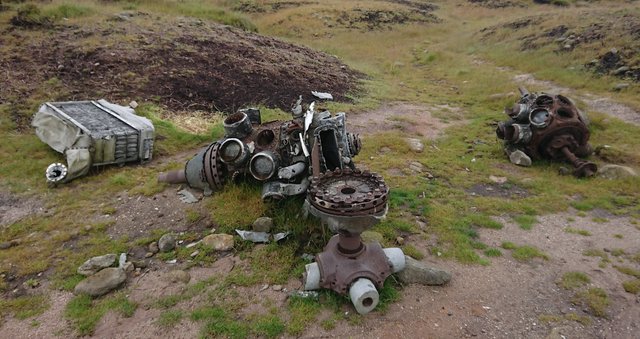 Time to Drone!
So, having some time on my hands with no other walkers/wreck hunters around and the sudden disappearance of the thick fog (thanks the universe for that!), I set about creating the way points for a drone pass.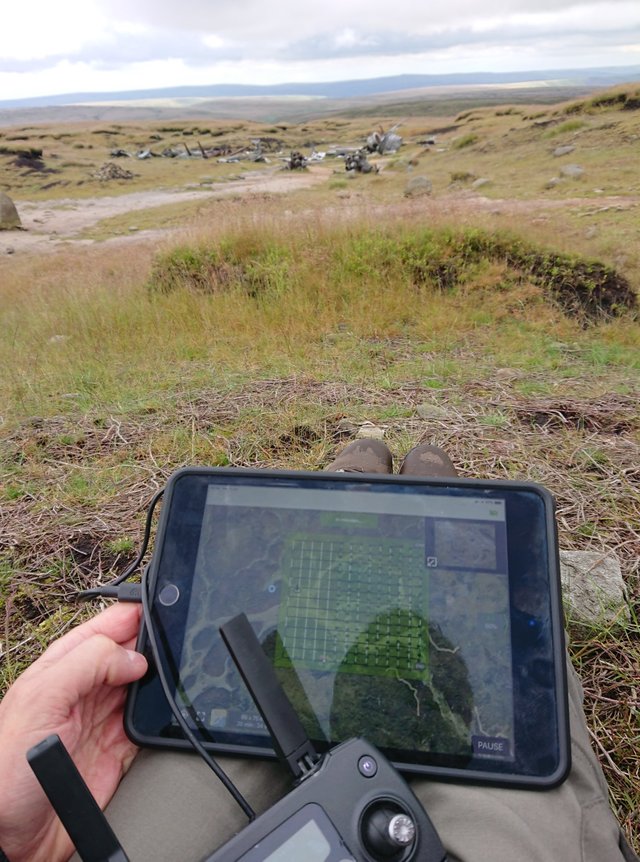 Drone model run in progress 👆
It took 27 minutes to do a full survey of the crash site in high winds. I was quite impressed that the little drone could handle the gusts! It took ~700 images, which were later expertly stitched together by Altizure. If you'd like to see the model, zoom in and inspect the debris from above and up close, be sure to visit the model here. If you had any comments or thoughts, i'd really like to hear from you!
Interesting observation: There are several crosses and also a star of David. I assume that the crew were Christian and Jewish in faith. Look to the bottom left of the image below. Can you see it?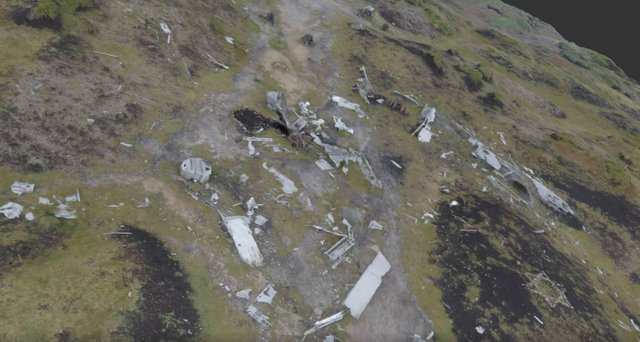 Dronegraphica 3D model survery of the crash site
It was a fantastic visit to a site of great tragedy and it was worth the 'hassle'. It wasn't difficult to find. Spending lots of time wandering around the wreckage evoked images of a big burning hulk of steel and molten aluminium and the chaos that must have ensued when the authorities arrived. Considering the crash took place over 70 years ago there is a lot of wreckage to peer at, perhaps it will still be there in 2048, but I can imagine this will be picked at bit by bit for the years to come. I'm so glad I made the time out of my hectic life to hike and explore this part of the Dark Peaks.
---
An Oral Account of the Incident
For an explanatory and very eerie account from an Englishman who attended the crash (he was first to arrive, a local man) on that fateful night in December 1948, check out this project by Phillip Formby OVEREXPOSED - it is well worth your attention (best with headphones!)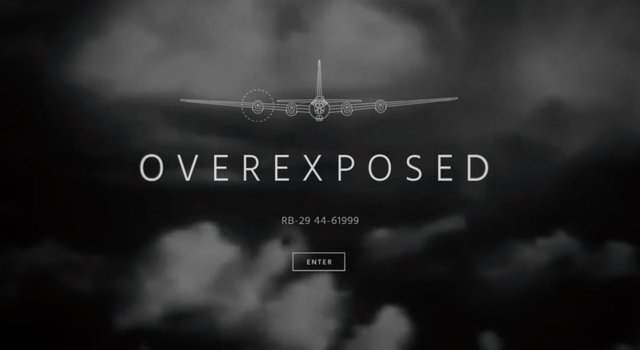 I invite @riverflows to listen to this oral account and exceptional storytelling and @ellenripley who will soon make the trip to visit this place!
---
🍻I send BEER tokens to engaging Steemians! Comment now!🍺
💲💵 MAKE MONEY with your photography and video 💵💲



🌎🏠 Live RENT FREE / FREE HOLIDAYS by house-sitting 🌎🏠

⛏ Mine JSE Coin in your web browser & website ⛏

⛏ Mine Pi Coin on your smart phone (invite only code - cryptojones88) ⛏
---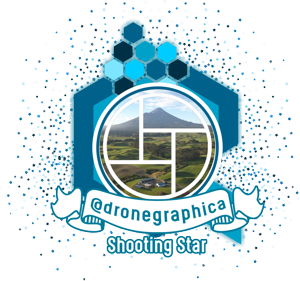 Dronegraphica Website
Facebook
Instagram
All images are my own and If you like them please upvote, follow, comment, ask questions or get some discussion going, It'd be great to hear from you!