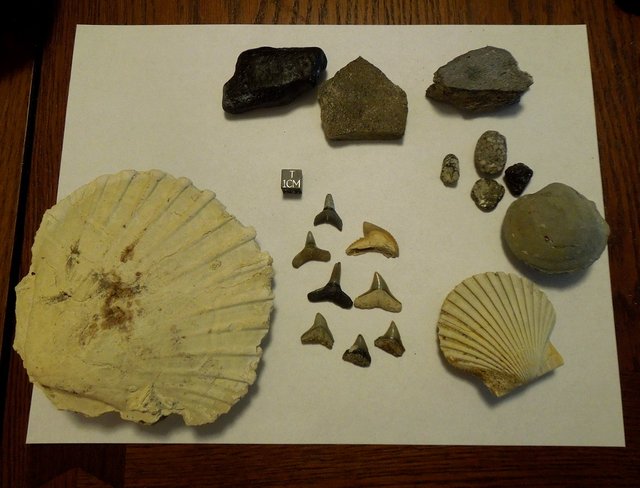 Here is a photo of my meager finds today. The small scallop is not a cast, it is the entire original shell found in a Miocene/Pliocene bed. The large irregular lumps are misc. bone bits. The black one is completely mineralized and laden with phosphorite. The small shark teeth have some nice colors, but I didn't find a single megalodon today. Overall, this is the smallest and most disappointing haul from a day of hunting that I have had since I first started hunting. So, a rare off day.
We visited several sites, but none were productive. A couple of them had millions of marine invertebrates (mostly bivalves and small gastropods), but we weren't interested in those - those are too common down here and the state uses them as fill in state parks and along roadways. There was no need to take any, although I did grab the two scallops because I liked them.
Our primary site was off limits today, so that explains the overall low number and quality of finds.
The small irregular lumps are phosphate pebbles and weird leaverites.
Hopefully we have better luck next time....
I have a wide variety of Bone Valley fossils available for collectors at : http://galactic-stone.com/fossils-amber/fossils/
All Steemit members get 20% OFF by using coupon code "steemit" at checkout.
Photo credit : Me. (MikeG)