Good morning to all dear Steemians friends.
The watercolor that I want to present today is the result of my reading of a published article, on a discovery of a Corinthian order capital, in the beach of Sperlonga-Lazio, Italy.
The discovery took place about a year ago and I was very fascinated by the quality of the capital, in Carrara marble, then for the fine workmanship of Roman masters under the guidance, no doubt, of the Greek master sculptor.
If you want to admire it live, you can take a trip to Sperlonga, it is located inside the Auditorium.
I imagined the precious Roman capital, immersed in a fantastic sea bed, with the background distinguished by architectural elements of temples and a female figure, the Kore or young girl.
I leave you with other interpretations and I hope you enjoy the painting, I have included the various steps of the watercolor work and also two details.
Good day and good work to all!
---
---
---
Buongiorno a tutti cari amici Steemians.
L'acquarello che voglio presentare oggi è frutto di una mia lettura di un articolo pubblicato, su un ritrovamento di un capitello di ordine corinzio, nella spiaggia di Sperlonga-Lazio, Italia.
Il ritrovamento è avvenuto circa un anno fa e ne sono rimasto molto affascinato, per la qualità del capitello, in marmo di Carrara, quindi per la pregevole fattura di maestranza romane sotto la guida, senza dubbio, del maestro scultore greco.
Se volete ammirarlo dal vivo, potete fare una gita a Sperlonga, esso si trova all'interno dell'Auditorium.
Ho immaginato il pregiato capitello romano, immerso in fondale marino fantastico, con lo sfondo contraddistinto da elementi architettonici di templi e da una figura femminile, la Kore o giovane fanciulla.
Lascio a voi altre interpretazioni e spero che il dipinto vi piaccia, ho inserito i vari passaggi del lavoro ad acquarello e anche due dettagli.
Buona giornata e buon lavoro a tutti!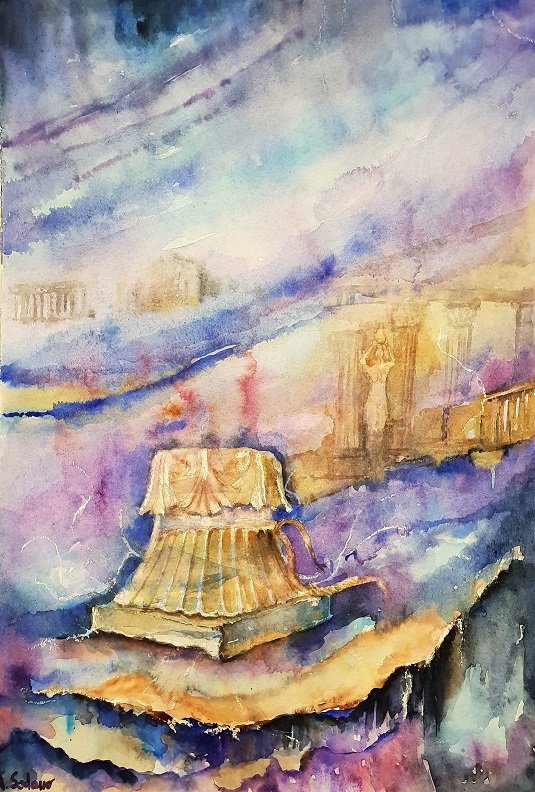 title: Treasures from the sea
technique: watercolor on paper
size: 40x60cm.
year:2018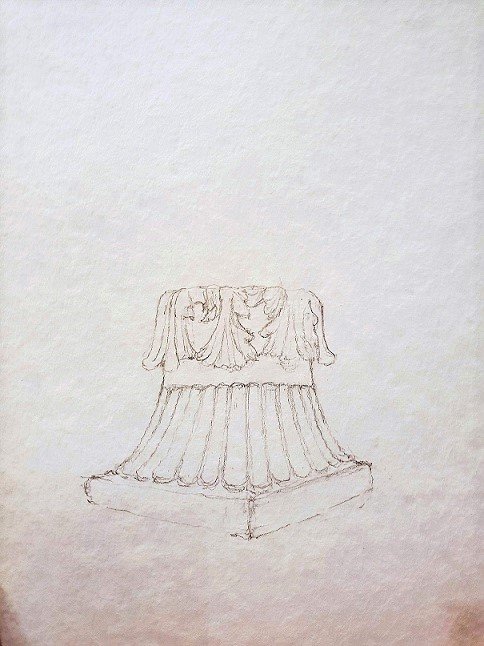 step-1: first sketch of the capital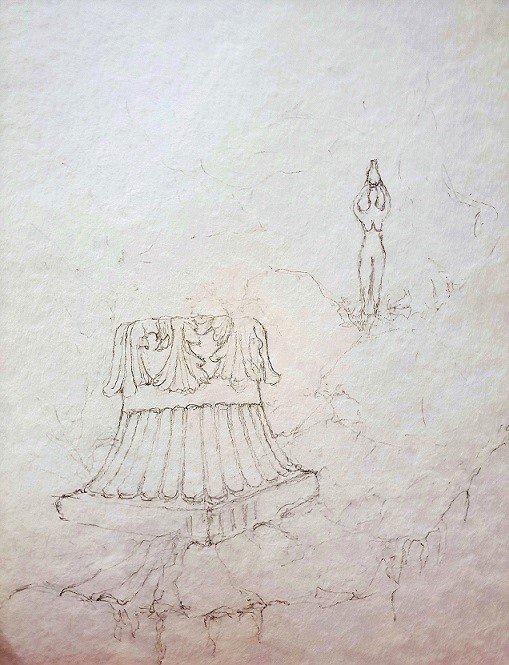 step-2: girl and background sketch</center<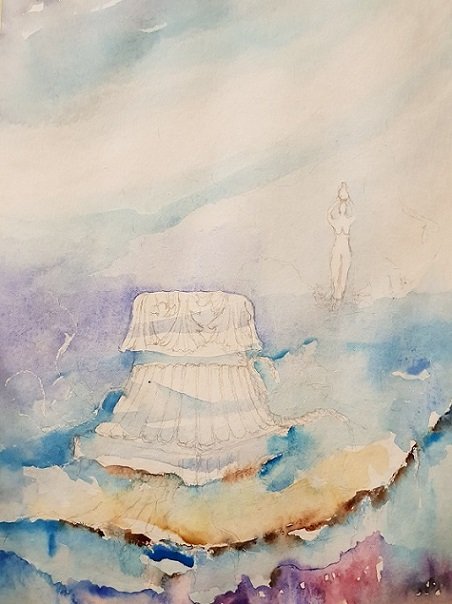 step-3: first glazes of the basic colors: violet, cobalt blue and ocher yellow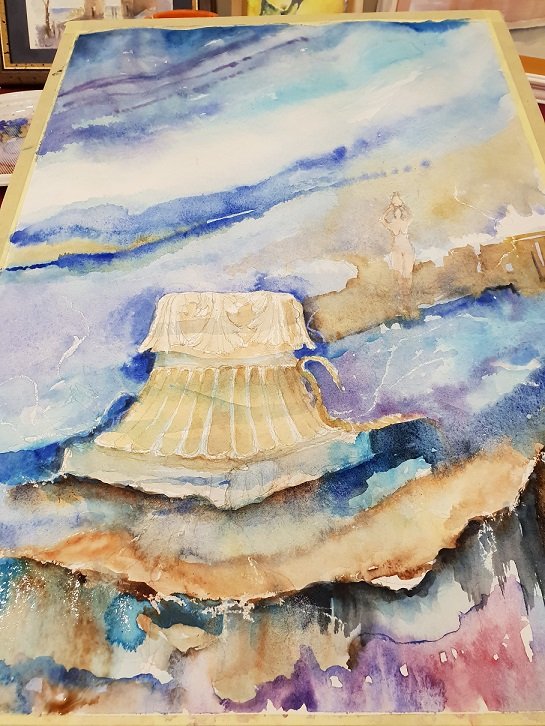 step-4: coloring of the capital moldings and insertion of Payne's gray brushstrokes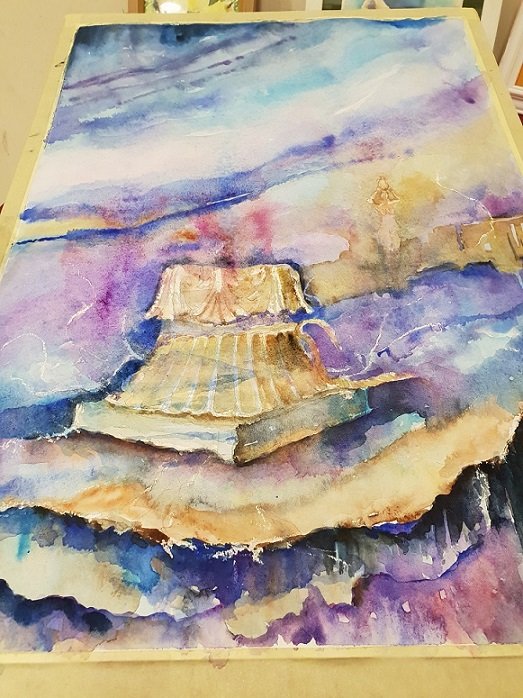 step-5: accentuation of the shadows with the blue Ftalo, Payne's gray and Bruno Van Dick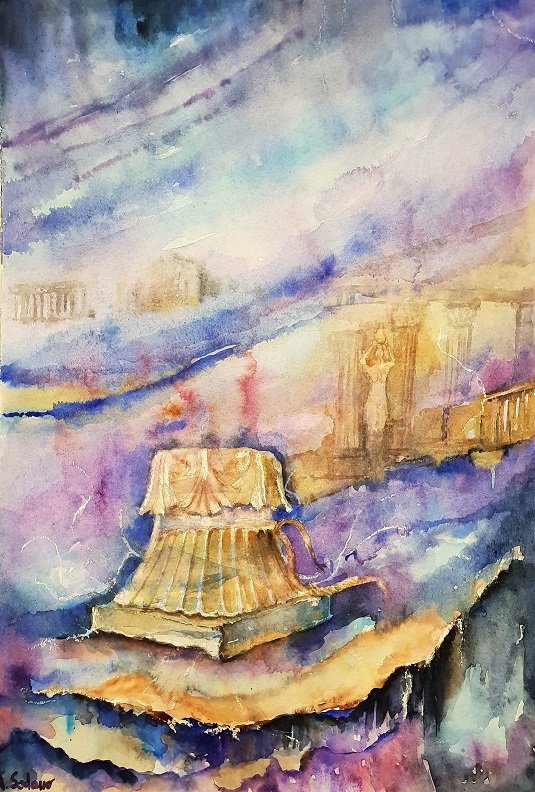 step-6: finished painting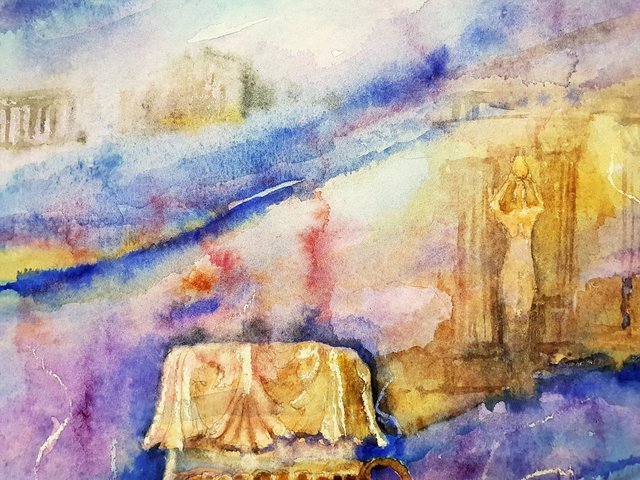 detail-1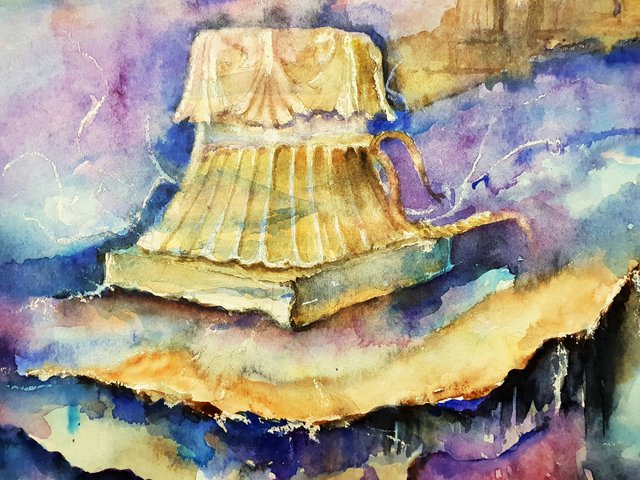 detail-2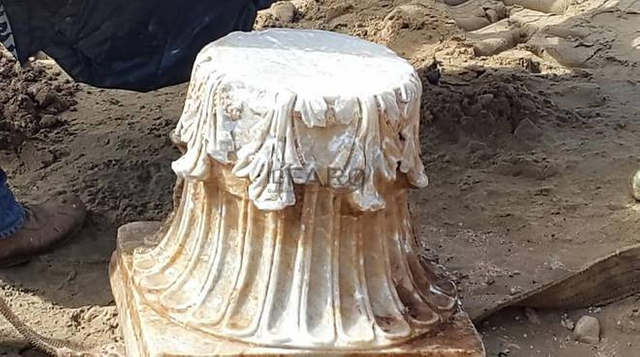 https://www.ilfaroonline.it/
the found capital