Not everyone can be a content creator, especially a Steem Blockchain based content creator.
And that is completely fine.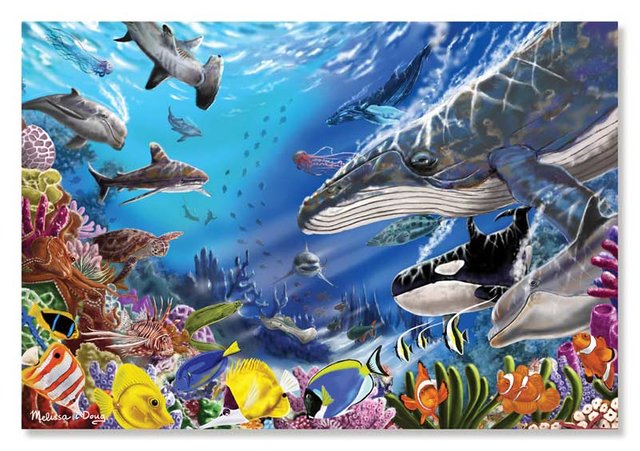 This picture is from a puzzle from Melissa and Doug. You can buy it here
Yes, I am saying this considering that one of the main selling points of our ecosystem, at least to the outside world, to the potential users, is that people can monetise their social media content by posting it on the Steem Blockchain.
Throughout 2018, some of the people who joined our Blockchain looking forward to publish daily content, did so expecting to receive considerable amounts of rewards and becoming a new sort of influencer on this new social media like website but, if you ask me, that is something that we as a community should be (and is actually happening right now) doing is showing all the new users, and those not so new, all the possibilities and implications being part of this Blockchain means for us.
What is this all about? Why am I giving this boring prelude?
When I joined the blogging part of the Blockchain, the one that 99% of the users see, after a long time observing, reading and trying to see what other users did to get some support, votes and traction on their posts was one simple thing: Differentiation.
What are you blogging about that makes you different from everyone else? Why should people pay attention to you, instead of the other 90,000 users on the platform?
(Oh yeah, we were way fewer people back then, it was easier to stand out)
I noticed a trend: Innovation, creativity and most importantly, choosing to blog about interesting yet unfamiliar stuff for people around the world. I decided to follow those steps and it worked for me, luckily I found an audience and so far as a content creator I like where I am on this community and I appreciate each and every follow, vote and comment I get.
I will turn two years old in a few days and so far, I can tell you that when it comes to content creation, this theory about innovation and creativity has been proved right in many (or you could say few, as only a few could say their content creation is getting constant support around the chain) occasions.
A gamer, redditor and crypto enthusiast who uses his experience to blog about different topics, most of them very interesting.
A very cute girl traveling the world and giving cryptocurrency advice to anyone willing to listen.
A surfer woman recording herself doing stunts and being free in the ocean, making vlogs in a particularly chill way.
A couple of Acro Yoguis recreating their routines for everyone to watch.
A Nordic girl posing naked for her camera and bringing their audience deep thoughts with her erotic content.
An amazingly beautiful girl who vlogs about content creation and tips to succeed on social media and who happens to also have a video show with there sister.
An Aussie who writes daily 4 pieces of deep, well thought content that rivals any Quora article out there.
A published writer, who posts one chapter of her new book every now and then.
A foodie girl who is charismatic (and talented) enough to bake a simple cake and make everyone want to eat it.
A data analyst who intertwines number to the engagement level on our platform and sometimes writes funny stuff.
I could go on, but not for much longer.
I know no more than 100 Steemian authors who actually get enough attention, votes and rewards to call themselves Influencers or successful content creators. I don't like that word, it is overrated and it actually doesn't portray what having influence on the Steem blockchain means. I also don't like using the word successful because what might means success to you, may not mean for me or vice versa, so for the sake of having a clean post, lets consider successful content creation the fact of getting enough votes, comments or attention to make the ratio of time you spend creating content vs rewards received, a satisfying one.
I know there are more than 100 successful content creators. Hell, theres probably 1,000 of them out of the One million users on Steem.
That number is still tiny, and it raises a question. Should we all strive to be content creators?
This topic is a sensitive one and I know this approach might get some positive as well as negative feedback, but I am doing it with the intent of getting as much feedback as possible, to encourage discussion.
First of all, not everyone creates content for the rewards. Yeah, the rewards are a nice bonus but some Steemians write to have their own block chained diary, some others to share their thoughts with their friends, there are some who are just experimenting with writing or photography or video creation and any vote they get, is one cent more than what they would get if they did the same on Facebook or Reddit.
Let us talk about those writing with rewards on their mind.
I used to have a delegation, one of the biggest ones on the Steem Blockchain. I used to curate a lot and to distribute votes and rewards to content creators on a daily basis. Now that the delegation is temporarily gone, my vote is worth 30 cents.
That vote is still worth a lot if you consider that some, if not most of the content creators make single digit cents in rewards on their posts on a daily basis. Those posts took the authors at least one hour to make considering they had to think about the topic, write the post, edit it, get some pictures or take some photos, reply to the comments and other miscelaneous activities they may do while posting.
Is one of their high quality posts worth 6 cents?
Probably not, in fact I am sure they think it is worth more than six cents. Yes, it is 6 more cents than what they would get on Instagram or Twitter but, is it really worth the effort? Are they satisfied with the outcome and happy with the rewards they got? Smart money goes to NO.
Is this bad? Is it wrong? Is any of this Fair? Should it change?
No, to all of them the answer is No. It is just how things work. Everyone creating content on the Blockchain is competing for the same reward pool, and that reward pool gets smaller as the number of users grows but the price of the coin remains the same. Every time a content creator clicks the post button, other ten people did the same at the same moment and most of that content will fly by unnoticed by the few manual curators still scanning the different content tags.
I am no longer curating content. I read a lot of the posts on my Feed. I follow quite a number of interesting people and I know exactly what is happening on the Blockchain all the time, at least the most relevant stuff. But I no longer vote on other posts, at least not with the frequency I would like to. You see, I don't have the voting power anymore. 50% of my voting power goes to the people commenting on my posts and the other 50% goes to the posts I read that I want to reward. I mean, 15 to 30 cents is better than nothing, right?
I know a lot of people are doing the same as me. High powered Steemians, but not highly enough to be curating other posts on a daily basis, but concentrating in rewarding a handful of authors and some of the comments on their own posts.
Which begs the question. Should some Steemians focus in being Content consumers and leave meaningful comments in other Steemians content? For some people, leaving thoughtful comments in other people's posts could mean better rewards than actually creating content of their own.
This is the first part of a 3 piece post Ive been thinking about for a long time. In a few days Ill post the second part, but first I would really like your input in the comment section (which as stated above will be voted accordingly with my 30 cent VP) before writing the next piece.