Orchi Palar aka Ngu Wei Sin ridiculed on Instagram
Err... Remember Kehpil, the Indian degenerate from Cumbum who used to humiliate Orchi Palar aka Ngu Wei Sin on Instagram? Kehpil created the most hilarious Orchi memes. Unfortunately, all memes were flagged by Orchi's mindless followers and removed. Orchi lacks the slightest bit of self-irony.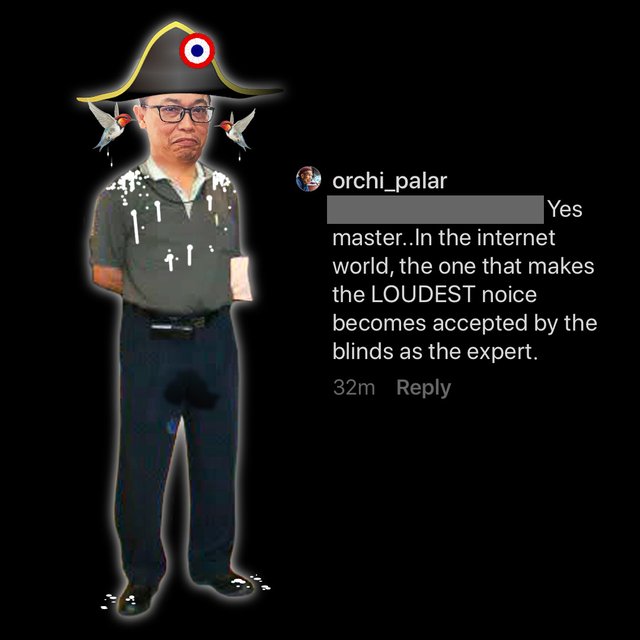 Kehpil is a true artist. It's a shame his memes disappeared so we bring them back for everybody to see and have a laugh.
Orchi memes made their debut after Orchi attacked Perezcope for exposing a fake Panerai offered at Antiquorum. For reasons that were to be exposed soon, Orchi had one or two dogs in this fight.
https://www.instagram.com/p/Bg4_0L2BuFo/
Antiquorum withdrew the watch and published a lame excuse the watch was published by mistake and never meant to be auctioned.
Orchi, who until that point never mentioned Panerai with a single word, was suddenly all over Panerai and began promoting fake Panerai stories which in Paneristi circles were known to originate from Rinaldi. Old school vintage Panerai collectors realized Orchi was in cahoots with Rinaldi's heir, his son Samuele Rinaldi.
Since Orchi was questioning Perezcope's research, Perezcope retaliated by completely destroying Orchi's claims that certain double-signed Rolex-Tiffany dials were fake. Once again, Orchi Palar lost face in front of the entire watch collecting world.
https://www.instagram.com/p/BhEG0rEhtSF/
Perezcope met Orchi months earlier in Malaysia and he quickly understood Orchi was an imposter. Without his little birds, Orchi wouldn't be able to buy a bottle of water to wash his own ass.
Antiquorum was planning a Panerai-only auction in which dozens of fake Rinaldi watches would be unloaded. Perezcope had exposed a series of fake Rinaldi Panerais at other auctions and Antiquorum feared Perezcope would intervene. Rinaldi contacted Perezcope to see if he was open to bribery. In Antiquorums name, Rinaldi offered Perezcope money for writing articles for the upcoming Panerai-only auction catalogue.
Well aware of what was going on, Perezcope pretended to be interested in order to learn more about the scheme and what pieces would be offered. Antiquorum then listed the above mentioned Rinaldi fake as a test to see if Perezcope would remain silent. Obviously, he didn't so they deployed their troll Orchi Palar against Perezcope.
Kehpil's first Orchi meme was a picture of the wannabe watch expert with a little bird sitting on Orchi's fake dick. Orchi Palar was often compared to a frustrated mad dog barking all day long behind a fence that, as soon as the gate opens, will hide away tail between legs, a dickless coward so to speak.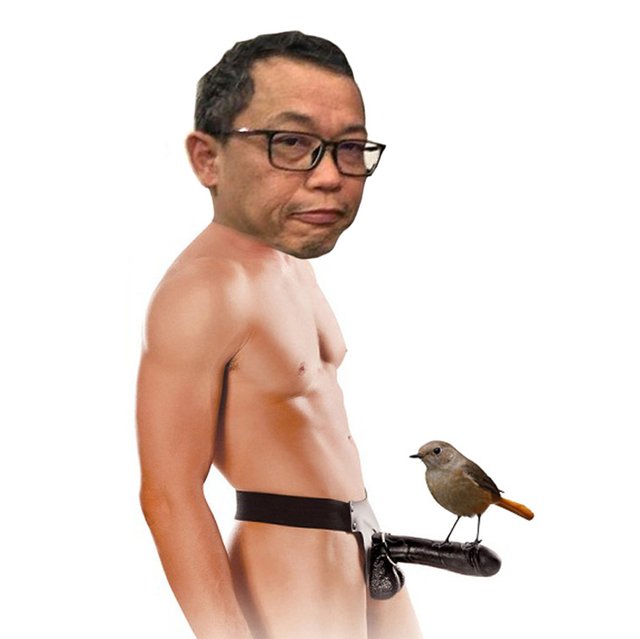 The second meme showed Orchi wearing a napoleon hat and little birds chirping in his ears while crapping all over him. Note the monkey playing the cymbals symbolizing Orchi's limited capacity of thinking.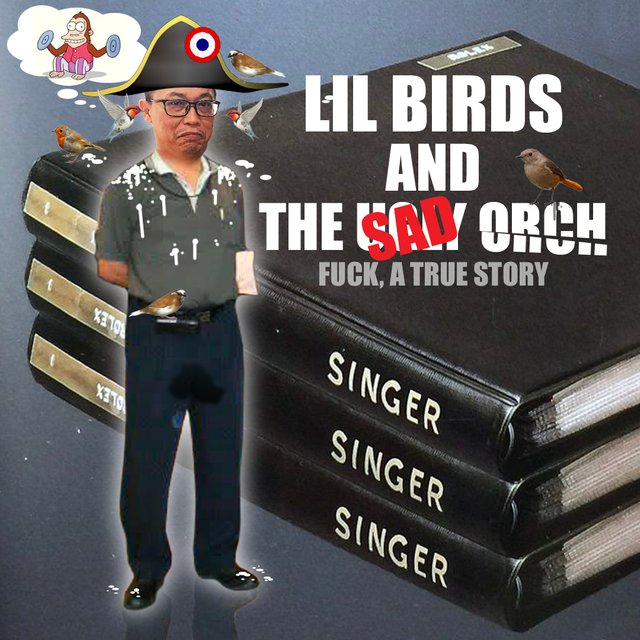 It became evident that Orchi was just a troll attempting to discredit certain vintage watch platforms to force dealers to switch to Mondani Web instead. At the same time, Orchi was defending the dirtiest people in the business like the notorious Rinaldi counterfeiter clan and trying to pass obvious fakes as genuine watches.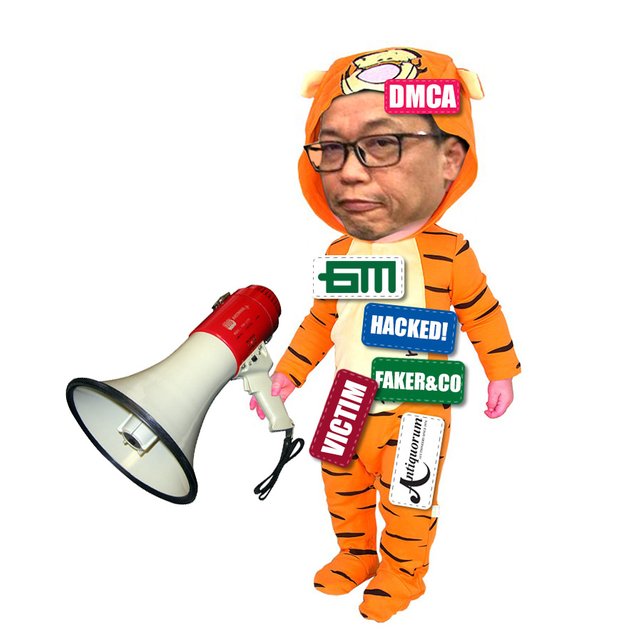 Some people are convinced Orchi's Instagram account was never hacked nor disabled by Instagram. Apparently it was Orchi himself who deactivated his accounts to boost his credibility. If people are trying to shut him down, he must be legit, right?
At some point, Orchi Palar proclaimed he would sue Instagram for whatever reason. He also bragged about giving a press conference in Geneva to confront a famous auctioneer. The sole reason to go to Geneva was to make selfies with established people in the business in order to boost his credibility among his newby followership. Orchi knew exactly none of the gentlemen he attacked would harm him there.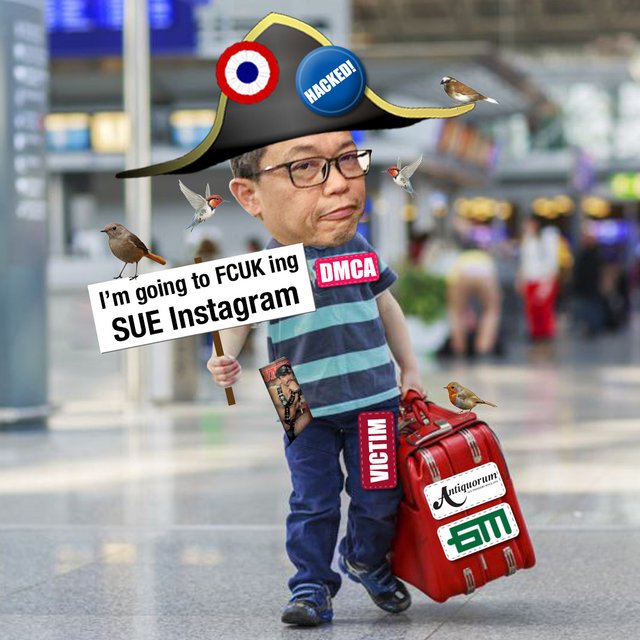 Orchi is deranged and completely untethered from reality.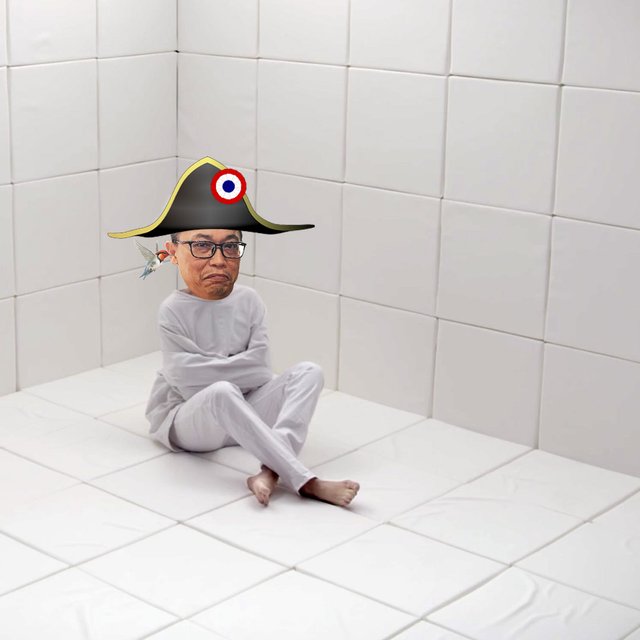 To finance his trip to Geneva, Orchi started begging on Instagram by asking his followers for small token of appreciation. Appreciation for what, for misleading them day in, day out with nonsensical bullshit claims?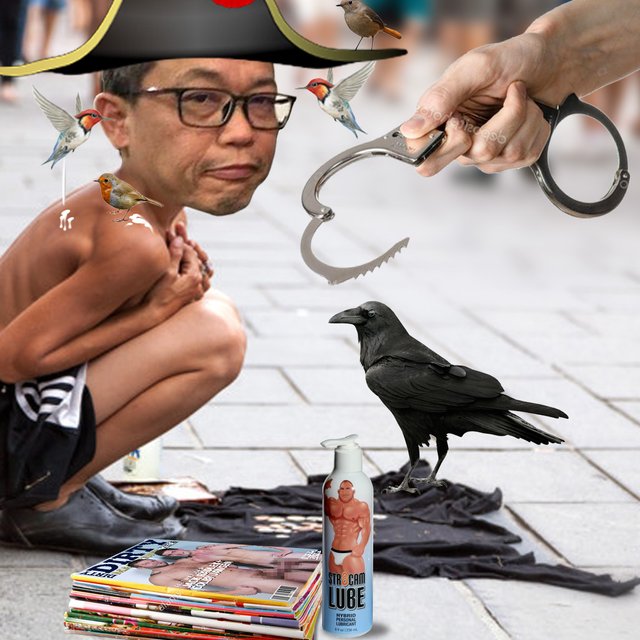 Only delusional and demented fools would think anyone but Muppets would wanna listen to a bipolar lunatic like Orchi.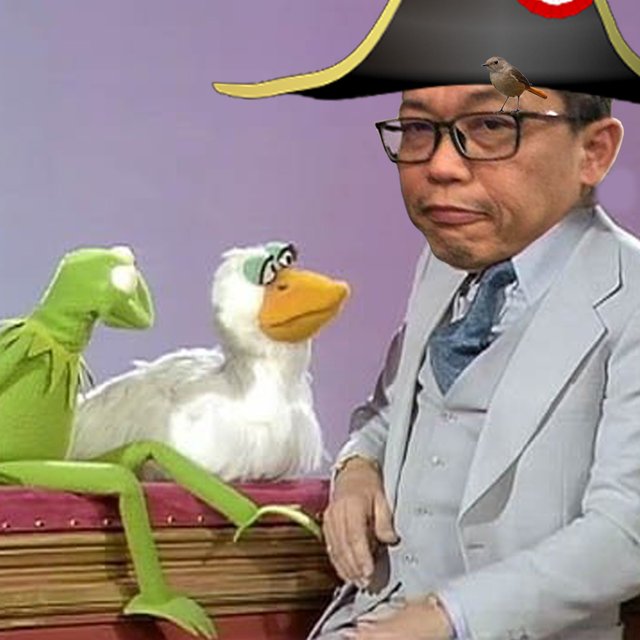 Someone needed to take care of Orchi quick and Kehpil asked for help on social media.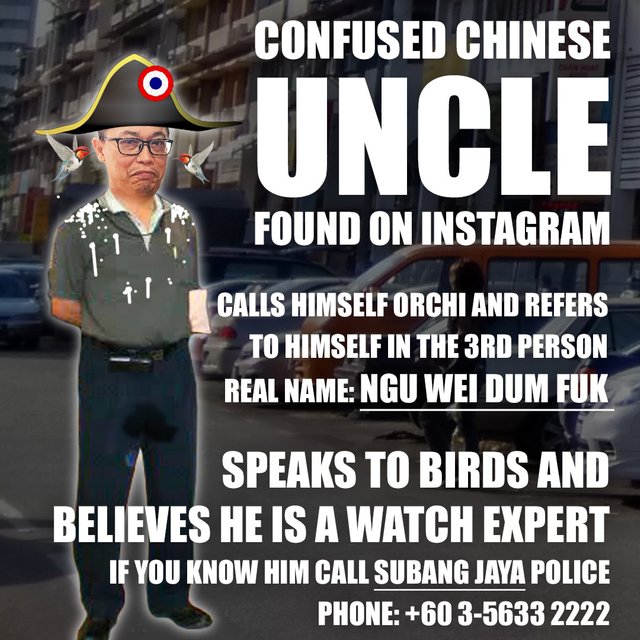 Orchi Palar aka Ngu Wei Sin managed to collect enough money from his mindless followers to finance his trip to Geneva. A picture of him secretly taken at the Hotel La Reserve went straight to Kehpil. Here we can see him with the only other watch expert who thinks Orchi is legit. Note the loupe on his forehead. This is how he was walking around in Geneva. Look, I'm a watch expert!!! LOL!!!!! Can you believe it?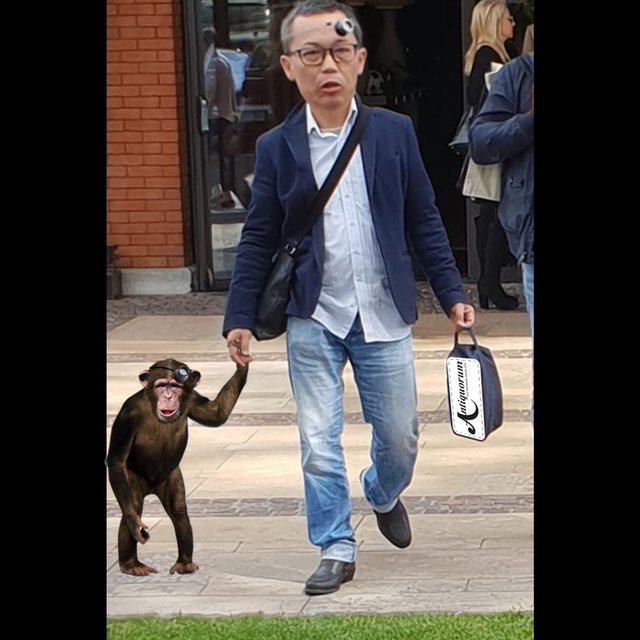 To boost his credibility among his gullible followers, Orchi Palar begged an auction house employee to pose with him for a photo. The loupe was always on his forehead. Note the dark spot around his crotch. Did he pee himself?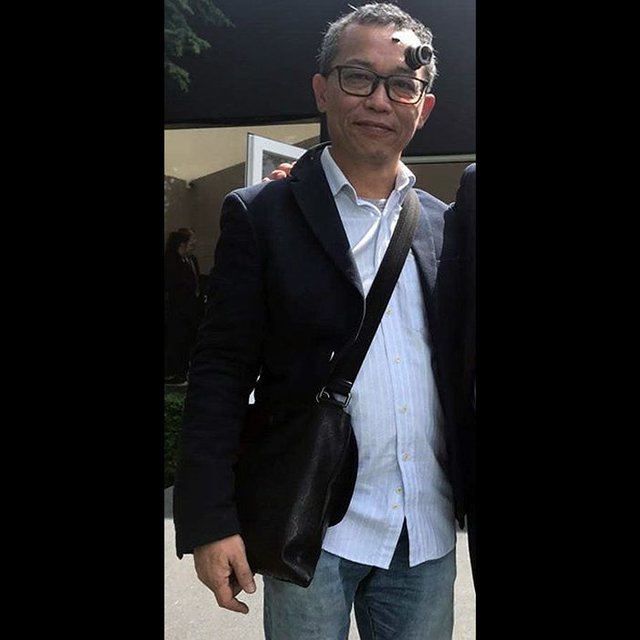 Later, when Orchi reached 5000 followers on Instagram, Perezcope posted this meme to congratulate Orchi. At the time, Orchi was stalking Perezcope on a daily basis. Remember the movie Birdy with Nicolas Cage where a vietnam veteran is obsessed with becoming a bird?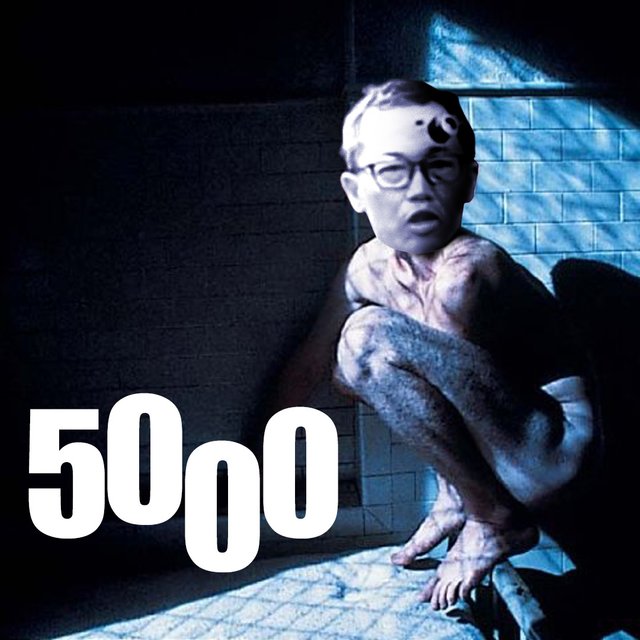 Orchi cannot stand when people make fun of him. As expected, he played the victim (his favourite game) and started lashing out. Orchi has a big chip on his shoulder.
The very same day, someone bought Orchi Palar 10,000 fake followers. At first, Orchi couldn't believe how successful he was. He kept bragging about it until someone with an actual brain told him the new followers were fake. Kehpil created a new meme showing Orchi in midst of zombies wearing his famous chip on his shoulder.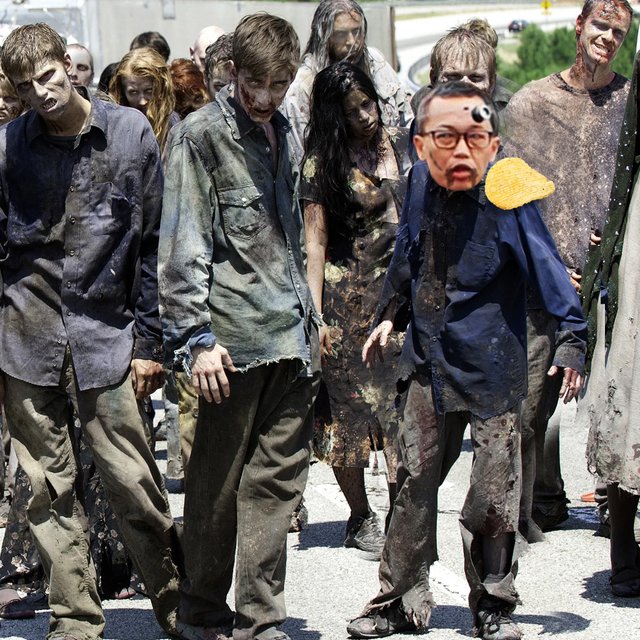 Orchi went full autistic and accused Perezcope of all his problems, even of shutting down Orchi's bank accounts and, brace yourself, of sabotaging an elevator at the train station so that Orchi's son (little Orchi) got stuck in it for hours. Wtf, right?
According to information received, Orchi's bank accounts were terminated due to a number of irregular payments and suspected money laundering. How many times did Orchi accuse so-called BigNameDealers of money laundering? Turns out Orchi was doing it himself all along. Is everything he claims just a projection of what he is doing?
Orchi started harassing Perezcope even worse than before. An endless campaign of defamation and character assassination of the worst kind followed.
We advised Perezcope to take legal action against Orchi Palar aka Ngu Wei Sin for libel, slander and defamation. Defamation is a criminal offense under Section 499 of the Malaysian Penal Code. A lawsuit against Orchi would easily result in damages of about RM 1,000,000 (USD 250,000), ruining Ngu Wei Sin for the rest of his miserable life. Orchi Palar is in fact engaging in criminal behaviour and could even go to jail for one year.
Kehpil made fun of Orchi's obsession by creating a meme of Orchi homoeritically clocking Perezcope.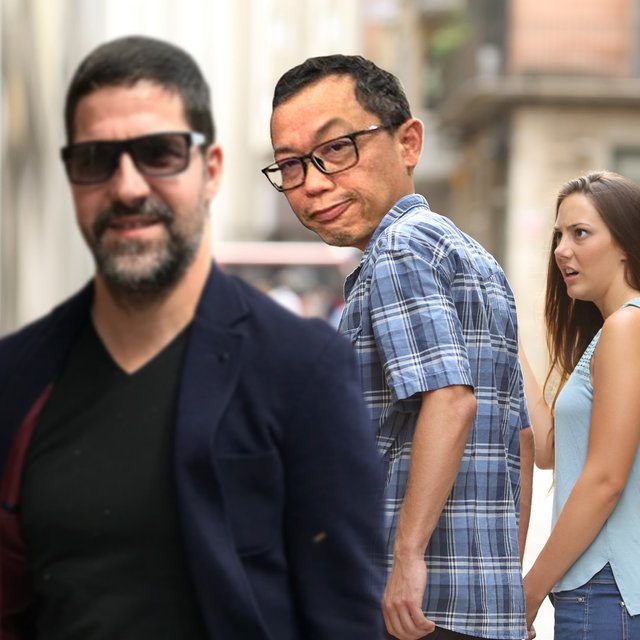 I thinkings O is sevretly homozexual ings.
The person who bought the fake followers is very close to Orchi. The whole world is making fun of him but for some reason he simply doesn't get it. To celebrate Orchi's complete derangement, Kehpil created this fantastic movie poster.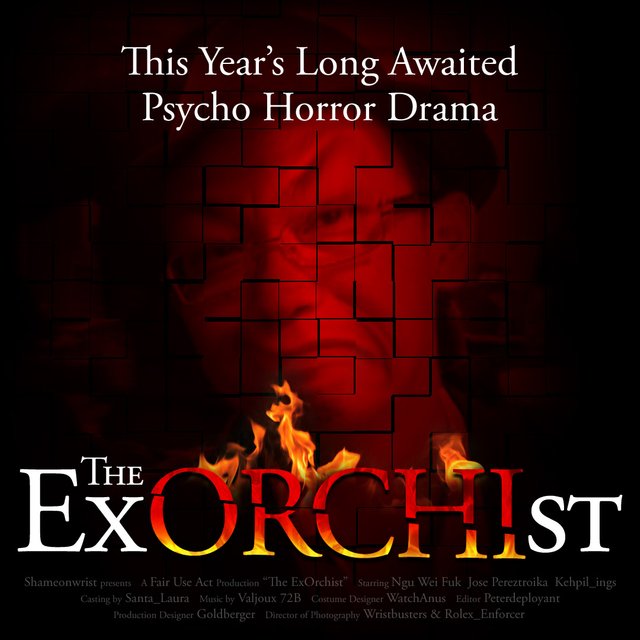 All this while, Orchi had been in touch with a young Asian lady who was posting pictures of Sphynx cats on Instagram. The account was fake and the people behind it were trolling Orchi hard. Orchi fell in love with the fake lady and exposed his inner self.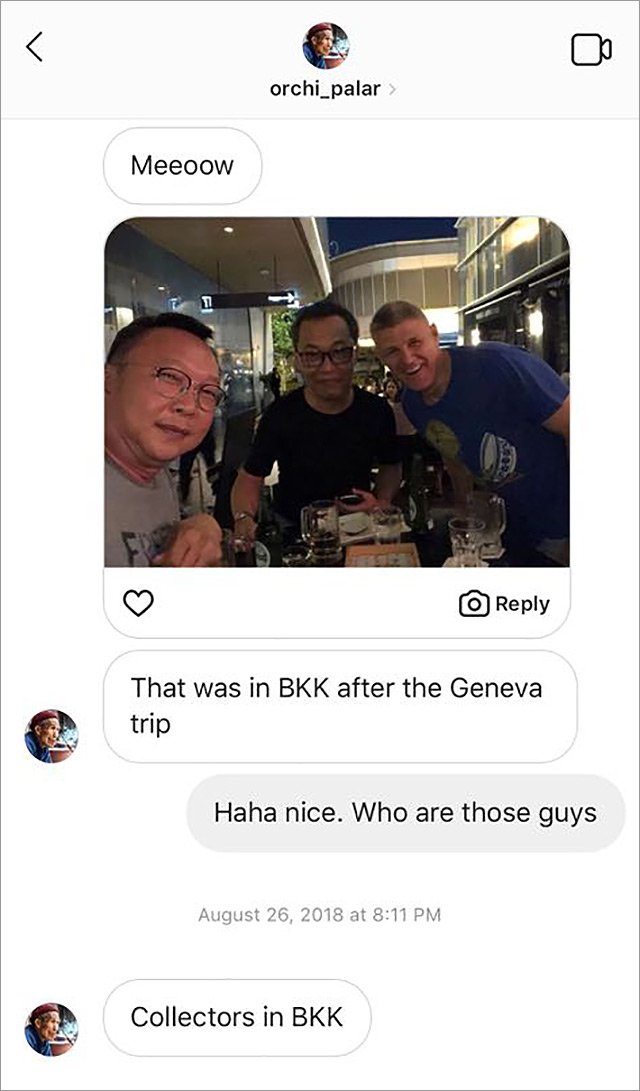 Exactly, who are those guys?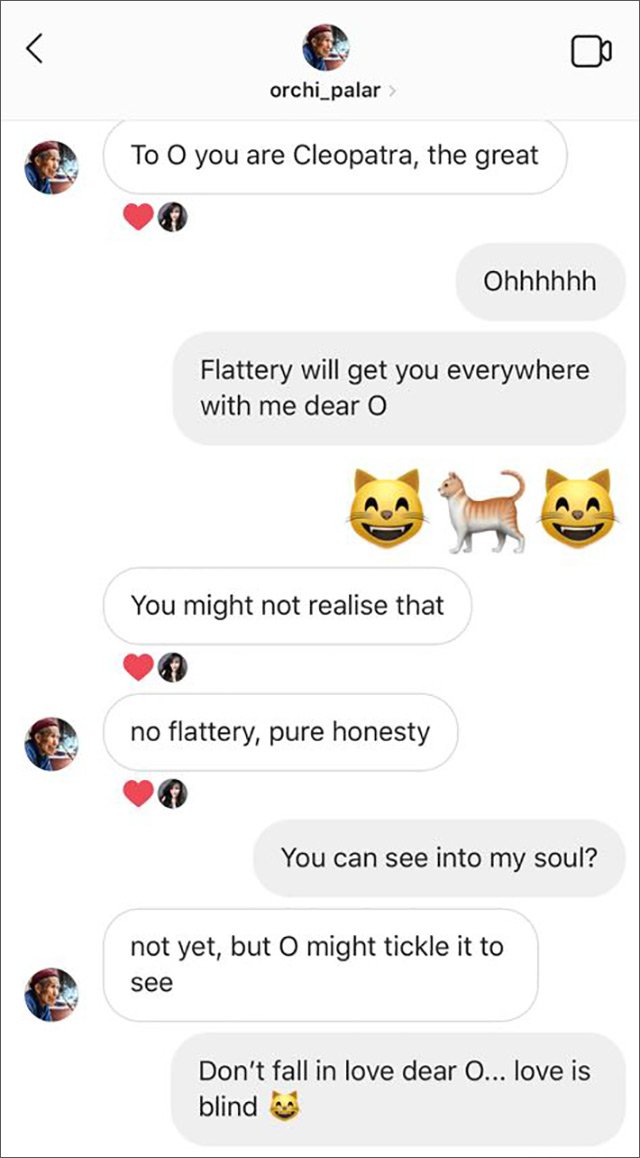 Don't fall in love dear O.... love is blind.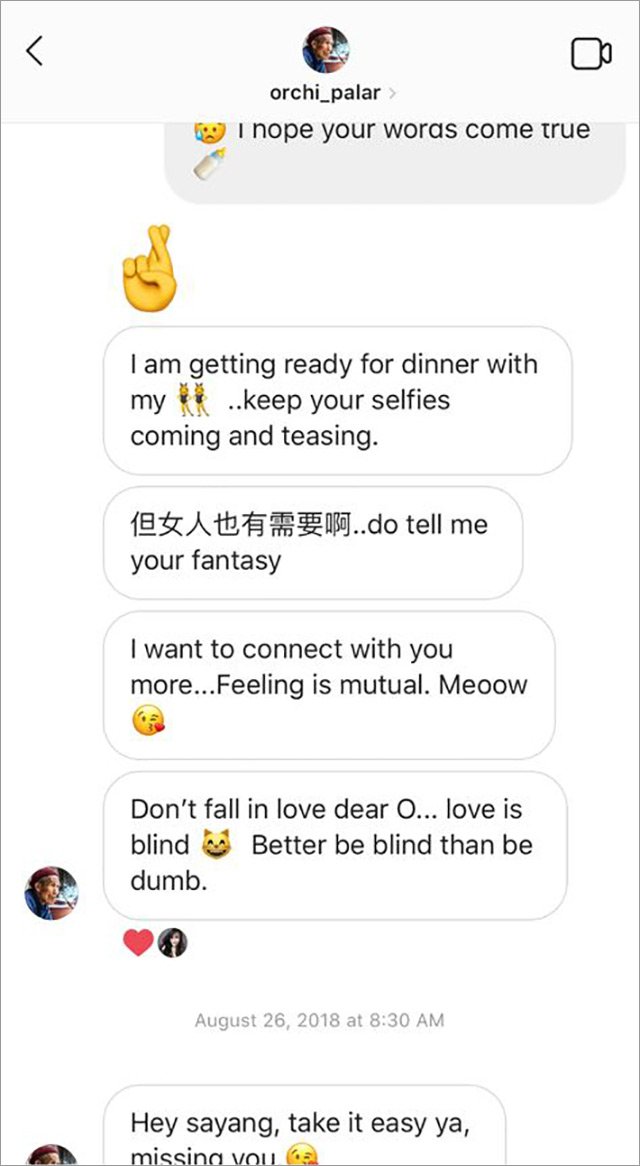 Better be blind than be dumb.
LOL!!! Orchi, THE blind leading the blind. The ExOrc(h)ist has the complete transcript of Orchi's "romance" with the fake cat lady. It will be published soon.
Orchi and the fake cat lady went as far as exchanging intimate pictures. Orchi disclosed his most private details and sent selfies and even dick pics. As usual, some of the pictures found their way to Kehpil who immortalized this moment with a meme.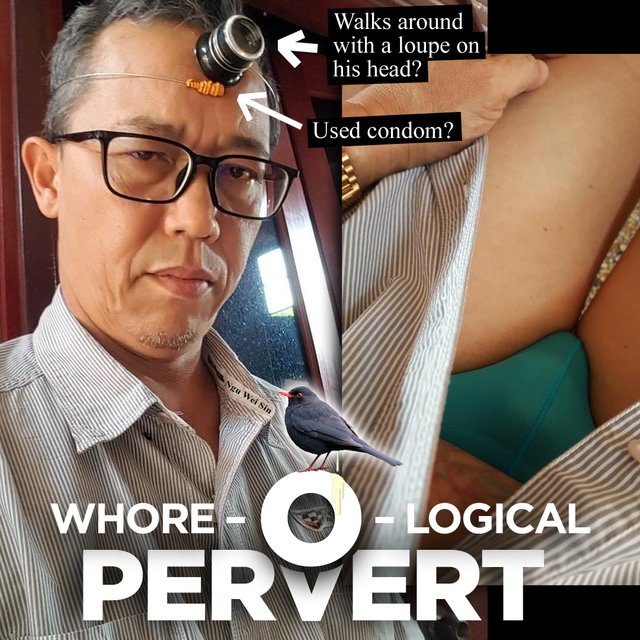 This is how Orchi walks around in his shack in Subang Jaya. A shirt, no pants and of course his signature loupe on his forehead. Really Orchi, green underwear?
Once again, Orchi accused Perezcope of having plotted this monthslong scheme. Orchi went on another autistic rampage. To celebrate this, Kehpil created a meme in which Orchi was depicted as the autistic Raymond from the famous movie Rain Man.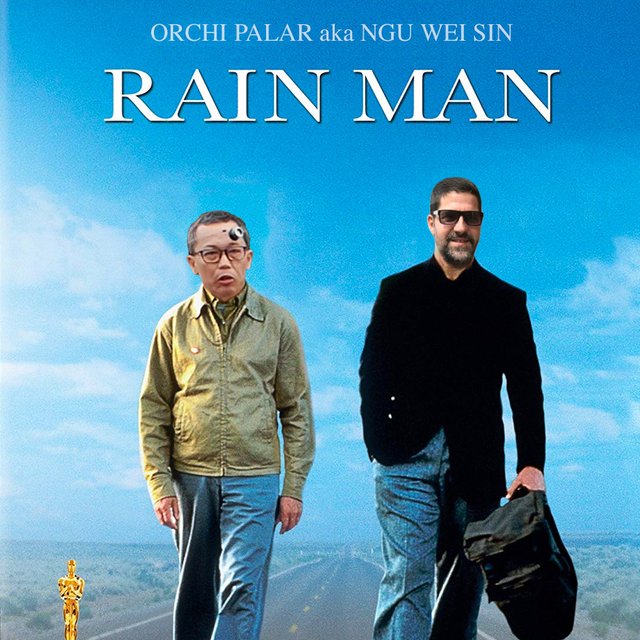 Orchi Palar kept stalking Perezcope. Orchi called famous watch bloggers idiots for publishing stories on Perezcope. He called upon his followers to help him fund an interview.
O is poor, but many might be willing to donate to the cause to have you interview Orchipalar, the real truth hunter of your so called "The Truth Hunter".
This was Kehpil's answer.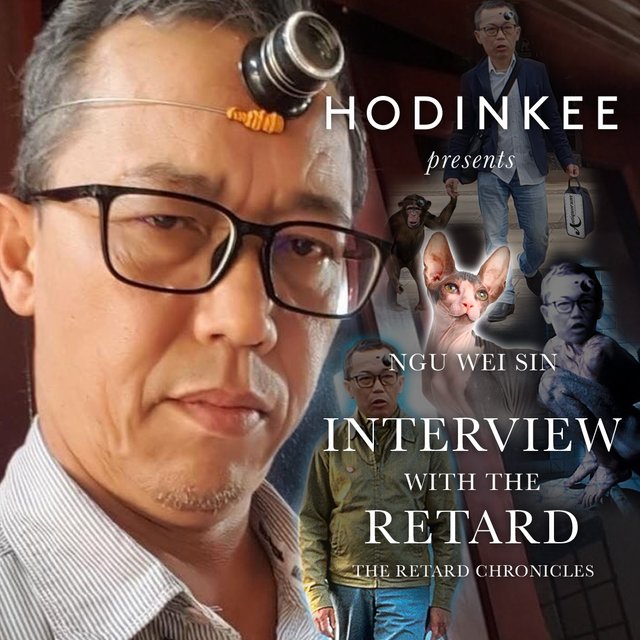 Orchi Palar aka Ngu Wei Sin read on the internet about watches and dreamed of becoming a respected and celebrated watch expert. Instead, he turned into THE laughing stock of the vintage watch community after ill-advising a wealthy Chinese-Malaysian collector into buying made-up watches. Orchi acted as if he knew everything and the collector was fooled into believing Orchi was a watch expert. The collector didn't know Orchi had no real experience. In an attempt to defend the watches, Orchi made a fool of himself over and over again on the Vintage Rolex Forums. Orchi is a typical imposter and will defend the worst fakes if his honor is on the line!
In consequence, Orchi Palar became evil and resentful. He vanished for several years from the forums. When he learned about Instagram and that he could speak his mind without being monitored by moderators, he came back with the intention to destroy the very people that lectured him back in the days.
With his dangerous half-knowledge, Orchi fooled hundreds of newbies into believing he's some kind of Robin Hood. Actually, he's more of a Robin Crook. He baits his followers with legit but old stories which he recycled from the forums. These make about 5% of his posts. 95% of his posts are nonsensical and completely made-up. Many of his little birds are watch dealers who use him to discredit their competition. Orchi Palar has zero actual knowledge.
---
@exorchist will soon be back with: "Orchi Palar's littlebirds exposed – One by One" and "Orchi Palar and the mysterious cat lady"
---