Introducing the Oracle-D platform: NOW LIVE!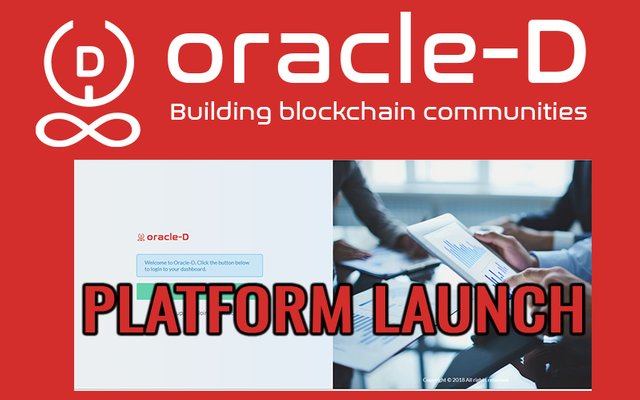 This is our first post introducing the @oracle-d project, how it works and what our goals are.
NEW INVESTMENT: SUSTAINABILITY OF THE STEEM BLOCKCHAIN
In order to create sustainability of the STEEM blockchain and the rewards ecosystem, It is no use having just lots of content creators on the platform, all blogging and earning rewards. What is required is new investment coming into STEEM to provide the backing for the rewards pool.
Imagine if every month new investors were buying STEEM in large quantities, and in return, authors were providing valuable content which these investors wanted to see. This is a stable and sustainable business model, which will help the price of STEEM to grow as more and more value is created.
This is what @oracle-d is all about.
---
WHAT IS ORACLE-D?
@oracle-d
is a business initiative conceived by
@starkerz
and
@anarcotech
, which pairs content creators with investors in STEEM. Our goal is to bring multi-million dollar investment into the STEEM ecosystem by creating collaborative partnership with prominent, well-funded projects and companies, particularly those involved in the blockchain sphere. We have begun this in the last week by bringing in over $200,000 worth of new investment.
We go out into the business world and encourage investors to buy and hold large amounts of STEEM. This STEEM is used to reward great content creators for completing tasks which could include things like:
Researching and writing about a subject
Providing an original translation of a website or whitepaper
Reviewing, copywriting, critiquing or proofing documents
Creative writing and content creation on a topic
Creating specific memes, videos, podcasts about a specific subject
Joining and participating in various community actions
BIG data Analysis
ICO reviews
Humanitarian Programmes
Promotions & Social Campaigns
White paper reviews
Translations
SEO and Back Linking
Infographics
Market Research
Community building
Creating Engaging Social Content
As we bring clients in, users will find many different types of tasks which will be available on the @oracle-d platform, and you will be able to pick the ones that you're interested in completing. High quality submissions which meet pre-defined standards of quality and professionalism will receive rewards in STEEM.
---
PLATFORM LAUNCH
We are pleased to announce that our platform is now ready, and with our first major project live now. This project is backed by new investment into the Steem ecosystem and is the first of many projects that will invest and run operations through Oracle-D. There are a lot more projects which are coming soon, so although there isn't much choice today, there will be plenty more coming in, which should provide content creators with a great range of tasks which they can choose to get involved in, and earn rewards for completing.
As from now you can use the platform. From Monday 30th July, all @oracle-d projects will be run through the platform and it will be required to use this platform to author posts from in order to receive upvotes from us
We would like to make a special gesture of thanks to the individuals who have acted as Beta Testers for our platform, and over the coming few weeks new functionality will be added to it (more to follow on that), and of course our phenomenal Dev team.
---
OUR ONGOING TRIAL
For the last few days, we have been running a trial for a potential client. This is still ongoing, and has had exceptional results so far.
So far, almost 40 authors have produced over 80 posts, which have gathered a combined total of more than 6000 upvotes. To date, $3300 in rewards have been distributed to these authors. This is phenomenal, and the value to the investor is immense. Due to the way we are writing the blogs and Steem's incredible authoritative SEO features, 4 of these blogs occupy positions in the top 20 Google searches. This is incredibly powerful and also valuable to any client wishing to invest in STEEM,The quality of the posts is what is likely to encourage this particular prospective investor to choose to make a sizable investment in STEEM, which is good for everyone on the platform.
---
SUPPORTING PARTNERS
Because the specific trial mentioned above was based around science, technology and innovation, we have been able to have been supported in ensuring the success of this trial with the help of a couple of major partners,
@utopian-io
and
@ocd
.

We are exceptionally grateful to these partners who have sponsored some of this work on our behalf, and this has led us to be able to reward exceptionally high quality content creators with sizable rewards. Please show your appreciation to them by casting a witness vote for @utopian-io and @ocd-witness, and taking a look at these excellent projects.
We may continue to work with partners as time goes on, and we welcome project owners coming and speaking to us about partnership opportunities.
---
QUALITY CONTROL
We would also like to thank
@thundercurator
who has provided third part inspection, curation and quality control. They have stayed on top of spammy posts, plagiarism and comments.
THIS IS JUST THE BEGINNING
We have already encouraged our first major investors to come into the ecosystem, bringing over $200,000 worth of new investment in STEEM. We are also in late stage negotiations with, and we are actively involved in spreading the message to, many more investors who are interested in the potential of the STEEM blockchain to create highly informed, engaged and active communities.
We have been invited to speak at a number of major blockchain conferences already this year, including the South East Asian Blockchain Summit in Jakarta in September, and Decentralize 2018 Expo in Athens in November. We also have made a huge number of connections via our networks in many different countries, and we are working night and day to grow this project into something which provides both a value-added and professional service to investors, along with worthwhile, lucrative projects and work for high value content creators on the STEEM blockchain.
---
MORE INFORMATION
In our next post, we will be providing full details about the
@oracle-d
platform and service, and answering the frequently asked questions that we have been asked a lot recently.
If you would like to find our more, get involved with the Oracle-d community and/or be considered as a pro-level content creator, please visit our Discord channel

Increase your curation rewards whilst knowing you are upvoting excellent quality and well curated content by Joining our voting trail at steemauto
---
ALSO: If you like what we are doing and want to support Oracle-D in our work bringing new investment into the blockchain, please cast your Witness vote for Oracle-D