Ηello Steem people 😀!!! 
This is an incredible opportunity to learn how to bring more joy and vitality into your life!!!

  Many times, negative emotions can create blockages and consume our energy depleting us. 
Therefore we do movements and healing sounds to release negative emotions freeing our body of heaviness, enhancing our vitality. Each organ has a sound connected to it, that when used breaks up stagnation in that organ and enhances harmony within.
 Top 6 Benefits Of Breast MassageBreast Massage Reduces The Risk Of Breast Cancer!!!
Scientific research shows that massaging your breasts helps fight cancer:                               In fact, "nipple stimulation encourages blood flow and promotes the production of a useful female hormone, which encourages cells to expel cancer-causing chemicals from breast ducts," says Professor Tim Murrell, of the Department of Community Medicine, at the University of Adelaide. Regular breast massage can also alert you of changes in your breast tissue so you can take quick measures to heal.
Increases Breast Size:
When the breast tissue is stimulated by educated massage, the body secretes the hormone prolactin which slightly enlarges the breasts. Many women (and men!) love this perk.
Prevents Sagging:
Breast massage lifts the breasts by tightening and toning the tendons and muscles responsible for breast length. Goodbye gravity, hello breast massage!
Helps You Look Younger:
Breast massage stimulates the endocrine system to secrete a powerful cocktail of youthful hormones. Prolactin, oxytocin, and estrogen are three powerhouse anti-aging hormones known to be produced during breast massage. Many women take pharmaceutical hormones to stay young. With breast massage, your own body will be your anti-aging pharmacy!
Increases Pleasure:
Increased sensitivity is a pleasing result of Taoist Breast Massage. As you become more aware of your own sensations and loving touch, you create new pathways in your brain for sensitivity. Some women even develop the ability to orgasm from this increased connection.
Lifts Stress and Depression:
The love hormone-oxytocin — is produced through breast and nipple massage and is scientifically proven to decrease stress and depression. This is reason enough to massage our breasts!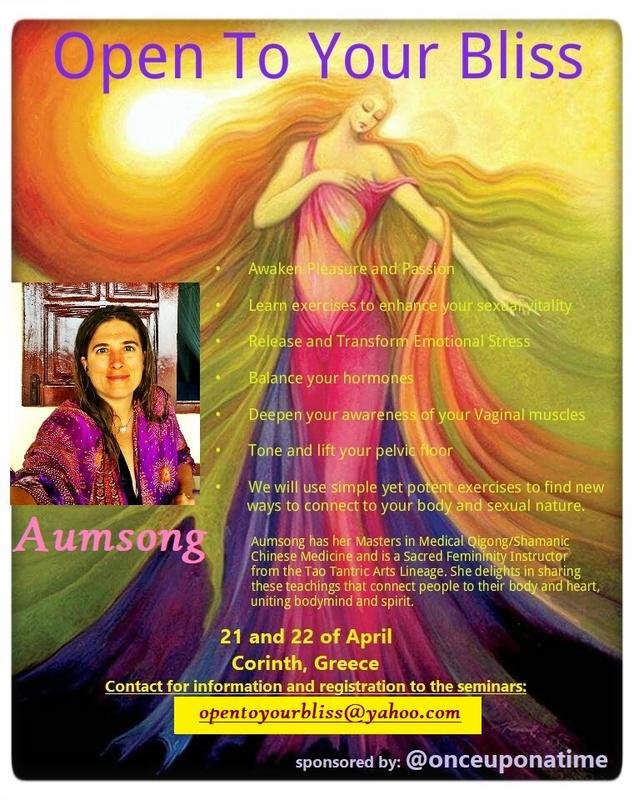 It will be held at the local youth center or ΚΕΝΤΡΟ ΝΕΟΤΗΤΑΣ ΚΟΡΙΝΘOYas it is called in Greek. The address is: Κολιάτσου 36, Κέντρο, 20100 Κόρινθος!!!
The seminar will last a good few hours. To be more specific,  from 11:00 a.m. to 18:00 p.m., with an approximate two hour break from 13:00 p.m. to 15:00 p.m.!
Hotel per day: 30 Euros (Single room price, if 2 share a double, the price is 25 Euros for each lady).
Seminar: 20 Euros.
Coffee, juice, fruits and snacks during the day of the seminars, are all included in the price!!
These prices are redeemable with the following Crypto Currencies:Steem and/or Steem Dollars, Bitsharesand/orBitcoins. 
For more info, you can contact: opentoyourbliss@yahoo.com   
It is kindly being sponsored by @onceuponatime!!! 
Until next time,stay tuned,keep shining and keep smiling my beautiful people 💗 💗 💗 💗 💗 💗 💗 💗