2nd EXCLUSIVE STEEMIT OPEN MUSIC CONTEST - The Winner of 30 Steem and 15 Steem !!!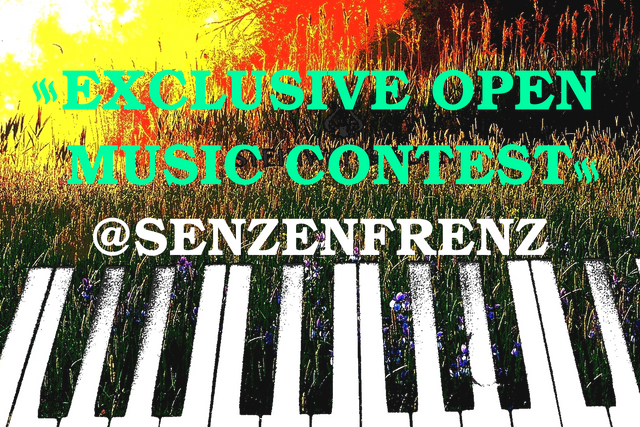 Hey guys,
within this post I am presenting to you the winner(s) of this weeks openmusic contest!
I also took some time to give at least some feedback to everyone who entered. And I really suggest that you listen to all of the entries, they are all absolutely worthable to be listened to. Unfortunately, again, there are not so few performances that are not doing quite as well regarding to the rules, a real shame because some had a chance of winning. But at least many of you also got a nice fat upvote from @curie and it's voting trail, hugh thanks for your upvotes!
Here are the entries from this week:
https://steemit.com/openmusic/@eugelys/2nd-exclusive-steemit-open-music-contest-or-tanto-y-mas-or-cancion-original-original-song-by-eugelys
This is a wonderful original song, although I am not able to understand anything said within the lyrics, it transportes this very sensitive, longing and melancholic emotions. Verses are written very well, nice melodical climax and high memorability of the chorus. And of course you've got a well matching, outstanding voice! Only drawback is the unlovely ending (fade out)...
https://steemit.com/openmusic/@andreavu/2nd-exclusive-steemit-open-music-contest-en-su-lugar-de-yuridia-por-andreavu
You've got a lovely voice, I was wondering if you made your performance right after getting up in the morning, sitting on your bed. It seems like you are holding back your voice in the chorus (perhaps not to wake up all the others that are still sleeping), there should definitely be more like loud chest voice but instead you're using falsetto all the time, which takes away of some drama that could make your performance not only lovely but great and even more exciting:)
https://steemit.com/openmusic/@orlandogonzalez/2nd-exclusive-steemit-open-music-contest-preciosa-meridena-vals-pedro-castellanos-version-orlandogonzalez
What a great cover! This could be a song just played throughout a radiostation just like it is, very good recording quality (as you didn't mention I would have overseen a little white noise, which does only add a little more to the radio feel of it). Sung and played great, I am experiencing longing and wanderlust by listening to your performance. Unfortunately you are taking part in another contribution which is not allowed relating to the openmusic-rules.
https://steemit.com/openmusic/@ylich/2ndexclusiveopenmusiccontest-untelegramacover-f2jpm98wa1
This is unfortunately really miserable soundquality. I see that you are a wonderful musician, thank you for participating and I hope you get your issues with recording quality resolved.
https://steemit.com/openmusic/@vanne/2nd-exclusive-steemit-openmusic-contest-o1-i-will-trust-you-cover-vanne-surprised
Thank you for your unofficial entry, it sounds very good, great recording quality especially the voice (playback does not match the recording quality of voice, you could improve that)! Great voice, you could try out even more chest voice in the higher parts, also I think the timing is not always right and could be a little more laid back. Sounds a bit analytic that way, but it could be the accompaniment which is quarters all the time which is typical for pop songs but here takes away some dynamic feel at least for my ears. Please as you consider to make an official entry, the video must be uncut all from the beginning, it sometimes looks as if you recorded first and then took some footage that matches, but sometimes it lookes like it is like a playback performance (which I presume it is not).
https://steemit.com/openmusic/@jubei333/2nd-exclusive-steemit-open-mic-contest-no-hopers-joker-s-and-rogue-s
Thanks again @jubei333, winner of the first contest, I think your entry is great, authentic and raw again, although in the meantime I get the sense that you are drinking a little bit too much :D
https://steemit.com/openmusic/@gibber/2nd-exclusive-open-music-contest-black-pearl-jam-cover-by-gibber
This is a wonderful weired performance of @gibber! I love it, especially the playing technique with the chicken egg and the guitar, I've never seen that before, very interesting, inspiring and and of course entertaining!
https://steempeak.com/openmusic/@esthersanchez/2nd-exclusive-steemit-open-music-contest-insensatez-antonio-carlos-jobim-por-esthersanchez
You've got a great voice and your performace is very professional! Only drawback is that it seems that you sometimes have to look sideways in oder to see your lyrics, that takes away some feeling!
https://steemit.com/openmusic/@purapapita/2nd-exclusive-open-music-contest-by-purapapita
This is the first hiphop entry to this contest. I hope I do it justice because I am not a speaker of the language you use. I think you did a pretty advanced rap including skills in rhiming and flowing. Also you show some skills in beatboxing, which you could use very easy to create a nice entertaining multiscreen performance where you can rap to your own beat literally! Besides that I think that sometimes you are (that's at least what I feel) behind the beat, perhaps one quarter or so, can not call that just laid back, but this could be your style of flowing, you would not be the first flowing far behind the beat so I won't blame you for that. What really draws back is both audio and video quality. Perhaps you consider buying some cheap laptop and a microfone like the sm58 or a condenser usb, don't need much, perhaps like 80 bucks for both and you are done. Camera around 100 bucks to achieve HD. Audacity will give you some great free sequencer and as video programm you can use shotcut or lightworks, both do well and are free of charge.
https://steemit.com/openmusic/@davidcentenor/2nd-exclusive-steemit-open-music-contest-cover-rabo-de-nube-silvio-rodriguez-davidcentenor
This is by far some of the best entries I've heard so far. Man, your voice is exceptionel, you are some really great and individual singer. Your Falsetto is clear like a trumpet. Mad you're blessed or you worked hard, however! Also you have a really authentic and great style of performance, not any aspect of show or arrogacy, just pure simplicity speaking all for itself- perfect. I must remind you here, that only if you did post your contribution within the valid time (cutoff was friday) you'd easily won this contest. Also you would do even better if you chose a better recording surrounding, where there are no noises from the background and a less boxy hall sound from the room. Anyways, chears for that great voice and great performance, made my day, you're a wonderful musician!
https://steemit.com/openmusic/@rubenjoel844/second-exclusive-steemit-open-music-contest-regalame-esta-noche-roberto-cantoral-cover-by-rubenjoel844
You're giving us nice guitar play and very nice sounding voice here, all presented in a very authentic and pleasent way! High tunes in the voice are sung very passionated and courageous, it is no drawback that some tunes are not 100% on point, or a bit flat sometimes. This is what it makes very sympahtic to me and I love to see you both play for this contest. Unfortunately you posted not in the valid time (cutoff was friday).
And now, finally, here are the winners:
1st place (30 Steem) goes to:
https://steemit.com/openmusic/@eugelys/2nd-exclusive-steemit-open-music-contest-or-tanto-y-mas-or-cancion-original-original-song-by-eugelys
2nd place (15 Steem) goes to:
https://steemit.com/openmusic/@gibber/2nd-exclusive-open-music-contest-black-pearl-jam-cover-by-gibber
But we are not done yet, here is an additional 5 Steem winner, just because I love this performance so much and I can not go on without rewarding you:
https://steemit.com/openmusic/@davidcentenor/2nd-exclusive-steemit-open-music-contest-cover-rabo-de-nube-silvio-rodriguez-davidcentenor
So that's it for today, please stay tuned, I will do a post for the 3rd openmusic contest soon,