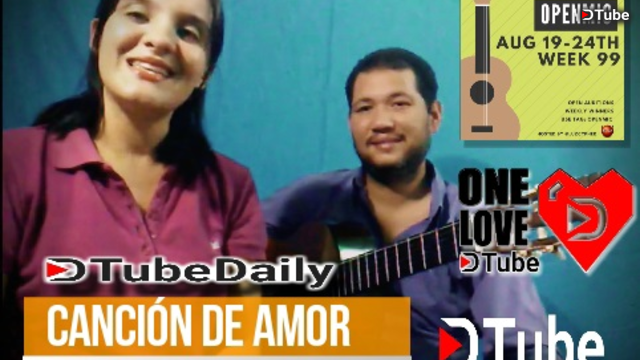 ---
      Muy feliz de participar nuevamente en este gran concurso de Openmic ya en su semana 99. Para mí es siempre un honor participar en este prestigioso concurso. Elegir una canción para traerla a este espacio musical me genera expectativas y emoción. Hoy les traigo una canción dedicada a mi Dios fiel y amoroso. Espera pueda bendecir la vida de todo el que me escuche. Me acompaña en la guitarra mi amado esposo Francisco Romero.
      Very happy to participate again in this great Openmic contest already in its 99th week. For me it is always an honor to participate in this prestigious contest. Choosing a song to bring to this musical space generates expectations and excitement. Today I bring you a song dedicated to my faithful and loving God. Hope I can bless the life of everyone who listens to me. My beloved husband Francisco Romero accompanies me on the guitar.
---
Youtube Video
---
Canción de amor
I estrofa
Quise en versos expresar Señor
lo que siente mi corazón.
Quise escribir un poema de amor
Un bello himno de loor.
Busqué palabras para describir
mi gratitud por tan inmenso amor.
No las hallé son tan pequeñas,
acepta ¡Oh Dios mi adoración!
Coro
Canción de amor elevo a ti Señor
sensibles versos de mi inpiración
suave perfume cuan jardín en flor
grato holocausto de loor.
Yo quiero amarte como tú Señor.
Me amaste a mí con verdadero amor.
Y si en la cruz te diste allí por mí,
mi vida hoy rindo solo a ti.
II estrofa
Sé que algún día volverás por mí
en tus mansiones moraré.
Y en libertad, amor y perfección
eternamente cantaré.
Y con la novia uniré mi voz,
frente al sublime coro celestial.
Y al Cordero rendiré loor
frente al silencio angelical.
Love song
I verse
I wanted in verses to express Lord
what my heart feels
I wanted to write a love poem
A beautiful hymn of praise.
I searched for words to describe
my gratitude for such immense love.
I did not find them are so small,
accept Oh my God my adoration!
Chorus
Song of love I raise to you Lord
sensitive verses of my inspiration
soft perfume how blooming garden
Pleasant holocaust of loor.
I want to love you as you Lord.
You loved me with true love.
And if you gave yourself there for me on the cross,
my life today I surrender only to you.
II verse
I know that someday you will come back for me
I will dwell in your mansions.
And in freedom, love and perfection
eternally I will sing.
And with the bride I will unite my voice,
in front of the sublime celestial choir.
And to the Lamb I will surrender praise
in front of the angelic silence.
---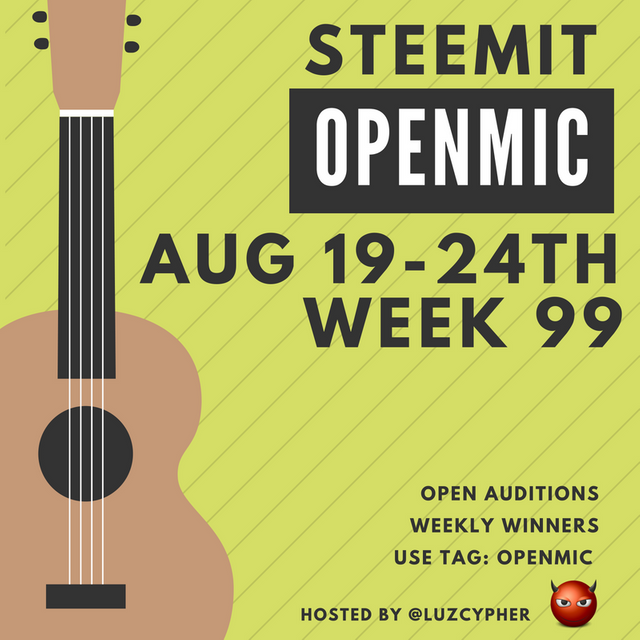 ---
     Gracias inmensas a
@luzcypher
@pfunk
,
@ausbitbank
,
@aggroed
,
@curie
,
@isaria
por ayudar y apoyar Open Mic.      De igual modo, al prestigioso jurado calificador, mis buenos amigos
@meno
,
@passion-ground
,
@verbal-d
,
@krystel
y mi muy admirada
@soundlegion
¡Ustedes son geniales !
---
▶️ DTube
▶️ IPFS