Steemit Open Mic Week 98, cover of Look Around by Blues Traveler by Rock Chick Jen!
So... I know that this is a really crappy take and to tell you the truth, I only learned this song like 2 weeks ago, so I'm still getting it down. But I haven't participated in Open Mic in quite some time and I thought it was a great week to do so! I just wanted to show that I still support Open Mic, even though I don't get to enter as often as I wish I could. And participation is more important that winning, so even though it's not the best, I hope you enjoy it none the less! Sorry for my dog, Rhythm groaning in the background there at the beginning... she was napping on the floor and just decided to let her presence known! ;)
This song has been one of my favorite Blues Traveler songs since I was a teenager and I was so happy to finally learn how to play it. It just always plucked at my heart strings and the lyrics have always rang true in my heart.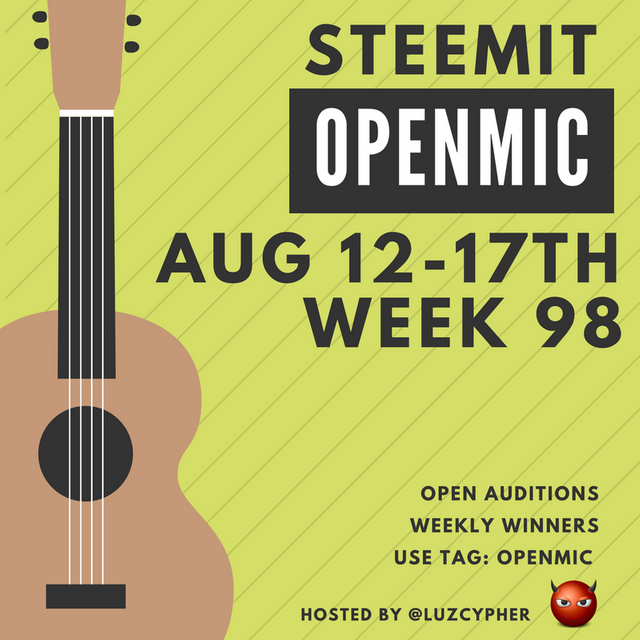 Good luck to all the Open Mic entries! Rock on everyone!


Follow me on Choon 
Thanks for looking and hope to see you again soon!
Ask me how to join the Steemit Local Music Society on Discord!
Banners made by @bembelmaniac





Check out other artists from Circle of Death and keep up to date on the Website and Facebook:
https://www.facebook.com/circleofdeathrecords
https://circleofdeathrecords.com/
Rachell's new single "Restless Minds" @thomasrobertgent and @kirvic-aguilera
https://www.amazon.com/gp/product/B07F9RXFPK
Davood Faramarizi's single "Circle" @davidfar
https://itunes.apple.com/us/album/circle-single/1369681110?app=itunes&ign-mpt=uo%3D4
https://play.google.com/store/music/album/Davood_Faramarzi_Circle?id=Bj544727dakeochsonzlby2juga
Tom Gent's EP "Tactical Response Unit" @thomasrobertgent
https://itunes.apple.com/us/album/tactical-response-group-ep/1368911250?app=itunes&ign-mpt=uo%3D4
https://play.google.com/store/music/album/Tom_Gent_Tactical_Response_Group?id=B2mrhyykn5eelwbr2w4jlcvrcqy
Morktra's Full length album "In The Earth I Will Be Free" @lk666
https://itunes.apple.com/us/album/in-the-earth-i-will-be-free/1375058606
https://www.amazon.com/gp/product/B07CJXZC6J