Steemit OpenMic Week 99 @paintingangels - Original song "Shotgun Ravens, Pale Night"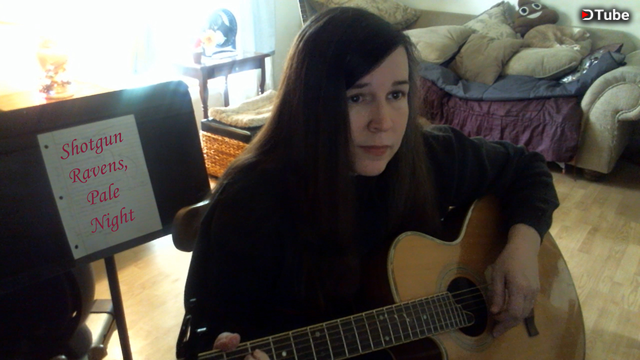 Here's my open mic entry for week 99. Pretty cool we're almost to 100. This song I wrote back when i was kind of having a nervous breakdown of sorts. I don't actually remember writing it, though. Does that ever happen to anyone else? Sometimes, when I'm really out of my head I can write the most amazing things, but if I try to write something, it seems to always go to crap.
Fun fact.. I pondered straightening the pillows on the couch just for the sake of being tidy in this video but then said screw it, mainly because Waffle was lying so comfortably on top of them. You can see him behind me throughout the entire video. I doubt he ever even moved an inch.
Anyway, thanks for listening. And to all who said kind things about my last video and I didn't get to thank you yet.. THANK YOU. ♥
Much love to all of you,
♥- Serena
---
Shotgun Ravens, Pale Night
Ten thousand ravens came knocking,
knocking like thieves on my door.
Cold, I stared back like (the) dead tree bark
that's glued to these old breaking floors.
The maid she brought down an old casket
then she lined it with mama's old quilt
while roses were drawn back like shotguns,
draped softly here round my cold hips.
(And the raven said)
You,
You should fly, dear.
For you,
You will die here.
Strawberry pie in the oven sits,
waiting for strangers to dream
as they lie on the back porch and whisper
while thunderstorms rattle the screens.
I somehow can't seem to calm down now.
Where are the angels in white?
The man down the street he is howling
and I have gone pale with the night.
(repeat chorus)

©2018 @paintingangels (s.matthews)
---
THANK YOU so much to everyone who makes @openmic the wonderful playground of magic that it truly is, and particularly these magical people:
@luzcypher
@krystle
@meno
@verbal-d
@passion-ground
@soundlegion
@pfunk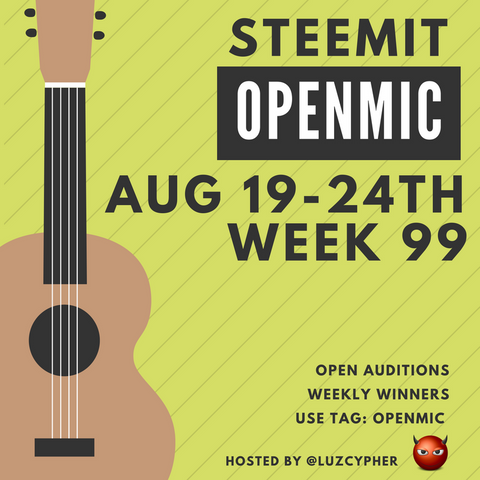 I'll be donating at least 10 percent of the earnings from this post to @openmic. Because I ♥ the Open Mic.

---
▶️ DTube
▶️ IPFS