Cannonball Fire
Hi to all, this its my experimental original song titled "CannonballFire" for Steemit Open Mic Week 89.
This is a fusion song of Afro-Venezuelan rhythms, Dominican merengue, baião from the north of Brazil, i made with my electric guitar (2 guitars) and saxophone (if you see the video until the end you can see and hear how I fused them), the guitar is improvised without background music rhythms or headphones, pure feeling and then I assembled by track the audio of the tracks of sampler´s of each video along with the audio of my main video, almost at the end of the post I explain the procedure I used to make this fusion, I hope that you like it!
Nahu Padilla: Guitars / Saxo @nahupuku
Recorded in: Caracas, Venezuela.
Junio, 2018
Drums Samplers:
Tracks of the percussion and drums rhythms sampled by the drummer:
Bobby Sanabria in this videos: The Rhythms of: Merengue / Baião.
Youtube Channel: Jazz at Lincoln Center's - JAZZ ACADEMY.
Rhythms of the Afro-Venezuelan drums taken from the video:
Aquiles Báez & Francisco Pacheco, Palo de agua.
Musicians:
Andres Briceño: drums, Aquiles Báez and Alexander Livinalli: afro-venezuelan percusion.

I only use it the last music part from this video (from minute 5:27 to 7:27) and only the drums part and later mix with my guitars in Sony Vegas Pro 8-0.
Mixing Process:
Step 1:
Record the video and open it in my video music editing program Sony Vegas Pro 8.0: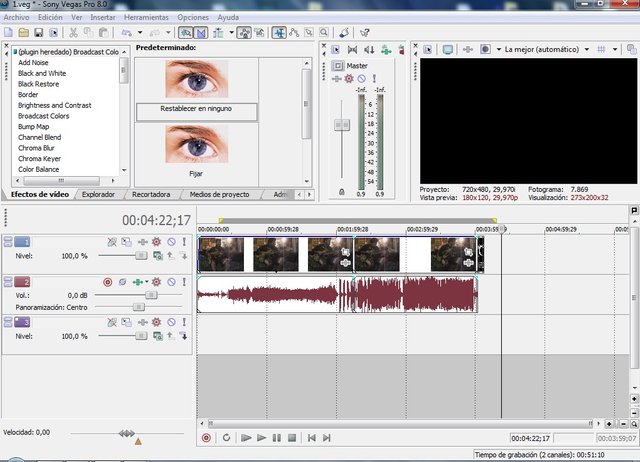 Step 2:
I previously was edited the drum videos of Bobby Sanabria and Andrés Briceño in the Sony Vegas Pro 8.0: selecting only the rhythms, without the voices from the drum clinic explanation of the videos used: "The Rhythms of Merengue" and "The Rhythms of Baião". Selecting some audios that I was interested to convert them into audio with my Woldwave version 5.67 software
Rhythms (.wav files):
Baião: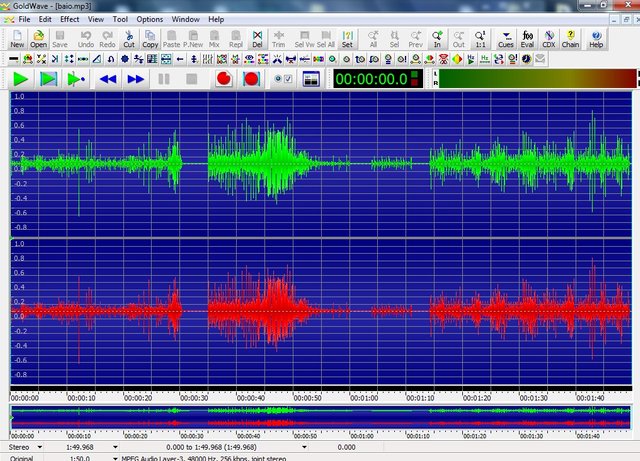 Merengue: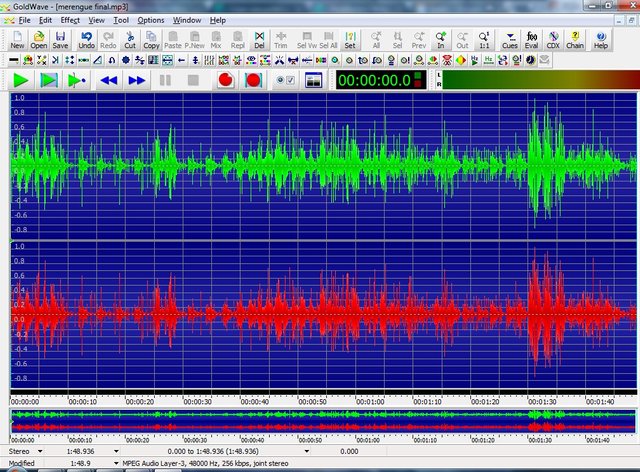 Step 3:
Later I attached the sounds of Afro-Venezuelan drums from the video of Aquiles Baez, in its final part, where it was just a jamming or a feeling of the musicians Andres Briceño on drums and Aquiles Baez & Alexander Livinalli on afro-percussion, in the final minutes of the song from 5:27 to 7:27 minutes, for get this .wav file: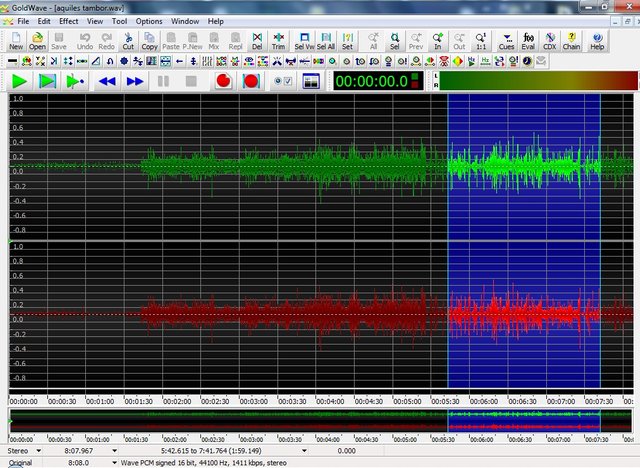 Frames of the video during the musical performance of the final feeling of the song: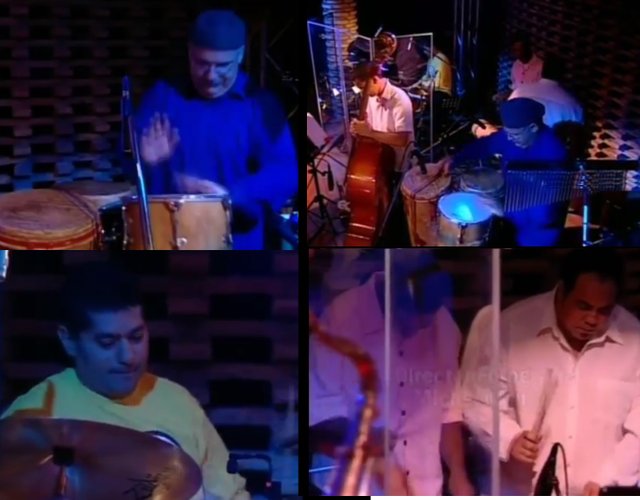 And then assembled in my video from 1:55 to 2:36 mins on channel 3: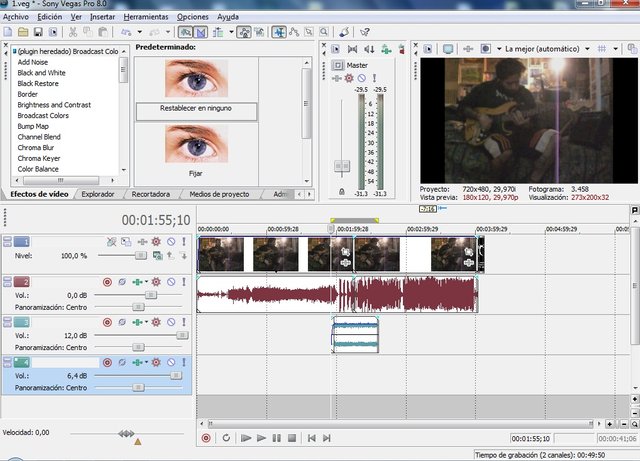 Step 4:
This audio patterns .wav were attached to my main video in different channels to proceed to mix them audibly and intuitively, to achieve the result of what I expected, using the channels of tracks 3 and 4.: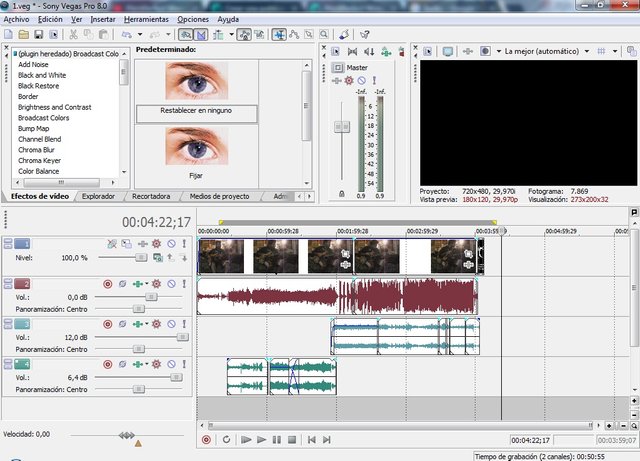 Step 5:
Finally I proceeded to assemble the rhythms in a definitive way testing many possible sound combinations and moving the audios by the timeline to make fuse the sonority that to me seemed correct, already having the drum, I just add the audio of the baião at the beginning of the song and the merengue at the end of it, recording my second soloist guitar, and the song was ready to render, convert to a .avi file to upload it in my Youtube channel on PukuChanel and assemble this post that you are reading just right now.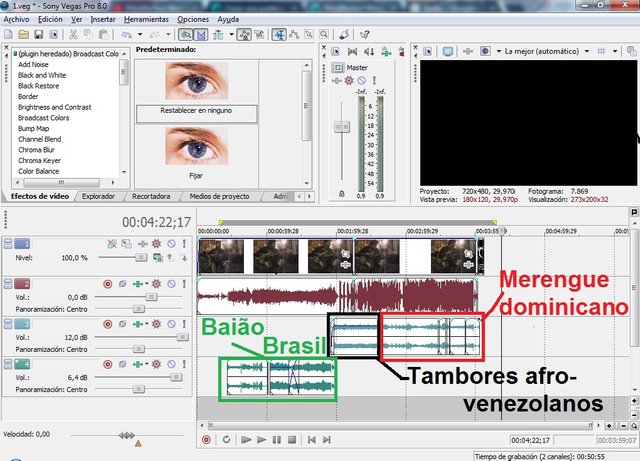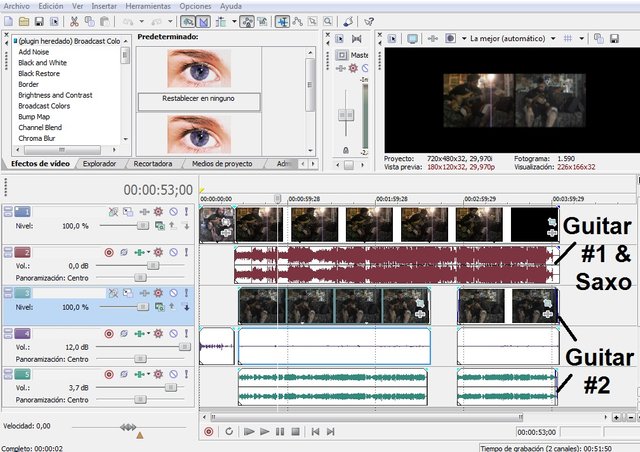 Playing sax and guitar at the same time:
Yeah and it is not the first time, here you can see another material where I execute the same technique: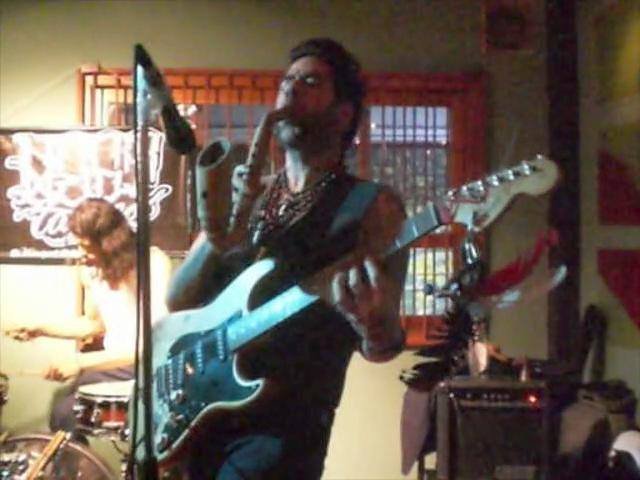 And playing keyboards with one hand and guitar with the other, and minor percussion too: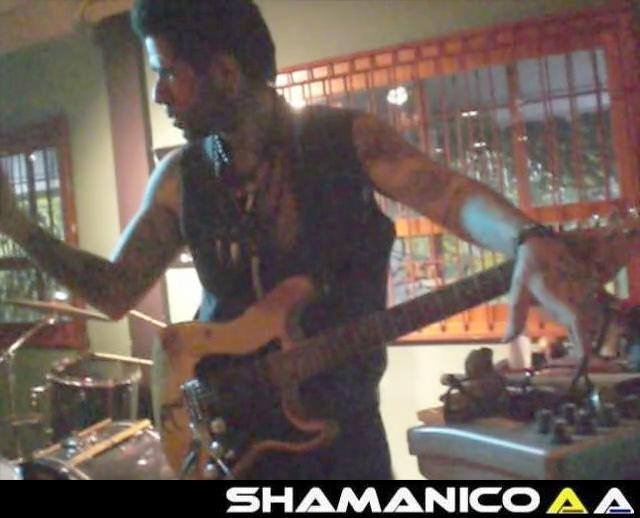 To read more you can click here:
https://steemit.com/english/@nahupuku/my-shamanic-guitar-my-guitar-style

Where did you learn this technique? Nahu
Well, one day i was watching a dvd of the great Zappa Plays Zappa concert created by the guitarist Dweezil Zappa, (son of the excellent musician and also guitarist Frank Zappa) where he pays tribute to his father along with other guest musicians like: Steve Vai, Terry Bozzio, Jean-Luc Ponty, Chick Corea, Frank Gambale, Guthrie Govan and Allan Holdsworth among many others, and of them all, I was just caught my attention by a girl: Scheila Gonzalez, an award-winning artist and multi-instrumentalist from North America, plays the saxophone in a masterful way in the tribute to Zappa, but at the same time, while she is playing saxo with one hand, in the other hand, she was playing keyboards or percussion and that caught my attention, so I decided to incorporate it into my live performances.
For more information about this artist and this tribute you can access these links:
https://en.wikipedia.org/wiki/Scheila_Gonzalez
https://en.wikipedia.org/wiki/Zappa_Plays_Zappa
And here are three videos of the tribute where she plays this multi-instrument technique, singing, playing the flute, saxophone and keyboards:
(Minute 2:47):


Why do you use samplers to make this drums? Nahu
Because most of the musicians I've played in Venezuela have left the country, for reasons that many of us know (crisis, looking for a better quality of life, etc.), such is the case of my friend Alejandro Ayala (drummer of my group "Shamanico", a video that I've left a little further up) who move to Mexico Cdmx in 2015, we are already in conversations to make videos into distance on split screen, recording my guitars on their drum tracks and making songs exclusively for Steemit with original content, but in the meantime I use Youtube samplers, the good thing is that I have shared feelings on stage with Aquiles Baez and Andres Briceño so I know part of that "tumbao" music feeling!
Finally, here's a video from 2009 where Alejandro Ayala and I did some experimental fusion themes:
To see more videos of that day, you can access this link, which is a Playlist from my Youtube, the PukuChannel:
https://www.youtube.com/user/puku/videos

Music genre:
Experimental free-latinjazz: some latin and afro-venezuelan rhythms and two guitars jamming.
https://en.wikipedia.org/wiki/Free_jazz
Other music influences: Frank Gambale, Pat Metheny & Ornett Coleman (Songs X), Miles Davis, Herbie Hancock, and the japanese pianist Hiromi Uehara.
Fantomas: Mike Patton & Terry Bozzio, Live in Montreaux
Hiromi Uehara The Trio Project "Desire":
Another rock and punk free-jazz influences:
TrioVd: Brick by Brick

Virulence: A Conflict Scenario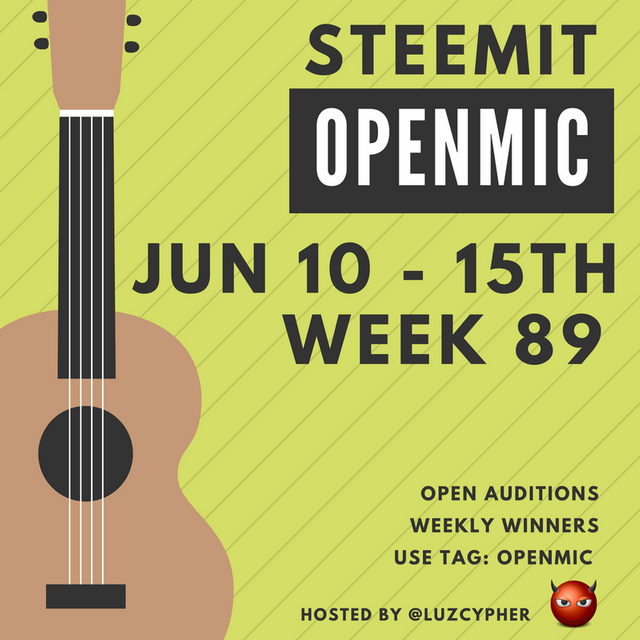 Contest Link:



https://steemit.com/openmic/@luzcypher/steemit-open-mic-week-89-record-your-performance-and-win-steem-sponsored-by-pfunk-and-luzcypher
Thanks to: @luzcypher & @pfunk for this awesome music contest!!!
Spetial thanks to: @krystle, @verbal-d, @passion-ground, @meno, @soundlegion and @tcpolymath
Blessings and thanks for watching