Openmic 129 - Amanecer Nuclear / Nuclear Dawn



Nahu Padilla: @nahupuku
Guitarras/Guitars
Grabado en / Recording in: Caracas, Venezuela.
Marzo, 2019.

PukuSaludos para todos y todas.
Les presento mi participación en el Openmic #129.
En esta ocasión les presento mi canción original: Amanecer Nuclear
Esta canción es de género rock experimental.
Fue muy difícil grabar estos temas (y por eso no había podido grabar nada nuevo de musica con la guitarra eléctrica últimamente, porque mis dos amplificadores, el de bajo y el de guitarra se dañaron por los apagones en Venezuela, y es muy costoso repararlos o comprar unos nuevos. Pero ayer recordé que hace 10 años atrás había comprado un amplificador casi que de juguete, en una tienda de música acá en Caracas, es una caja de cigarros de Marlboro con una corneta que amplifica la guitarra, así que lo coloqué cerca del micrófono de la cámara y luego trate de hacerle una edición decente en post-producción y mezcla con mis programas de edición de audio, no pude conectarle mi pedal de guitarra Boss MT2 debido a que solamente tengo una batería 9 voltios y era o colocarla en el pedal o utilizarla para el mini amplificador, acá es costosa comprar ese tipo de baterías de 9 voltios. Así que por eso el sonido es un poco crudo, me disculpan los oyentes, de igual modo estoy MUY feliz y contento de retomar la música así sea de esa manera, peor es nada como decimos por acá lol . Mi guitarra tiene algunas fallas de circuitos internos también pero si no me movía mucho podía grabar sin que dejase de sonar!
PukuGreetings to all.
I present my Openmic #129 entrance.
This time I present my original song titled: Nuclear Dawn
I record this track with an experimental sound. Rock genre.
Was so hard to record this song, because my two bigs amps: guitar and bass was damage for electric blackouts Venezuela, and is too much expensive to buy new ones or repairs any stuff in this country, so I remember that I bougth a small cigarettes Marlboro box toy amp 10 years ago in a music store and I use it. I cannot use my guitar pedal Boss MT2, because I only have one 9volts battery and here its to expensive to buy another one. But Im very glad that i can record my music again. Sounds a little bit raw cause the small amp... But its better than nothing - lol - My guitar have some internal electric issues but i dont move too much and I can record the song without any severe problems at all.

Quieres ver en detalle el amplificador de guitarra caja de cigarros de Marlboro:

Nahu Padilla - The revelations of fallen angels (original song):
NahuPuku - Sobre la realidad de los músicos en Venezuela
Apoya a tus artistas locales!!!
Como hacer música en medio del caos y la crisis en el país!!!
Posts de mi música mas recientes/ My new original songs:



https://steemit.com/spanish/@nahupuku/te-recuerdo-cancion-original-genero-rock
https://steemit.com/openmic/@nahupuku/openmic-126-destino-tu-amor-es-conexion-destiny-your-love-is-connection
https://steemit.com/openmic/@nahupuku/openmic-125-me-pregunto-si-tal-vez-i-wonder-if-i-might-celebrando-1-ano-en-openmic-my-first-year-in-openmic
https://steemit.com/dtube/@nahupuku/1ijiu7xq
https://steemit.com/dtube/@nahupuku/as8onmgu
https://steemit.com/dtube/@nahupuku/rs71ii7r
https://steemit.com/spanish/@nahupuku/mi-experiencia-despues-de-dar-un-concierto-conceptual-con-mi-banda-diarreapuku
https://steemit.com/spanish/@nahupuku/plan-de-fuga-nahupuku-y-alfonso-monasterio-guitarras-y-poesias-2012-retropuku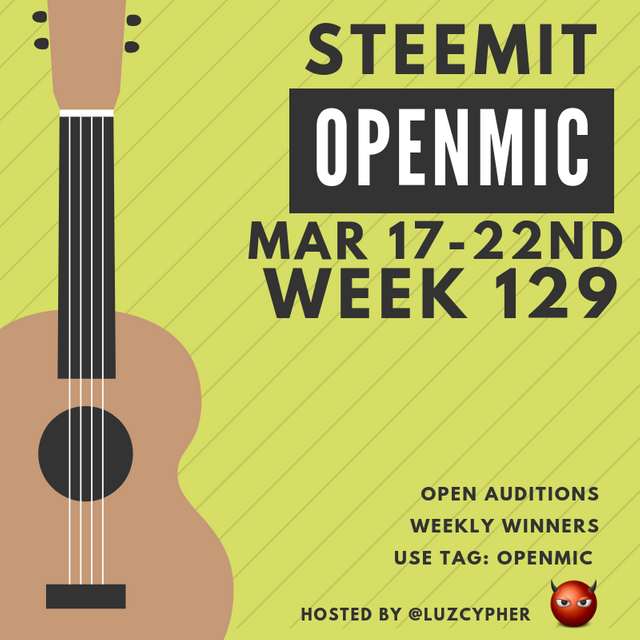 Contest Link:
https://steemit.com/openmic/@luzcypher/steemit-open-mic-week-129-record-your-performance-and-win-steem-sponsored-by-pfunk-and-luzcypher
Gracias a: @luzcypher, @pfunk, @krystle, @verbal-d, @passion-ground, @meno, @soundlegion, @tcpolymath, @stephenkendal, @curie & @cervantes
Support me if you want:
https://www.patreon.com/nahupuku
Bendiciones y gracias por ver mi post
Blessings and thanks for watching my post