Greeting and salutations my beautiful Steemians, I'm sure by now many of you have stumbled on PassionGround's "Best Of" Post, and as you can clearly see I'm following suit. This contest has meant for me more things that I can describe with one post, not only because of the fact that I've spent two months listening to beautiful music and getting to know my Steemians friends, but because I got to see how much we all grew, how much the community grew.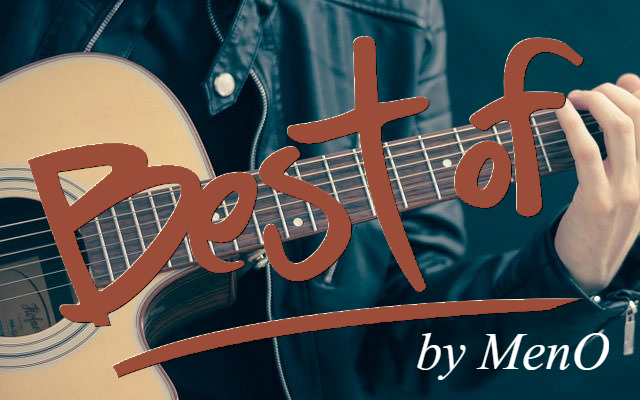 Well my friends, in no particular order, this is the list of 12 songs that really rocked the boat sort of speak.
@onetruebrother - Broken Mirror
   I still find myself singing this tune every now and then, and its been two months since this made it to the blockchain (time flies). It was apparent to me @onetruebrother was going to be one of the shining examples for the contest and a torch wielder as a matter of speak for its ethos.
   I will let you guys know, I found out that @muphy participated with @onetruebrother on a rendition of this, super cool, do check it out.
@basilmarples - Blood sucking thieves
   It's hard for me to describe how much I love this song. It's obviously hilarious and 20 seconds in I can't help but to laugh like a maniac out of control. It was such a privilege to have @basilmarples participate of this contest, and this song made me even a bigger fan of his talent.
@melavie - Broken Mirrors
   I'm not going to lie, I was already a fan of @melavie 's work before the contest even started. But it was this contest where I believe she unlocked her raw talent. This song spoke to me at so many levels. Jokingly I told her she had hacked into my feelings server, and I still suspect she did.
   Starting with her first submission she truly produced some of the best songs of the competition. I sincerely hope she gets this produced and recorded, or that someone (hehe) comes up with a plan to make this so.
@chaifm - Lost and Found
   It was funny how this happened, the first week had gone by, and @chaifm had not entered the competition. I had to complain, I just had to. Maybe she had planned to be part of this all along, maybe she had her doubts, but on the second week her entry stole my heart a little bit.
   Aside from possessing a voice that melts the coldest of hearts, @chaifm is a musical bard that I love to follow. It might be because of her journeys, it might be because she's seen more places than most, but her music speaks a more universal language, and this little song takes you on a little journey of its own.
@chrisroberts - Stolen Soul
   This song is just pure gold, and I can't help but to imagine the full production almost with full detail. I feel like @chrisroberts graduated from musical ninja school during the contest. With every week, his entries and lyrics got stronger and more creative. This song however is my favorite of his for the simple fact that it defined his style, or at least it did to me.
@afrao0 - Oneness
   I'm a total sucker for ballads and specially duets. I had also seen @afrao0 making his rounds around the #openmic competition so before clicking on his video, I sort of suspected I was in for a treat.... and it was. One of the most beautiful tunes I've heard on this platform to date, a powerful song with a beautiful message. I don't really have to explain to much why it made it to my best of list.
@tarotbyfergus - Because we can
   This is my favorite song about aliens ever. It was specially excellent for me, because it completely came out of left field. There I was brainstorming along my fellow judge @passionground on a theme that could be a positive message for our songwriters. Coming from a week of darkness, it felt like the right thing to do. But @tarotbyfergus had other plans, and this song about alien abduction is one of my favorite songs, probably ever.
@wilins - orilla azotada por el viento
   I remember listening to this song, reading the lyrics and feeling the chills down my neck. It's no secret @wilins is a passionate musician, but truth be told this was the day I discovered his musical passion. I have no idea where I heard "the harder the life, the sweeter the song" but in this case, it might be very accurate.
   The situation in his come country Venezuela is nothing to take lightly, he was able to pack all that emotion, that frustration, that struggle into a song, and deliver it with such passion. Honestly, it doesn't even matter if you don't speak spanish, the music talks volumes.
@ausxen - special delivery
   Since the first day I heard this song, I've been singing it around the house. It's probably one of the most catchy lines I've heard in a long time. "Pack Your shit!!!" hahahaha I still get a kick out it. What a great tune, what an honor for it to be part of this contest. Musical gold my friends!
@luisferchav - the wait
   Aside from this song being one of the best entries of the contest, the rendition and performance is just ridiculously amazing. To say that I was blown away is call the water wet. A few days later we found ourselves on discord discussing this entry as if a new type of musician had been born right on this blockchain.
   Without a doubt a song to be remembered by all of us for years to come.
@kayclarity - till we meet again
   This song is so special, I can't even describe it with simple words. I cried a little more than I would care to admit, but if you have not clicked on it, if you have not heard it, you would just think I'm being a little too sensitive. I don't know what it takes for musicians to be that vulnerable, maybe its a combination of bravery and emotional control, I have no idea, but I always admire when a songwriter allows himself/herself to go down this path. I'm getting goosebumps again....
@cabelindsay - the pearl
   What I find extra special about this entry is that this amazing Steemian is probably the most positive and loving man on the blockchain, and this week, this theme was dark. He claims on this blog entry that he thought he was not going to be able to pull it off. He didn't just pull it off, he delivered his best song. A true gem!
---
Well my friends, it's time....
   Tomorrow the winner of the challenge will be announced, and the guitar will start traveling to its new home, but as you know, this is not over. We are already discussing the next one, and I'm sure we will be back with Season 2 before you know it. I feel like I've said it a thousand times, but at the same time, I'm afraid that people don't grasp how special this has been.
   For me, this contest, this #openmic family is more than this thing online I do for fun. It has been life changing, and the fact that I get to do this again has me jumping like a toddler with a sugar rush. We have a few more announcements coming up in the next few days, so I'm sure I won't be too far from this screen.
   That's it for me tonight my friends, but before you go away let me thank you one more time for being here, and if you are on this list of mine, let me thank you even more for sharing these songs with me.
Much love