So the first round of the Sounds of Steem was such an epic and amazing event, we just had to do it again.
I had such an amazing time co-hosting the show with @aggroed and @isaria, getting to speak with people I had just never had the chance to before - it was such a brilliant night I just couldn't wait until we did it all over again and now that time is finally here.
Both the performers and the audience had a blast, in spite of the show running an hour over schedule in the end - what can I say we musos go hard!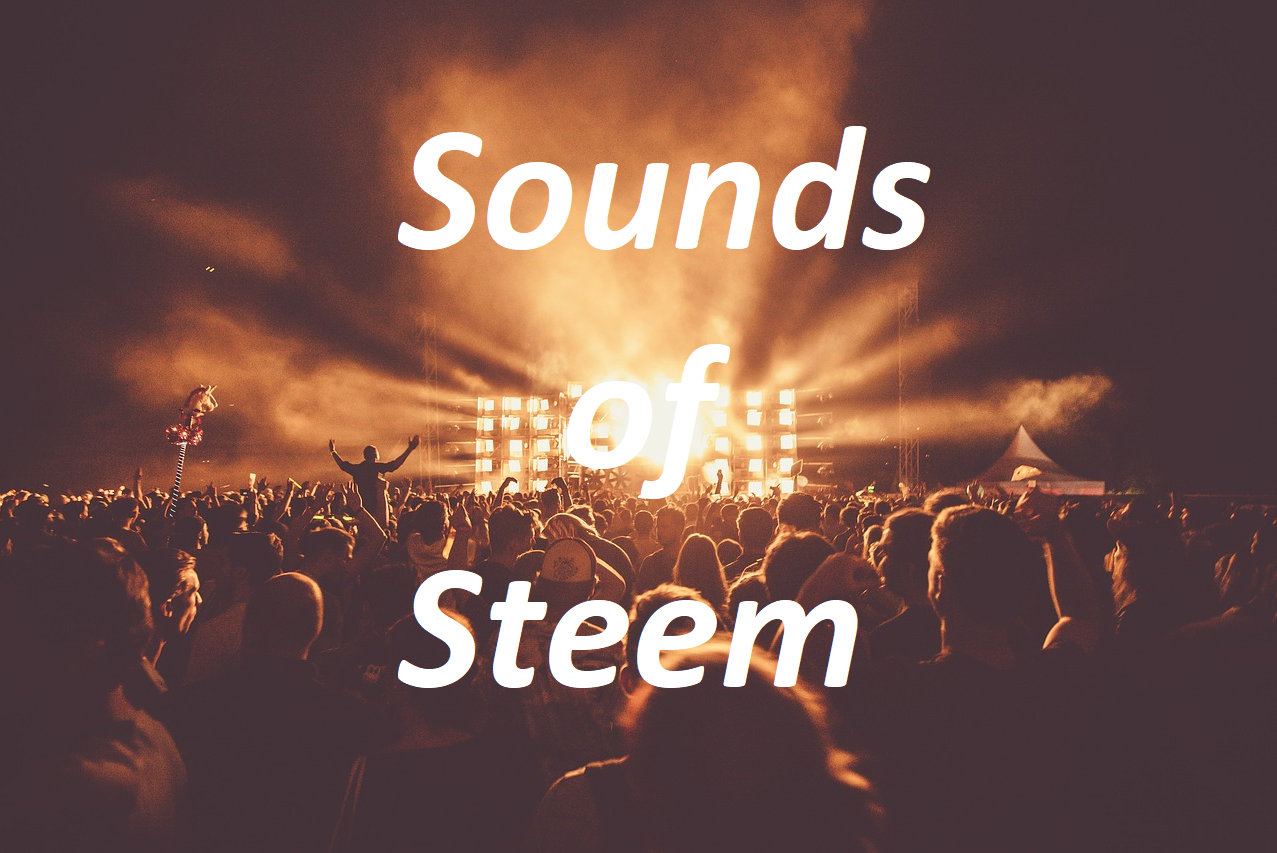 I have to say this has to be not only a steemit highlight for me, but also just a phenomenal music highlight as well - this was like the best live concert I have ever attended, not a single act left you wanting more.
Given the timezone difference the show starts at 2 am my time, by the time it had ended it was after 5 am and rather then be exhausted - I found myself buzzing around, until I forced myself to get some sleep.
I had so much fun and I am honestly super excited to be joining everyone once again, if this show is anything like the last one it's going to be one hell of a party!
Speaking of the last Sounds of Steem, for those of you who missed out - or those just looking to relive the wonderful memories , here is the live recording of the show.
Now these guys did such an epic performance @isaria and I were chatting and decided that we just had to send them something for their amazing efforts, we chatted with @swelker101 and @ausbitbank our respective partners and witnesses - and figured we'd top up the earnings from my post, about the last Sounds of Steem event.
So today we sent all the performers (besides @isaria cause even though she performed amazingly, she wants to reward others for their efforts) 10 SBD each as a special thank you for rocking our worlds!
You guys did just such brilliant job, you entertained the shit out of us for over 3 hours in the end - not to mention all of the amazing conversations we shared, it was just such a pleasure and we wanted to say thank you for the epic gig!
So from the bottom of my heart a massive thank you, I absolutely loved every second of it and was just blown away by how amazing you all are.
@soundlegion, @verbal-d, @isaria, @benleemusic, @nathankaye, @meno, @pechichemena, @luisferchav, @rockchickjen, @addiesworld, @joseacabrerav, @mrbloom, @elliotjgardner, @trevorpetrie, @danieldyemusic, @melavie and @basilmarples.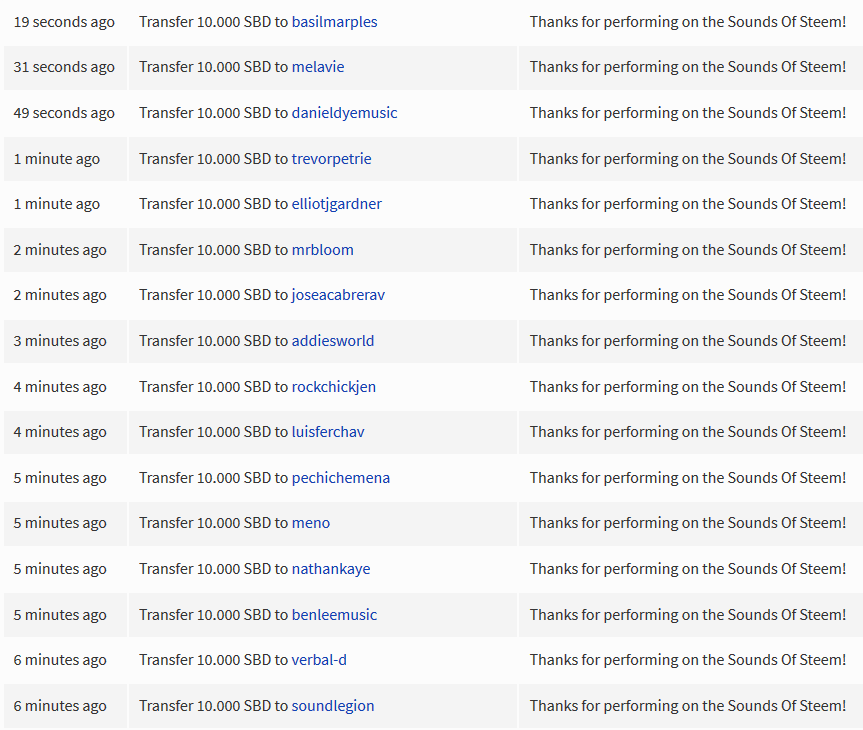 You guys put on such an amazing show, I laughed I cried - I had a blast and now were doin it all over again!
So who do you have to look forward to hearing with us tonight? You may be asking yourself, well we have a beautiful combination of some of the amazing talents that wowed us late time round - but we have also added a few new faces to the mix and this makes me even more excited, were going to hear from people we haven't had on the radio with us before.
I will stop teasing and share the names we have on board with us so far and I'm sure you'll agree it is a rather impressive line up!
We have the brilliantly talented @meno, @pechichemena, @nathankaye, @luisferchav, @melavie, @danieldyemusic, @trevorpetrie, @mrbloom coming back again and I hope I can add the lovely and amazing @isaria in that list too!
But a couple of our new faces are gonna knock your socks off, we have @danshawmusic, @edenmichelle, @hardikv, @kayclarity, @caracortada and @zipporah - and that's so far I am hoping to hear back from some more people's soon, but even with this list you can see this is going to be one hell of a live music event!
I cannot wait until 2am lol, that feel's weird to say but it's so true - I feel like you do before you go to a massive concert or gig, just buzzing of the possibility of an awesome experience.
So do yourself a favour and come and check it out, it's hosted live on MSP-Waves radio over at PAL on discord - you can jump into listen or join in the active chat and get to talk one on one with these exceptionally talented musicians.
Please join us for Sounds of Steem this Saturday, March 10th at 11:00 AM EST
Time zone converter - just add your time zone to see what time the show airs in your local time.
You can listen live at the mspwaves website- http://mspwaves.com/home/listen
You can listen on twitch- https://www.twitch.tv/mspwaves
You can join broadcast hosts in a special chat room on the MSP Discord Channel: https://discord.gg/kNxM7T6
You can check out http://mspwaves.com/ for more information

Like what you've read so far?
Check out my story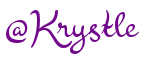 or follow me on twitter @krystlehaines
Please consider voting @ausbitbank for witness here