Steemit Open Mic Week 78 - Pueblos tristes (Cover) @helyorsini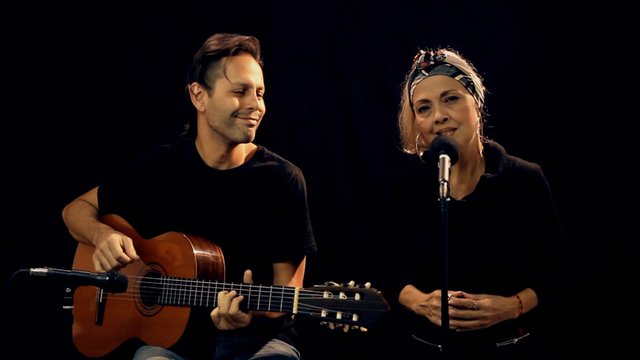 "Pueblos tristes" es una hermosa canción del poeta y cantautor venezolano Otilio Galíndez.
En esta canción él nos describe el sentimiento y la realidad de nuestros pueblos venezolanos y latinoamericanos donde reinan la pobreza y el abandono. Su poesía descriptiva es sencilla y hermosa.
"Sad Towns" is a beautiful song by the Venezuelan poet and singer Otilio Galíndez.
In this song he describes the feeling and reality of our Venezuelan and Latin American towns where poverty and abandonment reign. His descriptive poetry is simple and beautiful.
Ésta composición es una de las tantas que ha sido grabada por artistas como Mercedes Sosa, Pablo Milanés, Soledad Bravo, Simón Díaz, Cecilia Todd y muchos otros. Hoy la traigo para ustedes acompañada en la guitarra por mi hijo Chapis Lasca (músico cantautor, arreglista y productor venezolano).
This composition is one of the many that has been recorded by artists such as Mercedes Sosa, Pablo Milanés, Soledad Bravo, Simón Díaz, Cecilia Todd and many others. Today I bring it for you accompanied on the guitar by my son Chapis Lasca @davidlsc (musician, singer-songwriter, arranger and Venezuelan producer).
---
Pueblos tristes
(Otilio Galíndez)
Qué piensa la muchacha que pila y pila,
qué piensa el hombre torvo junto a la vieja,
qué dicen campanas de la capilla
en sus notas, qué tristes, parecen quejas.
Y esa luna que amanece
alumbrando pueblos tristes,
qué de historias, qué de penas,
qué de lágrimas me dice.
En el fondo hay un santo de a medio peso,
una vela que muere en aceite sucio.
Más allá, viene un perro que es puro hueso
con ladridos del hambre que Dios le puso.
Sad Towns
(Otilio Galíndez)
What does the girl that pila and pila think, *
what the grim man next to the old woman thinks,
what say the chapel bells,
in their notes, how sad, they seem complaints.
And that moon that dawns
lighting sad towns,
what stories, what hardship,
what of tears tells me.
In the background there is a saint of a half weight,
a candle that dies in dirty oil.
Beyond, comes a dog that is only bones
with barks of hunger that God gives it.
---
* Pilar is the action of macerating corn in a large wooden pylon or corn pylon. No direct translation to english.
---
Gracias al gran apoyo que @luzcypher y @pfunk le brindan a los músicos con este concurso.
Thanks to the great support that @luzcypher and @pfunk provide to the musicians with this contest.