Steemit OPENMIC Week #99 - Puente - Gustavo Cerati - Cover Song by @cpereira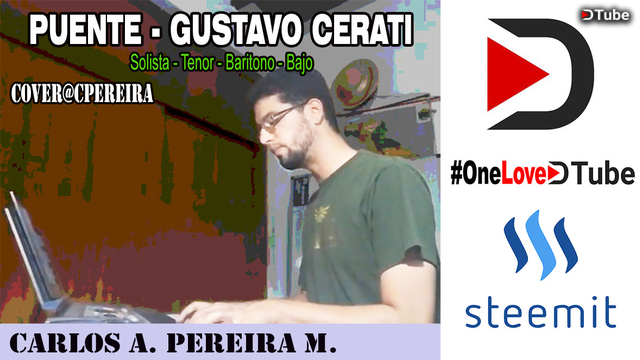 ---
Esta semana busqué realizar una participación diferente, interpretando un gran tema de un gran maestro del rock latinoamericano, "Puente" de Gustavo Cerati con el que participo en el
#openmic
week 99. Esta vez no escribí por lo que trabaje con mi intuición armónica para ir resolviendo las voces, el Solista lleva el tema Original en toda la pieza, mientras otras 3 voces van enriqueciendo la interpretación y una ultima voz adicional remata algunos adornos propios del tema original. Se trabajó con las tesituras de
Tenor Barítono y Bajo.
---
This week I tried to make a different participation, interpreting a great theme of a great master of Latin American rock, "Puente" by Gustavo Cerati with whom I participated in
#openmic
week 99. This time not I wrote so I work with my harmonic intuition to solve the voices, the Soloist takes the Original theme in the whole piece, while other 3 voices are enriching the interpretation and an additional final voice finishes off some adornments of the original theme. We worked with the tessituras of
Tenor Baritone and Bass.
Infinitely grateful once again with @luzcypher and @pfunk for this initiative, I continue to perfect my productions and I hope to generate a better product every time I participate in this prestigious contest. I hope you have enjoyed my interpretation! Leave your recommendations in the comments and a Like to continue building and improving week by week! SEE YOU!
---
Esta es la Letra que utilicé para producir mi Participación de esta semana:


Hoy te busqué
En la rima que duerme
Con todas las palabras
Si algo callé Es porque Entendí todo
Menos la distancia

Desordené átomos
Tuyos para hacerte Aparecer

Un día más, un día más

Arriba el sol
Abajo el reflejo
Ve cómo estalla mi alma
Ya estás aquí
Y el paso que dimos
Es causa y es efecto

Cruza el amor
Yo cruzaré los dedos
Y gracias por venir
Gracias por venir
Adorable puente
Se ha creado entre los dos

Cruza el amor
Yo cruzaré los dedos
Y gracias por venir
Gracias por venir
Adorable puente

Cruza el amor
Cruza el amor
Por el puente
Usa el amor
Usa el amor
Como un puente


This is the letter that I used to produce my participation this week:

Aquí dejo también el enlace de YouTube!

Here I also leave the YouTube link!
Y el Link del Video Original:

Fuente
And the original Video

Infinitamente agradecido una vez más con @luzcypher y a @pfunk por esta iniciativa. sigo perfeccionando mis producciones y espero lograr generar un mejor producto cada vez que participe en este concurso tan prestigioso. Espero hayan disfrutado mi interpretación! Dejen sus recomendaciones en los comentarios y un Like para seguir construyendo y mejorando semana a semana! NOS VEMOS!
---

---
▶️ DTube
▶️ IPFS