OpenLedger Wants to Reach the World through Blockchain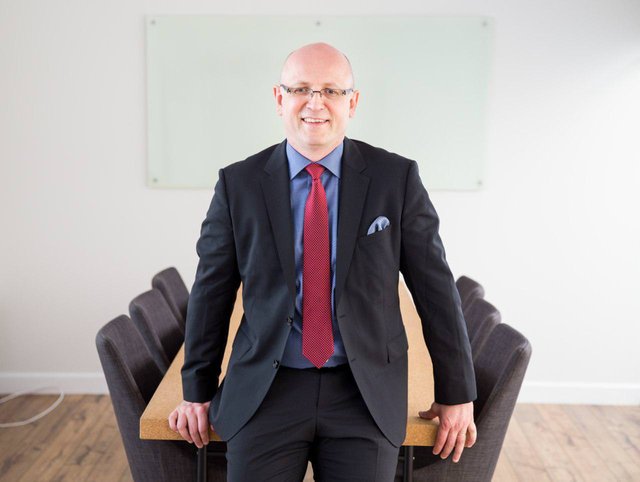 According to co-founder of OpenLedger, Ronny Boesing, the future will offer abundant opportunities through blockchain-technology. - The potential is enormous, and we as a Danish company are at the forefront in the development of solutions that can be used across many industries.
Translated from: Vol. Magazine #52 - March/April
Blockchain is probably best known as the technology behind Bitcoin and other cryptocurrencies. The technology makes it possible to transfer information directly between people in a very secure way. This is also where the future opportunities of the technology is found, Ronny Boesing confirms, co-founder of OpenLedger, which started as a decentralized exchange for cryptocurrencies like Bitcoin. - When I founded OpenLedger it was with a vision to build something sustainable that people across the world could use. To reach the people that banks do not reach, so that they get the opportunity to create economic security for themselves. This is possible through blockchain, which is for instance used for crowdfunding of small and big projects alike, says Ronny Boesing, and continues; - You have to remember that blockchain and Bitcoin was developed as a reaction to what happened in 2008, where the banks had lied to their customers, which created a bubble that burst, which resulted in the financial crisis. The majority of those who are attacking this technology and cryptocurrencies come from the bank-industry, which were those who caused the financial crisis, Ronny Boesing underlines.
Designed for extreme security
Blockchain has built-in security by design. This gives the opportunity to register events, medical history, and other sensitive information, including personal identity, transactions, and documentation, in a secure way. - We want to make scalable solutions based on the blockchain-technology, which can be of benefit for everyone, regardless if they are private individuals, companies, governments or NGOs, he says. You can put all kinds of data into a blockchain. Deeds or other documents, which is not supposed to be tampered with. Blockchain can be used for contracts between two parties, where funds are only released when the contract has been honored and fulfilled. - OpenLedger offers BaaS - Blockchain-as-a-Service - and it can be used in many industries, for instance in the area of healthcare in regards to the securing information about patients, or when you have to vote in an election, because you cannot manipulate with blockchain, he says.
Transparent business
For many years Ronny Boesing worked in the music-industry, where he sold and distributed music to most of the world. But five years ago his life took a turn when he was contacted by a former partner from Minsk. - He had an idea for a trading-platform for Bitcoin and other cryptocurrencies, and he wanted me to be part of the project. A decentralized exchange is transparent for all, and this is also how I perceive myself. I want to be part of developing projects that point ahead towards the bigger picture, Ronny Boesing says, who were, at the time, enrolled in the bachelors program Export & Technology Management at the University College of Northern Denmark. The partnership developed into the platform Crypto Coins Exchange Denmark, CCEDK, and later OpenLedger.
Credit cards cut into a million pieces
OpenLedger offers among other things to store the users' virtual currencies securely. You have the option to make an account that is so secure and anonymous that it is only you who has control over it. It is like a credit card cut into a million pieces, spread all over the world, and an unauthorized person who wants to get access to your account, would have to collect all those pieces, put them in order, and do so within a very limited time, Ronny Boesing says. Three months after launching, OpenLedger had between 35,000 to 40,000 users. The revenue is partly coming from a fractional percentage from every trade on the exchange. OpenLedger has an office in Minsk in Belarus, where 65 employees, software developers and marketing people, make sure that the platform is running, and new business areas are being developed. For instance, OpenLedger offers to be the intermediary for crowdfunding projects, between the project seeking funding and those who want to support the project. OpenLedger also has services geared towards the gaming industry. - Currently we feel pleasantly challenged by building and developing new services and at the same time getting our costs covered. We, of course, have as a milestone to build something where we can step back a little and let others run the global company, Ronny Boesing says.
World renowned
He hopes that OpenLedger in five years will be known in the whole world, and promoting the company is part of his job. The recognized journal Forbes has written several articles about the company.
My partner in Minsk deals with the administrative aspects, and I travel around the world to conferences and meetings to promote OpenLedger and make the company known, he says. He believes that the transparency of the company is helping create trust with the customers. He is also emphasizing that he is following the rules that are being made for trading virtual currencies very closely. - You could say that we are in the process of building a decentralized conglomerate, where we develop many projects that are all based on blockchain technology, where all people are seen as users and at the same time potential consumers, where everyone is connected in a synergy of progress, says Ronny Boesing, this is why our slogan is blockchain powered, people driven.
About Ronny Boesing and OpenLedger ApS:
Ronny Boesing is founder and CEO of OpenLedger ApS, supporting a full ecosystem of blockchain services for businesses including a decentralized exchange, custom blockchain development and ICO support.
After successful early entrepreneurship in traditional business, Ronny moved into the blockchain space in 2014 and oversaw multiple successful ICOs and the creation of numerous blockchain-based business applications as well as rapid growth on the OpenLedger DEX.
He attributes OpenLedger ApS's successes to a focus on users and community, and has gathered a team of industry experts to drive the company's growth.
For more information please visit: www.openledger.info
To go directly to the exchange: www.openledger.io
Follow OpenLedger on socials