Steem and Golos blogs are now available on OnePlace.media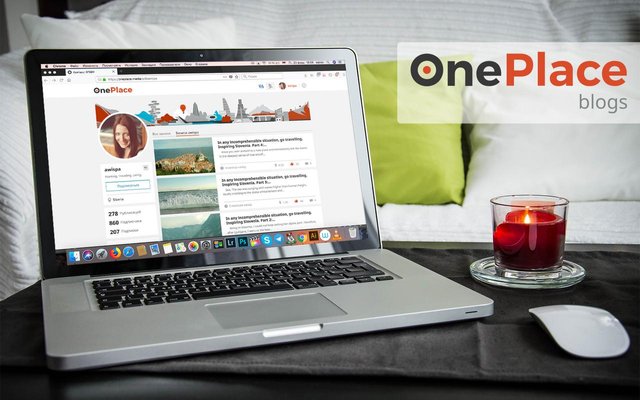 All blogs on Steem and Golos acquired a new face.
 What it's like? You can see for yourself on 
Oneplace.media
.
 If you have not yet created profile on our platform, you can see how other
Oneplace
users will see your blog by following a direct link:
 https://oneplace.media/s/@***/, where instead of *** put your username in Steem.
 Or similarly for Golos users:
 https://oneplace.media/g/@***/, where *** is your username in Golos.

 We are preparing various features that will make reading personal blogs on Oneplace even more convenient.
 In the meantime we offer an experimental function that is already available for use.
 Filter by tags inside one blog
 You would like to read author's posts about travel, but do not want to read his poems? Easily! Scroll to the tag filter box and select only those categories that you are interested in reading from this author. You can select only the categories you are interested in (they will be highlighted in green), or remove those categories that you are definitely not interested in (by clicking on the cross). In this box only a portion of the author's popular tags is displayed, but you can configure more filters in the modal window where more of the used tags are loaded.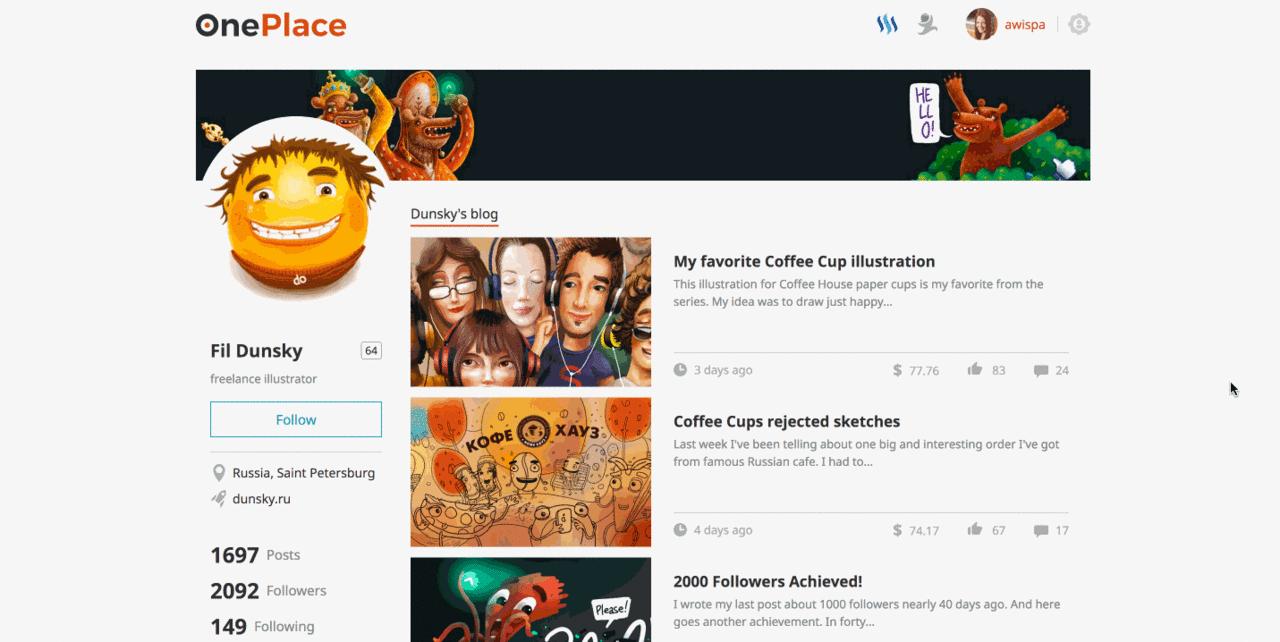 (As an illustration, profile and blog of @dunsky is used).
 Design
 You can design your own blog giving it a personal touch by using standard features of Steem and Golos blockchains to upload your avatar and background image. For those who did not setup a background image yet, our designer-illustrator @awispa has created with love a background image with a city of the future that will be displayed by default, but you can easily change it to the image of your choice through your profile in Golos and Steem. Later we will make available editing of the blog settings and its further customization directly on Oneplace.

 What's next?
 Right now the work is underway to develop a post editor. And we are ambitiously hoping to make it more convenient than the existing options for pubishing content to Steem and Golos blockchains.
 By the way, what features would you expect from an ideal post editor? What would make the authors' life more comfortable and add more fun to the process of creating content for the blockchain? Tell us and maybe your idea will be implemented :)
 This release was prepared by @awispa, @rusovds, @ubik, @xandros.


 If you are reading about Oneplace.media for the first time, then you can find more about our concept in the previous posts: 1, 2.

 Support group in Telegram: https://t.me/oneplace_support