OnePlace.media: to New Year with new design and new features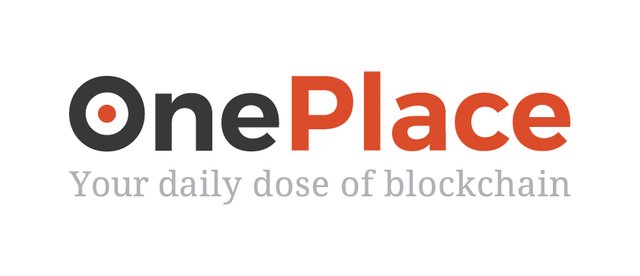 Greetings to all Steemians!
OnePlace.media
as an alternative interface for Steem and Golos blockchains continues to evolve. A lot of things have happened since our last post.
 We have faced some difficulties that slowed our development efforts, but despite this, we still have the desire to make an interesting product for Steem, Golos and the cryptocommunity as a whole, so we continue to move in this direction.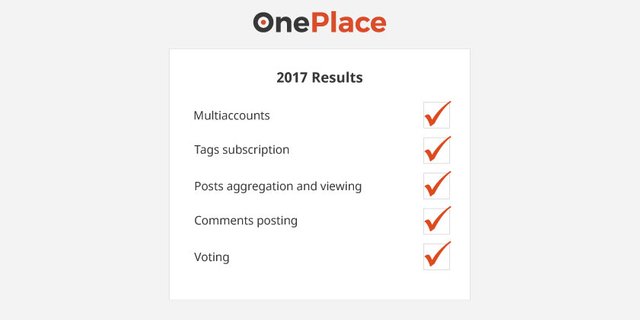 Multiaccounts
 By this New Year's eve we have accomplished a big step: now users can register a profile on OnePlace (registration by e-mail) and attach to this profile any number of Golos and Steem accounts. Switching between different accounts is very fast, and there is no need to enter your key each time to use basic functionality. This should greatly simplify user experience for people who own and use several accounts.
 For example, you have several accounts in one blockchain and you want to vote for a certain post with all your accounts: you do not have to waste time on logging in and out, copying and pasting keys... You just choose in a profile menu, which account you want to make active or press the switch button right next to user's avatar to change to the next account.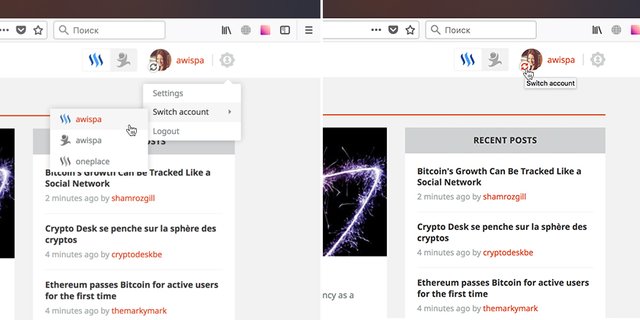 Attaching your account is simple with one-time use of your private active key.
OnePlace
does not store keys for your security. Once you have entered your key, you delegate to 
OnePlace
the right to be your technical intermediary in the functions of creating posts, commenting, voting. 
 More technically inclined readers can look up how the keys are handled
in our Github repository
. By the way our application is fully open-source with MIT license.
 Subscribe to tags
 We have also made an intuitive interface for subscription to post categories (tags) that you are interested in. You can select the tags you are interested in either during adding your account (separate procedure for Steem and Golos) or using "Settings" in your profile menu.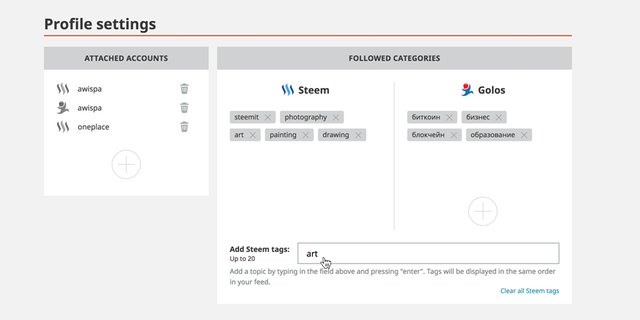 Navigation between categories is carried out with the sliding side menu on the left.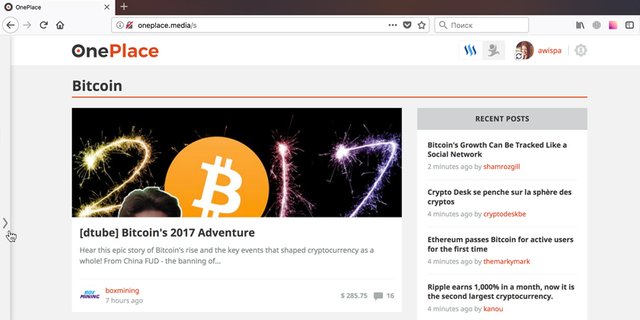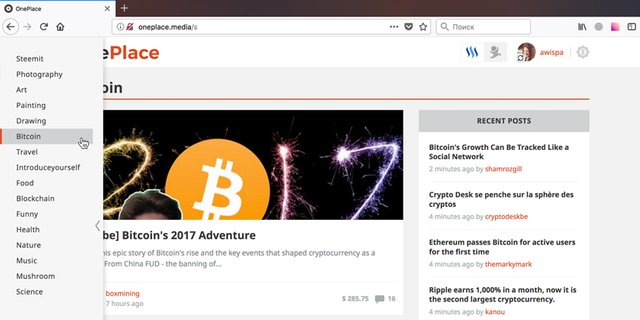 Basic blog functionality
 At the moment after creating a profile with your accounts, you can already vote for other people's posts and comments, as well as leave your comments. Technically, you can create your own posts using
OnePlace
, but as the user's personal blog page has not been developed yet, this option is not available. The addition of this feature is expected with the next release.
 Monetization
 Curation and authors rewards of users of 
OnePlace.media
are calculated by the basic protocols of blockchains Steem and Golos accordingly. You will receive your rewards to attached blockchain accounts.
 OnePlace fees

 When you use
OnePlace
to vote for posts, you always get a full amount of rewards for curation. When creating content on Steem blockchain, you will receive 90% of the author's rewards and 10% beneficiary reward will go to our technical account
@oneplace.app
to support development of 
OnePlace
. When you publish content on Golos, for now you will still get 100% of the author's rewards due to technical impossibility of beneficiary rewards in blockchain.
 Let's start!
 We invite interested readers to create profiles on 
OnePlace
and become our alpha-testers.
 You can report bugs in post comments or 
in our Telegram-chat
.
 Among all users who will register in January on our platform, a raffle will be held with symbolic prizes as our gratitude for participating in testing
OnePlace
. What will it be? We will tell you in our next posts.
 Stay with us.
  And of course do not forget to support us with your votes! We really need it very much! :)
 Thank you and we wish you more happy decentralisation in New Year!  
This release was prepared for you by @ubik, @awispa, @rusovds, @xandros.